I will never pick up a package of Fish Balls again without thinking of Hong Kong. I ate a lot of fresh fish from the South China Sea while on holiday in Hong Kong three years ago. Some of it was delicious, some of it was bland and some of it was Fish Balls. They may sound foreign and scary but authentic Hong Kong Fish Balls are nothing like Rocky Mountain Oysters; These Fish Balls are deep fried, fishy and delicious. I was never brave enough to ask what kind of fish they actually were and chances are I would have hard a hard time asking "What species of Fish Balls are these" in Cantonese especially since the whole time we were in Hong Kong the only English we heard spoken was from Uber drivers, definitely not Fish Ball mongers in Ngong Ping Village on Lantau Island.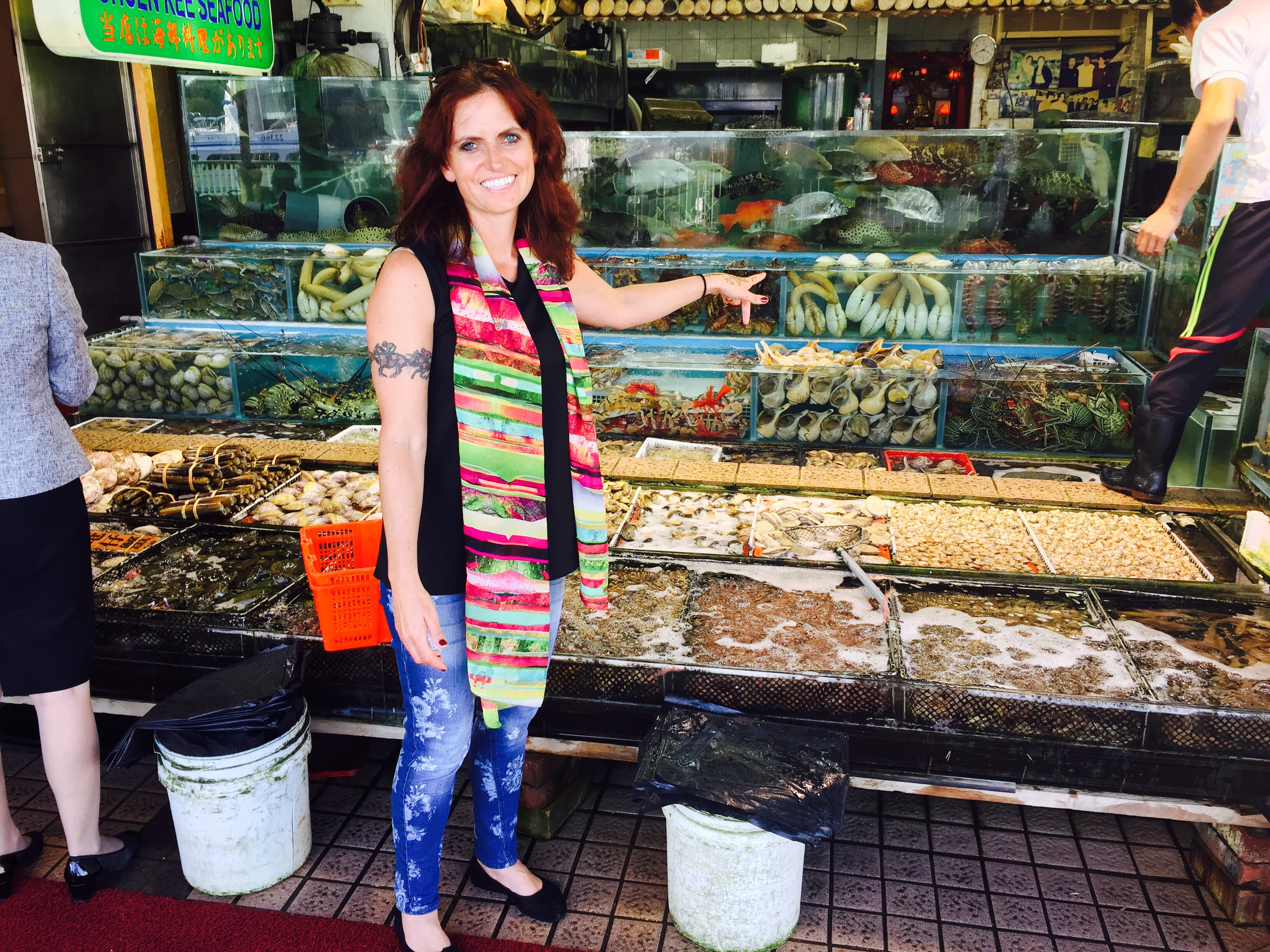 Our week abroad in Hong Kong was a good introduction to not being in a third world country anymore after a month in Bangalore, India . It felt nice to drink tap water and wear nice shoes without worrying I might be about to step in cow dung. I could go out in public with my shoulders or tattoos showing and not have people point at me and whisper "American." Of course, then I giggled every time I saw Fish Balls, and I'm pretty sure gave myself away.
Our apartment in Hong Kong was tiny. The whole apartment was 300 square feet. The bathroom and kitchen were in the same room. Which could come in handy in case you want to cook a chicken while sitting on the toilet? Hong Kong is a very busy concrete jungle, and perhaps in a crowded city of over seven million people in this hustle and bustle, it may seem normal to sit on the toilet while deep frying a chicken. Maybe it's just the crazy germ obsessed American in me but I'm not comfortable going number two next to the fridge. At least my fears had moved on to salmonella and away from getting run down by a speeding rickshaw after spending a month traveling in India and being terrified to cross the busy streets by myself because I could also get hit by a wayward bovine. Hong Kong was a bit of a relief in many ways. I rode the tube by myself. I went shopping for Fish Balls, sushi and wine by myself. I even thought about taking my Butter Chicken Butt (After a month of delicious Indian food) for a run through our neighborhoods Kowloon Park Gardens.
So where do I go for Fish Balls?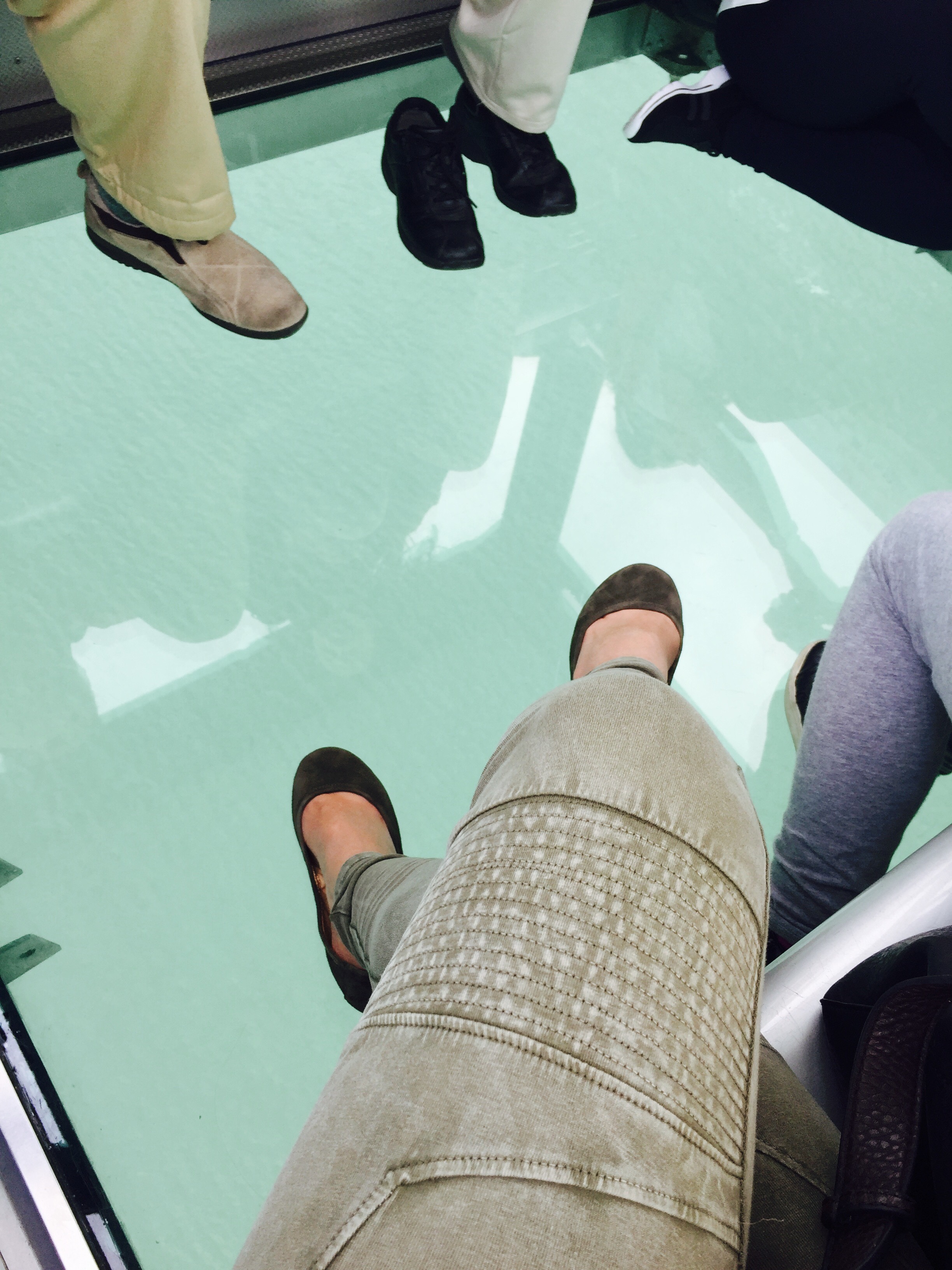 The Big Buddha is one of those trendy places that a lot of foreigners visit on their treks through Hong Kong and it was the first place that I tried this delicious street food that made me giggle every time. To find the best Fish Balls we rode the Crystal Cabin glass bottom tram up to the Tian Tan bronze Big Buddha and saw the chows (That is Cantonese for a dog) guarding the tram stations 5,000 feet above the South China Sea. It takes 260 steps to reach the 34 meters tall Big Buddha towering above Lantau Island. I was starving for more Fish Balls and maybe a beer by the time we finished taking Insta-Worthy photos and went walkabout looking for stinky Durian Cookies.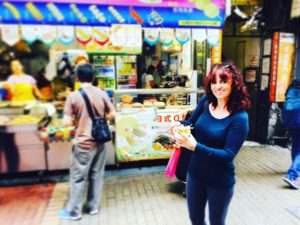 Are you planning a trip to Hong Kong anytime soon? The ford in Hong Kong was just a bit bland for my taste but I'll never forget my introduction to this fishy fried treat! Don't forget to try the Fish Balls if you are in Hong Kong anytime soon. You can thank me later.