The hike up the Mt Whitney Trail is not for the faint of heart, those afraid of heights or individuals who can't deal with difficult situations. And it certainly isn't for those who come-ill equipped, so make sure you have the best pack and boots (like those recommended on https://travelgearzone.com/best-gore-tex-shoes/) to take on the challenge. Hiking the Mt Whitney Trail is a time consuming six-month adventure of training, eating right and preparing for anything and everything to go wrong. Injuries happen, tendons are pulled in training, ankles are rolled and sometimes, well maybe you are just too hungover to go for that eight-mile training run after partying to hard Saturday night. Outdoor adventurers who try to ascend the twenty-two mile Mt Whitney Trail have at least a good six months to a year of hard-core training to put in ahead of time between hiking, trail running and maybe even mountain biking for some cross-training and to build up your endurance. So you think you trained hard-core enough for this bitch of a hike? Well, even if you are in fit shape to hike this mountain, maybe the altitude will get you. This hike starts at over 8,000 feet and considering most hikers train at sea level, hiking the Mt Whitney Trail can be an endurance ball buster for oh so many reasons.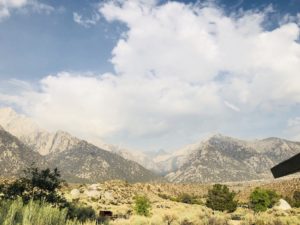 It's always a long day on the mountain when hiking the Mt Whitney Trail. Your day starts before dawn and that could mean hours and hours before dawn, depending on your hiking speed. Some hikers start this massive twenty-two-mile hike at midnight or two a.m. just to reach the summit by mid-afternoon. The key is to summit as early as possible; Summer afternoons constantly mean thunderstorms in the eastern sierras and the top of a 14,000-foot mountain is no place to be the tallest obstacle in the middle of a thunderstorm. You think queasy headachy mountain sickness is bad? Try being struck by lightning ten miles up a dusty mountain trail. This is what you hope and pray will not happen on your journey to the summit.
How to summit Mt Whitney successfully
A successful summit of Mt Whitney is possible with months of training beforehand. Friends and family are always surprised I've spent so many days familiarizing myself with the Mt Whitney Trail. When you make training for an epic hike like this a priority in your life you can easily have a fun filled day on the Mt Whitney Trail without too much stress, muscle soreness or drama. Keeping all of these things in mind is key to having a fun day and being prepared to face the elements when hiking the Mt Whitney Trail. I found that taking many different hiking gadgets along with me helped me to regain my focus when I felt weak or like I needed something to perk myself up. Even things like a decent digital camera can really make you feel more inspired when you take a picture of the scenery around you as you climb. There are so many other tips such as make sure you reserve your permit early in the season; Sometimes it talks three or four times to apply successfully for a Whitney permit. Also, keep in mind if you do not pick up your permit by pickup time; The rangers at the visitors center will give your permit (And your complementary wag bag!) away.
When hiking the Mt Whitney Trail, be prepared, you will get altitude sickness. It happens to just about every hiker on the Mt Whitney Trail. It's just a question of where it will strike and how bad it will be. Hydrate, hydrate, hydrate and that can help fend off the curse of the mountain, I mean altitude sickness. Taking Gingko Bilbao pills a few days before the hike also help some hikers survive the intense altitude.
Be vigilant in your training for Mt Whitney
We all have those fun Saturday nights full of cocktails, laughs and good times but not during mountain season. If you really want to summit Mt Whitney you need a training plan and to fit in as many 10-18 mile hikes as possible in the six months before the big hike. If you can manage to hike at high elevations, even better. In southern California, San Gorgonio, San Jacinto and Mt Baldy are all awesome training hikes over 10,000 feet that will give your legs the conditioning one needs to summit Mt Whitney.
The first time I summited Mt Whitney six years ago I went with a group of eight friends. We had multiple training hikes scheduled in the weeks before the big hike and my best friend and I also trained hard by running a half marathon three months before our summit date. We put a lot of time and effort into getting in shape for this hike and I felt that on the twelve hour day I spent on the trail that year. When we did summit I practically skipped up the ninety-nine switchbacks, I had so much energy. Training for a successful summit is a big deal and is the difference between having a fun day on the trail and being miserable and in pain. It could also be the difference that sees you returning to camp before sunset. I always feel bad for those day hikers you see summiting way too late in the afternoon, even worse when they began the hike at 4 a.m. It could be a very long and uncomfortable day on the trail if you begin before dawn and end after sunset, and the hikers this usually happen to are normally in a lot of pain as they slowly limp down the mountain, after sixteen hours on their feet.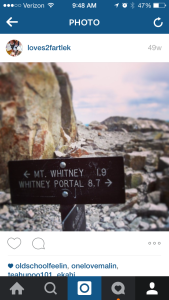 Snacks Snacks Snacks
In my opinion, you cannot carry too much food and nourishment up into this section of the Sierra Nevada. When you are set on spending over twelve hours on your feet hiking you are going to burn through a lot of calories. Having the correct high protein snacks to fuel your body is extremely important. So is having some caffeine boosters for when you get tired and over it (Why am I hiking up a mountain? What the hell was I thinking back in December when I began planning these shenanigans?)
This year on my ascent up Mt Whitney I had an array of delicious healthy snacks in my pack. I had Vermont brand honey mustard meat sticks; Stinger honey and ginseng gels, Pro Bar nut butter gels with Yerba Mate added for caffeine, and Cliff Block Shots (Also have as much caffeine as a cup of green tea)
The Pro Bar products are some of my all-time favorite for hiking and I am so completely addicted to these nut butter concoctions filled with all the best proteins for hiking, along with coconut oil and yerba mate tea to give you just a little caffeine boost. I love that their products are all none GMO and these nut butter beauties are organic too.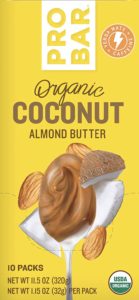 What else do I carry in my pack, besides my favorite snacks and as much H20 as I can carry? I always carry potable Aqua and Potable Aqua plus. Some backcountry hikers prefer to carry a pump to purify stream water but I love the idea of carrying less weight and plus stopping to pump water at an alpine lake seems like it takes forever. On a day where I am attempting to summit a fourteen footer and in a perfect world, I would love to do that before thunderstorms roll in, time is of the essence and pumping stream water is time-consuming. Water purifiers cut down on that wasted time.
Of course, contacting Giardia and spending hours on the toilet is also time-consuming and that's why I choose to clarify my water with Potable Aqua.
Personal problems below the summit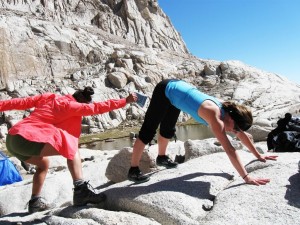 Hey ladies, who enjoy urinating in a forest? Hiking the Mt Whitney Trail means staying hydrated and drinking as much H20 as one can carry (And pumping more on the journey) Everybody pees and when you are a girl that can be a pain in the ass. Especially past those ninety-nine switchbacks and Trail Crest.
There is nowhere at all with privacy to pee past Trail Crest. You are literally out in the open on top of a mountain face. Are you a lady with a lady bladder? I hope you are okay with holding it for two miles until the summit.
One thing no one ever talks about while hiking the Mt Whitney Trail is there is nowhere to pee without everyone seeing you between Trail Crest and near the summit. You definitely will want to find a place to pee at Trail Crest, or hold it for the next two miles and those miles are hiked slow, and I mean real slow, once you get to altitudes over 13,000 feet.
Can my Pup summit Mt Whitney?
The actual answer is no, you cannot summit with your pup, but if you are like me and you just can't stand to leave man's best friend and cutest hiking buddy behind you can take your pup as far as Trail Crest. My favorite place on the Mt Whitney Trail is by far Trail Crest. If you just have got to bring Fido along for this once in a lifetime (For most people) hike then making it as far as Trail Crest with your mutt is a nice goal. (And not quite as far as the actual summit) Sure, it may not be as far as the summit, but Trail Crest offers some of the most fantastic views in the eastern sierras, and your pup does not need to miss out on the adventure. It may not take an entire day to summit via Trail Crest but it's still a long day filled with over eight miles of hiking up the Mt Whitney Trail. Once you stand atop Trail Crest with your pup, you have made it to 13,700 above sea-level; An altitude most hikers dogs never see in their lives. I like to wrap a bandana spray with lemongrass oil around my pup's neck to keep the mosquitoes off of her. Always keep your pup on leash while hiking at Mt Whitney; No one wants their dog to mess with those cute marmots that hang out at over 10,000 feet.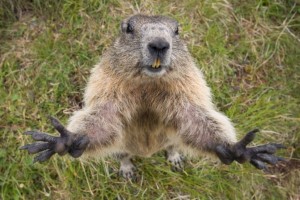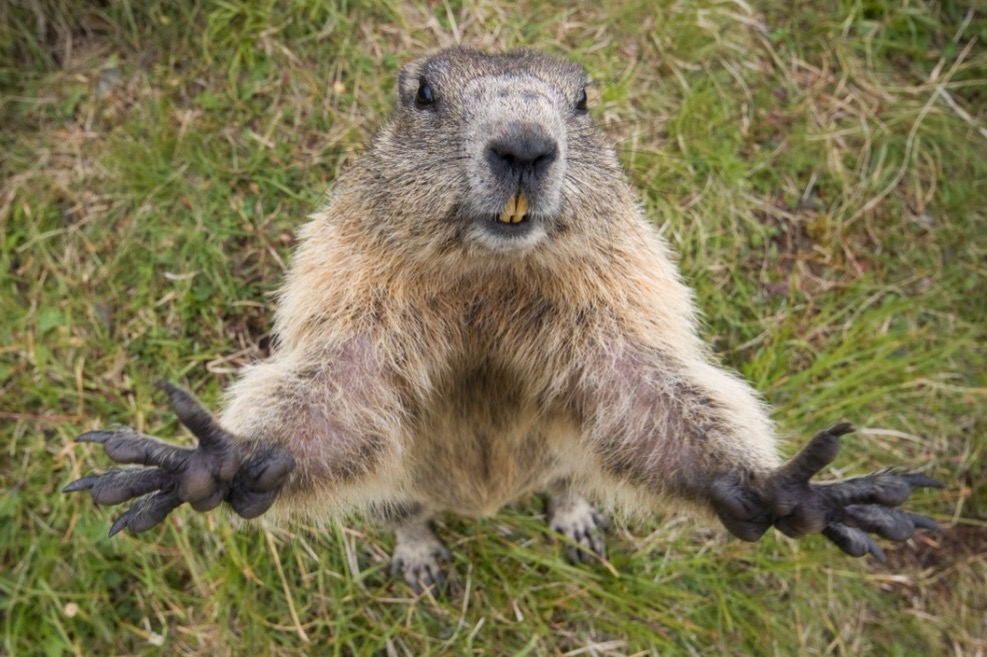 Once you have hiked as high as 13,700 your pup will probably be getting tired and will more than likely be getting pretty damn hungry. You need to make sure your body is fuelled for hours on the trail and if you do this long ass hike with man's best friend, make sure you also have snacks for her. (Along with her own wag bag. Just like us humans, you will have to remove her waste from the mountain) I like to pack cooked sweet potatoes, precooked chicken that I freeze before the hike, homemade Sweet Potato Dog Treats and natural peanut butter for the trailside treat for my pup.
Spending a day on the Mt Whitney Trail is a hike of a lifetime. It's way harder than you can imagine and so physically fulfilling to complete this crazy twenty-two-mile endurance hike. There are so many things that other hikers don't tell you about summiting the greatest mountain in the continental United States; And so many useful tips for making your summit in the coming year a success.