It's hard not to be upbeat and happy about life when you are trekking through an alpine forest on a summer's day beneath a cloudy sky and the humidity has just broken, finally, thank you Jesus, and it's begun to rain. On days like this my hyper chipmunk side comes out and I know I should get home and clean the house and the RV and do those life things that are on the to-do list. Instead, I just trekked another two miles from my SUV. Opsy. Thunderstorms and raindrops make me want to skip and scamper in the first raindrops of June's thunderstorms, or at least leap and pirouette past the five different tarry clumps of bear scat I saw on this morning's ten-mile trek. At some point I just have to turn around and head home and I do have to head home to put the Tandoori Chicken I marinated last night on the grill.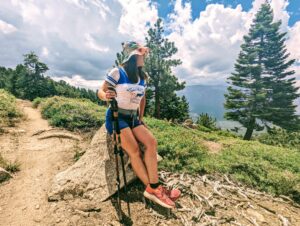 I began my upwards trek in Big Bear Lake at eight a.m. under steel grey thunderheads and the next thing I knew I was standing on top of Big Bear Lake's tallest ski resort, Snow Summit amidst the ruby red Indian paintbrush and big mountain purple lupine. The whole mountain was a sea of yellow wild mustard and snowy white mountain yarrow. I was still a three-mile trek down these ski slopes to my SUV and real-life down below.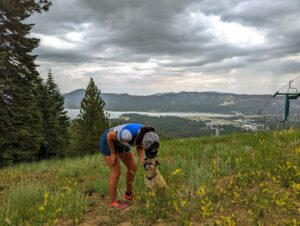 Days like these make it easy to get distracted from real life and just hike all morning through a dewy rainy forest. Here in drought-stricken southern California, we see these rainy mornings less and less. It makes me want to take advantage of the tropical moisture and the grey skies and trek as many miles as my bad hip will let me here in God's country.
Here we are on week two of this edition of our keto lifestyle and sometimes we get a little bored. I mean you can only snack on so much butter. Thank God for easy Tandoori Chicken. Marinade it the night before and it's ready to throw on the rotisserie rack on your barbeque after your butt-busting hike. The leftovers are a great keto snack also. Plus I'm always looking for summertime meals that do not require turning on the oven on those hot and humid summertime days. Every six months I make a fresh batch of this curry powder and I use it for everything from Curried Eggs on those a.m.s when we had far too much to drink the night before, to my Mango Curried Chicken Salad. This madras-style curry powder is the base for my decadent Madras Curried Salad Dressing with Greek Yogurt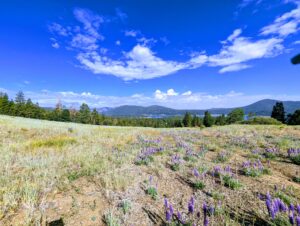 Introducing Keto Tandoori Chicken
For a household full of Anglo-Indian food lovers, we don't cook up a lot of dishes that are just plain curries. The quintessential Indian meal most foodies think of is chicken curry when they think of Indian cooking and honestly, it's one of the blander Indian meals in my opinion. I honestly don't use the Madras-style curried powder so often these days. That all has to do with the fact that my Indian cookbook and my palette have expanded so much in the last eight years that I have been obsessed with Indian cooking. This easy Tandoori Chicken is a great way to use that homemade curry powder.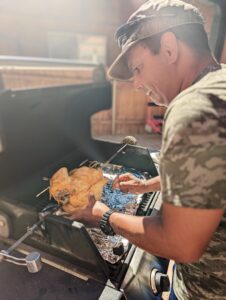 Tandorri Curried Rottesserie Chicken
1 whole chicken
2 teaspoons homemade Madras Curry Powder
1 teaspoon soy sauce
1 teaspoon sesame oil
1 teaspoon grated garlic
1 teaspoon grated ginger
1-2 teaspoon tandoori masala seasoning (DEpending how spicy you like it)
1/2 cup Greek yogurt
juice of 1/2 a lemon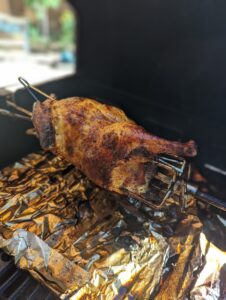 Firstly, you will want to marinate this chicken a day ahead of time. Mix the curry powder, soy, sesame oil, garlic, ginger, tandoori masala powder, Greek yogurt and lemon juice.
I like to score my whole chicken so the meat goes under the skin. Massage this mixture all over the chicken, under the skin and inside also. Cover the bowl the chicken sits in with foil and set in the fridge overnight.  The next day cook your chicken on the rotisserie for a large bird I would say two hours to two and a half hours but you want to just check on the chicken after about an hour and a half to make sure it's not overdone.