My friends never believe me when I tell them I grew up outside. Most of my memories from when I was a kid involve playing in the dirt, sledding, building giant snow castles and frolicking in the woods.
I fully believe that the reason I am such a healthy, active adult all comes back to my childhood, growing up playing outside in the wilderness. (Our street name was actually Wilderness) I wasn't one of those kids who grew up in front of the t.v. I was never involved with sports or athletic at all until I was in my thirties, but when I fell in love with the athletic life style I fell hard. I believe it all goes back to the beauty and enchantment I found playing in the wilderness when I was a kid.
I'm recovering now from an injury and bracing myself for the possible surgery to come but when I need to recharge my batteries I find just relaxing by the lake or reading a book by a mountain stream is the best possible way to get my momentum back and recover from the stress of life.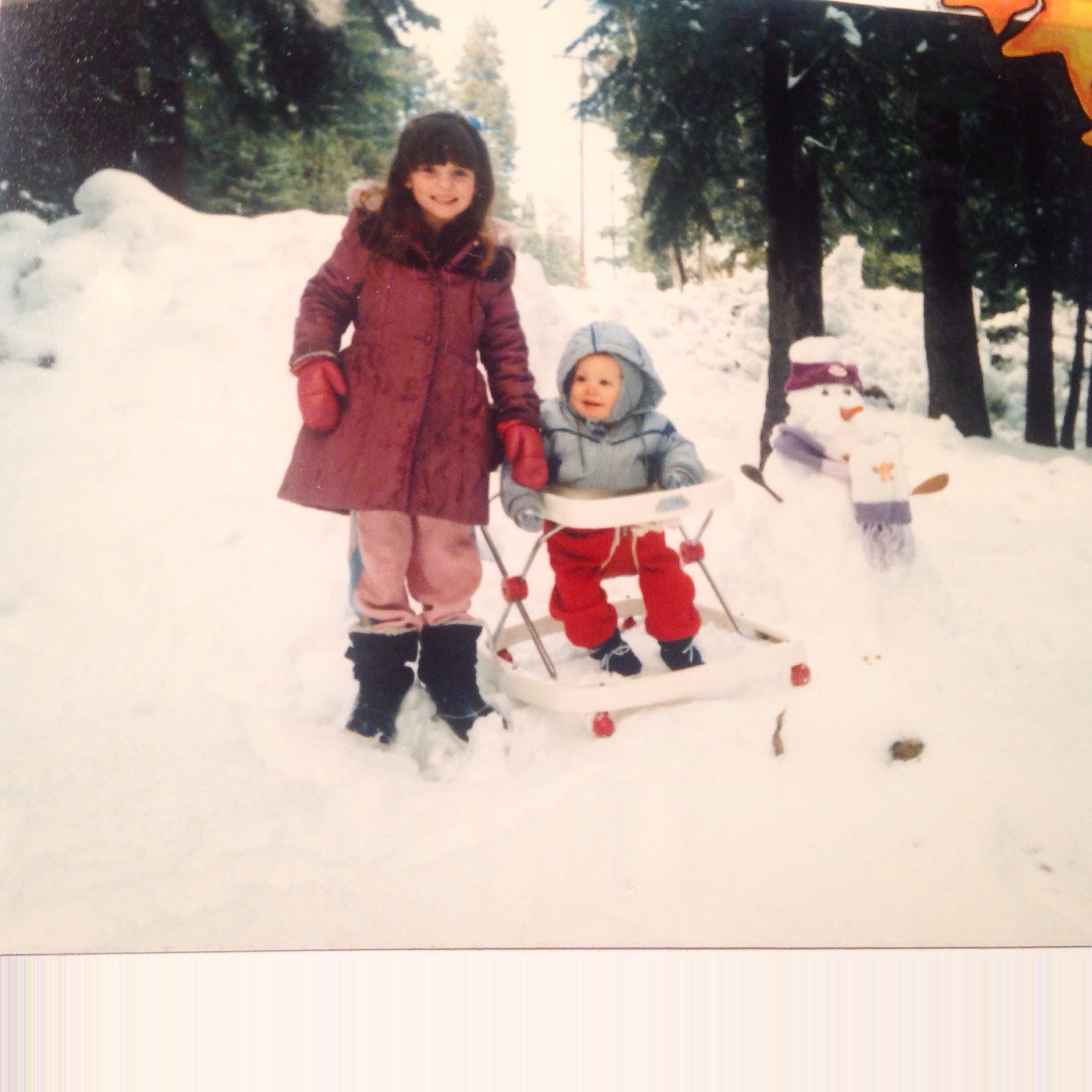 I found this picture recently of my brother and I and it cracked me up.
Proof!
See!
My mom insists she just put my brother outside just for the photo.
I think they locked me outside because I ate chili.
I have a similar picture of friends locking me out of the car after I had chili during a ski weekend in Utah.
Growing up (When my family would allow us to be indoors that is) we ate so much Chinese food and I have told my boyfriends repeatedly for the last year that I hate Chinese food.
Well, in the last month I have been to Panda Express at least four times. Yes, it's shameful how much I like their Honey Walnut Shrimp. (If you have not tried it yet, please do… And please don't hate me when you have to go there once a week after this blog)
I have to say this is the first Chinese recipe I have ever come up with and according to my boyfriend, it's completely amazing. It's also chock full of fiber, ginger and healthy greens. All those healthy foods that are helping me recover and get back to the athlete I miss!
Szechuan Spicy Shrimp with Kale and Cabbage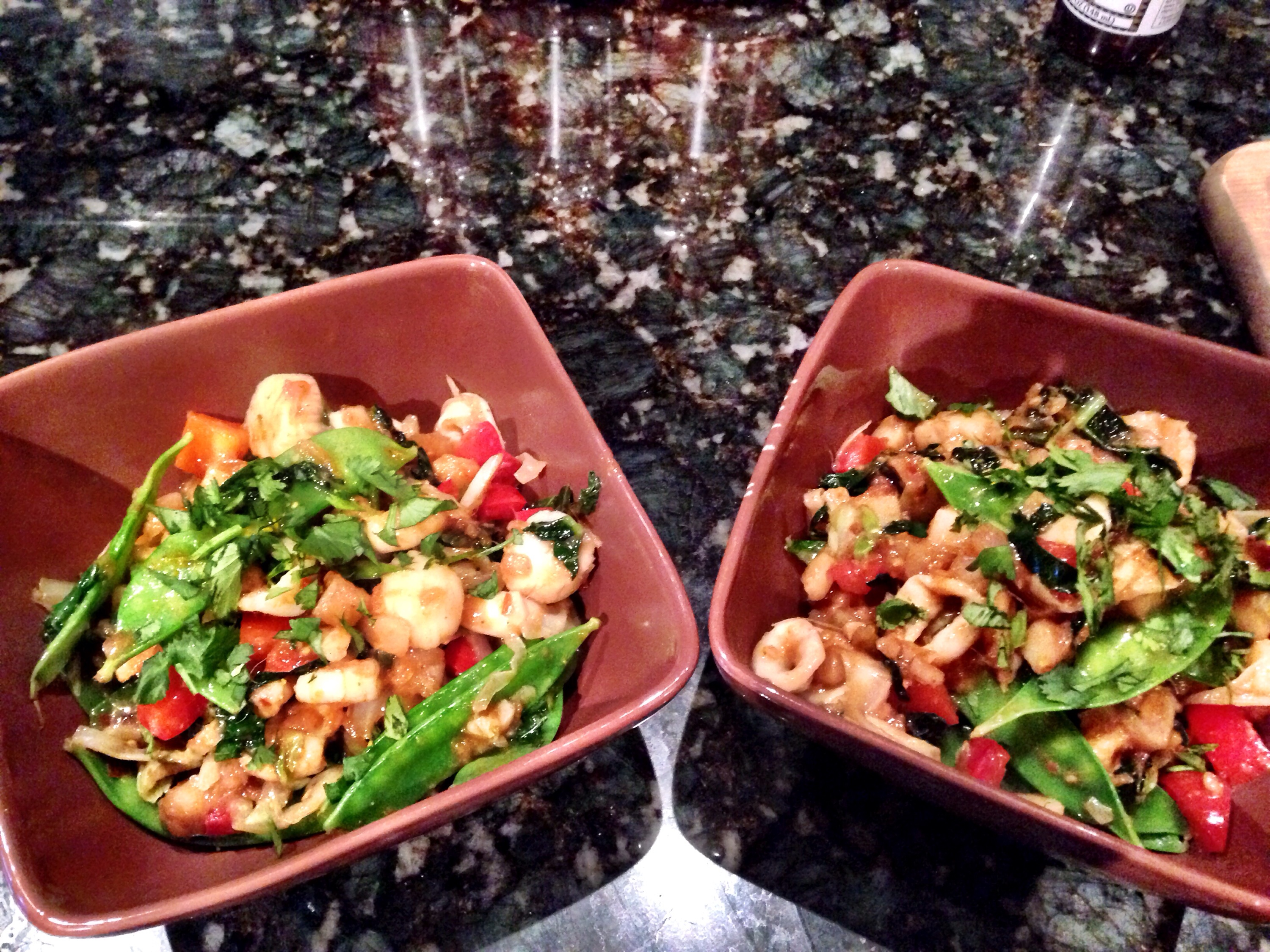 2 tsp orange zest
3 tab brown sugar
2 tab corn starch
2 Chinese hot chilis, dried
2 tab ginger root, peeled
1 clove garlic
2 tab coconut oil
1/2 cup kale, chopped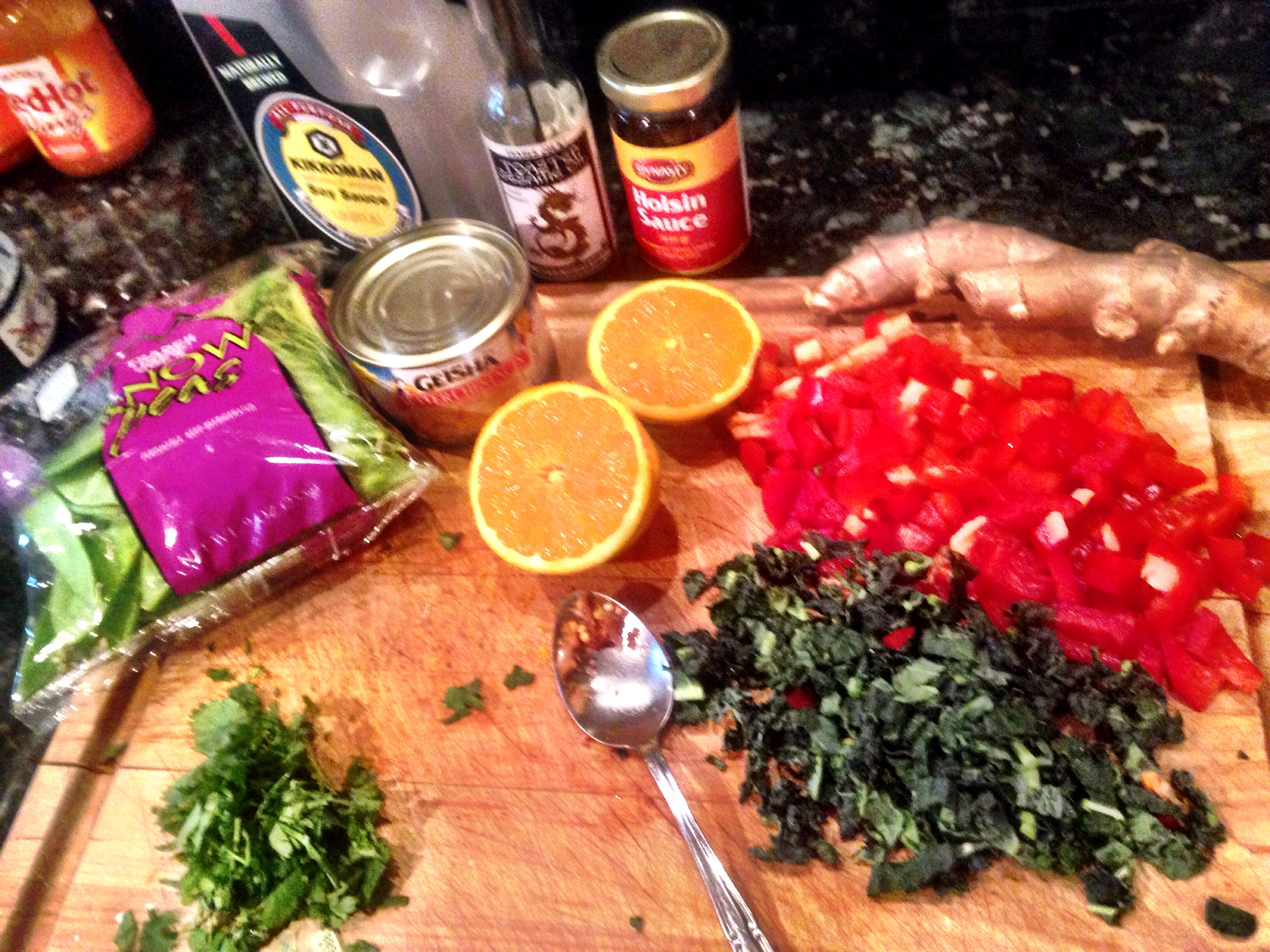 1/2 cup snow peas
1 can water chestnuts
1/2 cup cabbage
1 red bell pepper
4 tab hoisin sauce
2 tab soy sauce
3 tab sesame oil
1 orange, juiced
2 tab cilantro, diced
1/2 cup shrimp
1/2 cup calamari
1/2 cup scallops
In a food processor combine the chilis, ginger root, and garlic.
Heat one tablespoon coconut oil in a skillet. Add the chili paste. Let cook one minute.
Mix the orange zest, corn starch and the sugar. Coat the fish mixture in this, than fry in the chili paste pan. Set aside.
in the same pan add one more tablespoon coconut oil. Add the kale, water chestnuts, cabbage and bell pepper. Stir fry two minutes.
 Mix the hoisin, soy sauce, orange juice and sesame oil.  Add this and the fish to the veggies and stir fry. Add the cilantro at the end and serve.
You can also garnish this with hot chili paste (If you like it hot) or cashews for some crunch.
This week I'm linking up with th Fit Dish Tuesday; a great healthy exercise based link up group. This weeks topic was
How do you recharge?
For me; honestly it's just one word.
Nature.
http://www.thefitswitch.org
And as always when the weekend rolls around I am also linking up for some blogging fun over at Yeahwrite.me