The thought of living in an RV full-time has come up many times in our family recently. In the mountain hamlet, we call home amongst the pines of the San Bernardino National Forest, home prices have skyrocketed to just ridiculous heights. The thought of listing our home for sale and toughing it out by living in our 35-foot motorhome for a few years has been a big family discussion. But then we think of attempting to live in a 35-foot motorhome with three cats and a mongrel dog, plus my boyfriend and his 15-year-old daughter and me, It just sounds way too complicated. (And like way too many furry pets in such a small space) As much as our family loves camping the self-sustainable RV lifestyle is just too hard when there are this many furry friends involved.
This time in history just attempting to survive a global pandemic in the year 2021 is like no other time period. One thing we love about our options with our fully self-sustainable RV is if someone in our family were to catch Covid, they could go live in the motorhome in our driveway for two weeks so as not to sicken the rest of the family. One more reason that owning a motorhome helps us stay self-sustainable during these crazy times.
Here we are, whew, we made it to April and yes earth day 2021. Give yourself a pat on the back if you survived the pandemic. Make yourself a celebratory skinny margarita (High in vitamin c!) if you managed to already get at least one vaccine (Me! Me!) This earth day I spent some time with my feet in the dirt above 10,000 feet and above the glimmer and glam (And the traffic and smog) of sin city, Las Vegas Nevada. The rugged mountain range of the Spring Mountain National Recreational Area is in stark contrast to the bustling metropolis of Las Vegas, a million taxi cabs, showgirls and every single person in this city blowing weed smoke in my face (We had no idea we had booked our Las Vegas excursion on 420 or that one pot-smoking holiday.) By day two of life in a city of 600,000 people, I was ready to leave the Oasis Las Vegas RV Park and drive past Joshua trees and high deserts full of wild burros and mustangs. I was ready to head into the mountains. I needed to get to an alpine level and soon to reground my soul, find some zen and remember what earth day is all about (And no, it's not about smoking things that came from the earth) I packed my favorite Trirunner's lightweight pack and left our self-sustainable RV camping situation and was soon driving up highway 157 on my way to the Mt Charleston wilderness.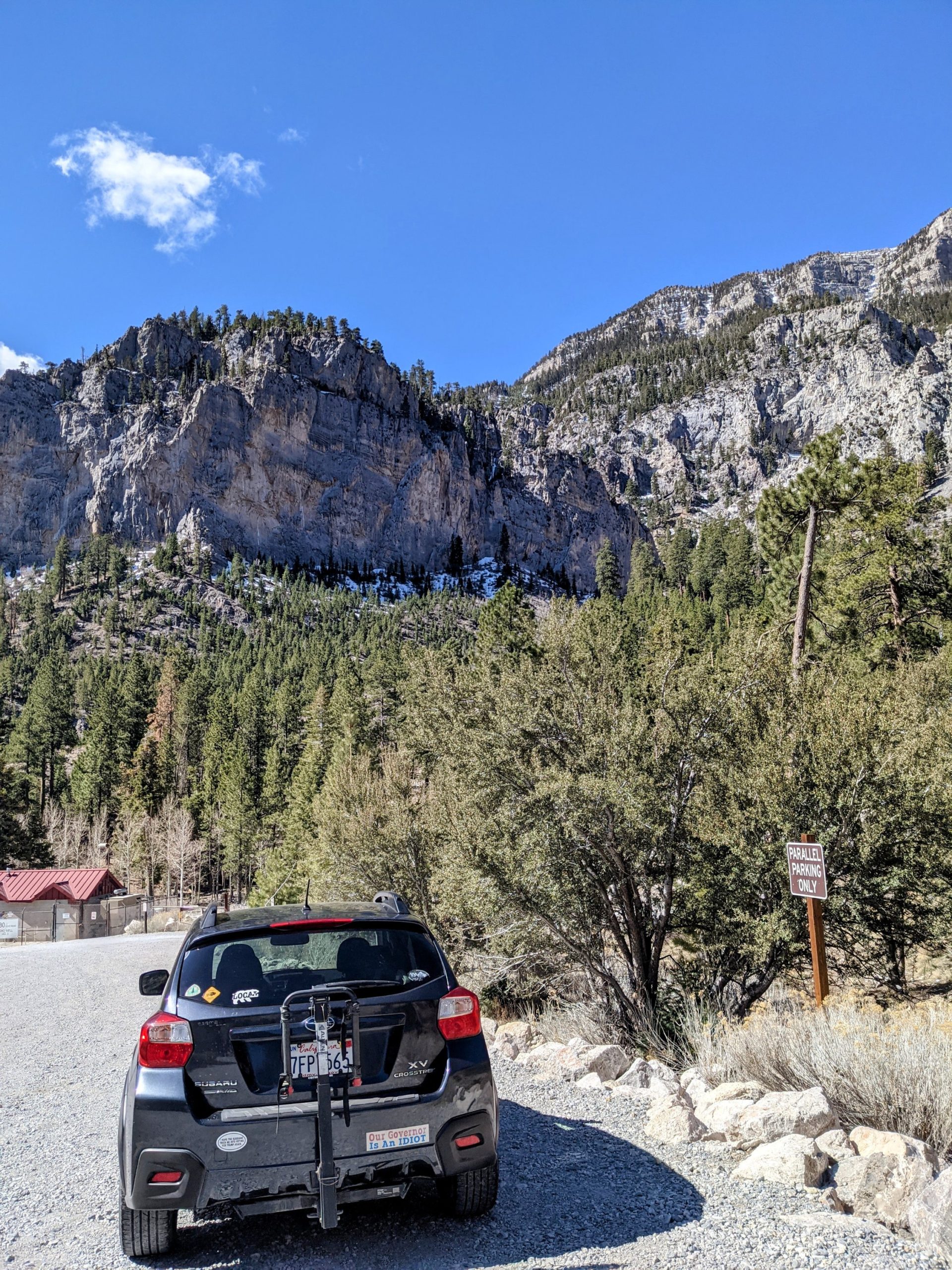 This earth day we parked our home away from home, our fully self-sustainable motorhome at the fantastic Oasis Las Vegas RV Park on the outskirts of the Las Vegas Strip. We have been so blessed in the last fourteen months to still be able to go on some family-friendly holidays as our 35 foot Fleetwood motorhome allows us to cook for ourselves, shower in our own space with our own germs. We even get to even use our own stranger's germ-free loo when traversing the back roads of America. Of course, we are not the only Americans who went bat shit crazy purchasing a motorhome in 2020. Purchasing a recreational vehicle became so popular in 2020, now 11.2 million American households own an RV. Just try to purchase a Sprinter van at an affordable price. The prices have skyrocketed out of control! This is the perfect time to sell an RV, not purchase one.
Helping me out with all the ins and outs of the sustainable RV lifestyle during a global pandemic is Asen Qvorov from Camperlife.co
Staying Self Sustainable During a Global Pandemic in your motorhome away from home
Life has been recently changed in a way that we haven't expected. This is due to the outbreak of the Covid-19 or Coronavirus. Everyone was told to stay at home.
In this article, we gathered some tips and we are going to talk about how living in an RV can help you live a self-sustainable life during a pandemic.
Self Sustainable RV life During the Global Pandemic
As everyone else, the campers and the full-time RVers are also ordered to stay in their homes due to the outbreak of the global pandemic.
This became a big issue for the full-time RVers especially for those who have already sold their houses and are living on the road for a long time.
The problem is real because almost all the campsites, campgrounds, RV parks, and RV grounds have been closed and they stopped their operations as the government-mandated all these changes.
If you want to lead a safe and sustainable lifestyle during these pandemic situations follow these tips.
Check for the availability of campsites
As these are pandemic situations the campsites and RV parks are being filled rapidly. Before planning to hit the roads the first thing you need to do is to check the availability of campgrounds.
Most of the campgrounds are closed due to the increase in the number of cases. So we advise you to keep a record of the websites where you will get the information easily regarding the RV parks and campgrounds.
It would be best if you also joined the online groups regarding campsites and parks where most of the RVers share information.
Find a place to park your self-sustainable RV
If the campgrounds and parks are not available then the best thing to do is to find a place nearby to shelter your RV. Here you can use online groups or Facebook groups to find the persons who are willing to share their land with the campers. Shortlist all of these places and make a call to them or send a message to them to know about more details. Also, ask them if they are following Covid rules and regulations.
Check local campground rules and regulations
If you found an RV park or a campground then it is important to check the rules and regulations.
Some parks and campgrounds come with their own rules as they take all the preventive measures against Covid – 19. So it became mandatory to check them.
Something to keep in your mind for a self-sustainable RV
If you are a full-time RVer then you should have probably known the nature of the RVers. All the RVers are friendly and amiable with everyone. But things have changed suddenly. Keep in mind that still most of the RVers are friendly but from a safe distance.
Social distancing has been practicing everywhere around the world. So we request you not to get in close contact with any of the RVer. It is also advised to avoid laundry facilities and bathhouses to remain safe.
Things you need to keep your place clean
This might be challenging for beginners and first-timers. Here we are providing you a list of items that need to be kept handy to make your laundry situation and RV life easier and much safer.
Staying safe and healthy wherever you travel in your self-sustainable RV

Compact and portable washing machine

Alternative non-electrical portable washing machine

Washboard

Laundry scrubber

Wash and drain tub(collapsible)

Basin with a built-in washboard

Tripod clothing rack

Portable cloth dryer
Gas up
If you are an occasional RVer the smart thing to do is to fill up your gas tank as the prices have been increasing day by day. It will also save you money because the prices seem not to be coming down now. (Thanks Joe!)
Offer up your unused RV and stay home
If you have an unused RV with you then the best thing to do is to offer this RV to the healthcare workers. As they are dealing with the Covid patients they have a high chance of getting this infection. So if you offer your RV to them they will stay in that RV instead of their house and their family will be safe from the infection.
These were our tips on leading a sustainable life on an RV. The most important thing is to have fun and stay safe.
"Asen loves everything about traveling, outdoors, and campers. You can read about camping, RVs, and travel tips on his website https://camperlife.co/"