This curry is spicy. It's decadent. And it's an easy late summer Sri Lankan curry to use all those giant purple summertime eggplants you grew in your garden. Creating a flavor dense curry is sually a four-hour ordeal. It's not something we do in the summer months a lot as four hours over the stove on a hot and humid July evening? No thank you. But sometimes I feel like grabbing a cool and crisp glass of rose and stirring an aubergine curry for two hours on our outdoor bar-be-que stove top. This Aubergine Curry is rich with spices and one of the easier curries I mix up in my indoor or outdoor mountain kitchen.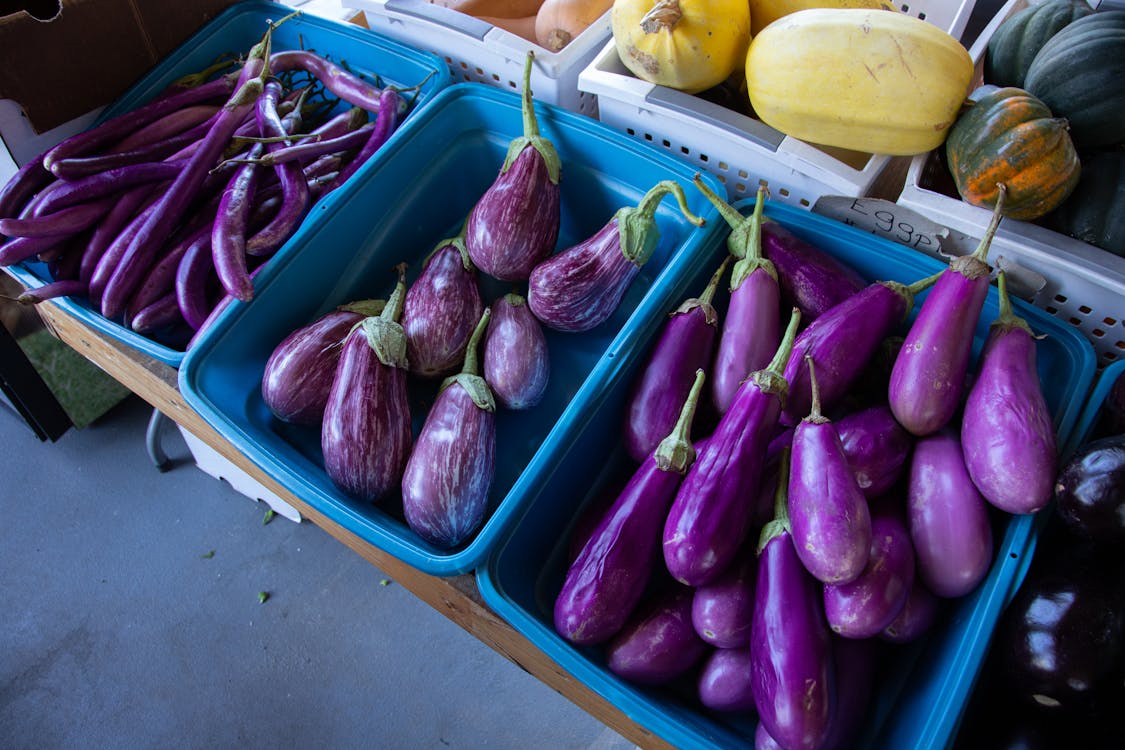 I'm a lumberjack and I'm okay
This brinjal Sri Lankan curry I created tonight is fiery with chilies. It's aromatic with spices like cumin, coriander, cloves and cardamom from a homemade Madras-style curry powder. My aubergine curry is rich and decadent with freshly squeezed coconut milk. And after two weeks of stacking wood every day until I've got the biceps of a lumberjack, I think I deserve a shameless indulgence. I might have four cords and the truth left to stack in the backyard but I'm ready for a relaxing evening stirring a brinjal curry for hours and drinking the best sauvignon blanc Costco has to offer. PS did you know that these nightshades aubergines are actually considered a berry? Or that rose is actually the best wine to drink with curry? I'll be posting this recipe to the blog, as soon as I finish stacking these five cords of wood over here.
When it comes to this tiny teardrop nation of Sri Lanka it sits just southeast of the southern tip of India. When we holidayed at Poovar Island in Kerala just two years before this crazy global pandemic, our floating cottages were just across the Laccadive Sea to Sri Lanka. We marveled at the giant trash eagles having breakfast of garbage on the tropical beaches. We also marveled at the delicious foods some of which I had never tried before like ummpa, a Sri Lankan-inspired couscous. Our getaway to Poovar Island was my first introduction to Sri Lankan cuisine.
Sri Lanka as the crow (Or trash eagle) flies is very close to the southern tip of India but more of an advanced journey for the globetrotting traveler. It is a trip by planes, trains, ferries and automobiles of just over 2,164 kilometers from India's coastline. To reach Sri Lanka from tropical Poovar Island, you actually have to fly to the northeast in India and then take a ferry to the Sri Lanken mainland to reach the shores of Sri Lanka. In the winter of 2017 after three days of the wettest hottest humidity I have ever experienced in my life I was ready to explore Sri Lanka some other time. Sri Lanka is known as the teardrop of India. That definition is fitting as some of their spicy curries could make you cry if you are not used to a zesty diet. In our household, bring on the jalapenos, serranos and Thai chilis. The more that I sweat while I eat, the better.
Aubergine or brinjal? Or eggplant, you villager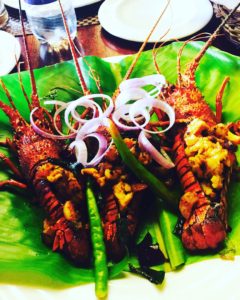 Zesty Sri Lankan curries are not for the timid foodie. Their pickles are sour and will take your breath away with their intense red-hot flavors. Sri Lanken's are known for their crazy fruits like the blue cheese-odored wood apple. (It's basically the Durian fruit of Sri Lanka) Rice is a big deal in Sri Lankan food and I always serve this heavily spiced aubergine curry with my famous coconut rice. If you are talking about Sri Lankan cuisine you are mostly looking at rice, coconut and locally grown fruits. So did you know that the eggplant is actually considered a berry? Way back in the 1700's the eggplant was likened to look like a chicken or goose egg and that is where the name eggplant came from. Over time the name albadingen was the Arabic translation for aubergine. The Portuguese version of the same word is beringela. So basically depending what country you are standing in, you might call eggplant something different.
Call it what you will, brinjal, aubergine, or if you are a dumb-dumb Californian who shops at Whole Foods and drives a Tesla, eggplant. This tropical old-world plant nightshade has many names depending on where you are located in the world. Here in our corner of the world, the alpine mountains of Big Bear Lake, California, I've spent the last two weeks of my life stacking five cords of wood. So yes, I will be enjoying an aubergine curry stew rich with coconut milk and fragrant curry powders this evening.
Please don't call it a thirty-minute curry
One of my pet peeves is these food bloggers who have hundreds of thousands of followers who think it's okay to wax on about a thirty-minute curry. A thirty-minute curry is going to taste like dirt Giana! You need to roast those spices girl! Nobody likes a raw masala. I mean unless you are one of those gals who buys frozen Trader Joe's Butter Chicken.
Of all of the curries, I create in my mountain kitchen this is one of the easiest. The biggest drawback is stirring it. For two hours. But that timeline goes faster if you are drinking a crisp cold rose in the backyard and stirring your curry creation on your backyard bar-be-que stove top.
I highly recommend serving this decadent curry over your favorite Coconut Rice.
To make this a vegan curry omit the duck fat. Use coconut oil instead of the ghee. And use vegetable stock instead of the chicken stock.
Sri Lankan Aubergine Curry with Coconut Rice
1 eggplant, peeled
3 teaspoons salt
1/2 a lemon
1 teaspoon chopped garlic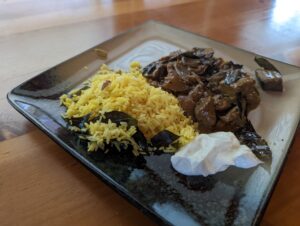 1 teaspoon chopped ginger
1 1/2 teaspoons of the best curry powder ever
3 and a 1/2 tablespoons ghee
2 teaspoons duck or goose fat (Or coconut oil)
1/2 teaspoon fenugreek powder
2 cups chicken stock or bone broth
1 1/2 cups of water
1 can of coconut milk
8 curry leaves
To start, peel your eggplant. Slice the eggplant into about six slices and salt liberally with one and a half teaspoons of salt. Let allow to rest for at least one hour.  Open the bottle of rose. After this amount of time has passed and you have poured a glass of this light red wine, rinse the eggplant slices and drizzle with lemon. Cut the slices into bite-sized pieces. Set them aside and begin to fry your onions in two tablespoons of ghee. Cook your onions until they are very well browned, this should take at least fifteen minutes. You might want to pour another glass of rose.
How to build the finest aubergine curry masala
Now that your onions are browned and your liver is warmed up it's time to start on your masala. Firstly, add the garlic and ginger to the onions just until cooked. Add in one tablespoon of ghee as you do this. Add in a touch of water if the mixture sticks. Now you are ready to mix in the Madras curry powder. Add in some water at the same time and keep stirring and adding water as the masala roasts. Keep roasting your masala for at least twenty minutes, adding water as it cooks down. Now if your masala is starting to smell nice and roasted and has darkened just a bit you are ready to stir in the duck fat, followed by the eggplant pieces. And you might be ready for another glass of crisp and cold rose. Stir in some of the chicken bone broth as you keep stirring and stirring and stirring the curry. Add in the fenugreek and the rest of the chicken stock and salt. At this point, you just have to keep stirring the curry and let it reduce for at least an hour. After an hour it should have reduced quite a bit and thickened. Now you are ready to mix in the coconut milk.
As your coconut milk is cooking into your curry, in a separate saucepan, heat that last 1/2 teaspoon of ghee. Add your curry leaves and roast just until slightly brown. Remove from the heat. Ten more minutes on the heat and your aubergine curry should be good to go. Garnish with the fried curry leaves.