One time I went to Munich.
I ate more Bavarian brats than I ever considered humanly possible.
I drank vats of delicious German beer.
I ate so much creamy German milk chocolate.
And I cried myself to sleep most nights of this trip.
Beer, Brats and chocolate?! Sounds exceptionally wonderful, right? Why was a week spent in beer soaked Munich such an utterly frustrating experience?
For a week in Munich when I was in my early twenties I slept in a soaking wet tent in the middle of a drunken Spanish frat boy filled party. I had to yell at drunken twenty something Spaniards to "Get the fuck out of my tent" at three a.m. It was easy to yell this as I was not sleeping anyways as how could I possibly sleep as I was literally soaking wet sleeping in a puddle for a week.
It is amazing I did not get sick this week and I must have one hell of an immune system. This may have been because my liver was preserved in German beer.
The Oktoberfest celebration is Munich usually happens during a warm Indian summer like fall. When we booked our trip to camp during Oktoberfest at a camp ground at the Munich Equestrian Center I figured it would be warm beginning of fall camping. No problem, I'm a camper and I don't get cold easily. I would be fine.
Than it rained for five days prior to our trip. When we checked into the camp site after dark on a chilly September evening the entire campsite was a wet swamp. It was a joke. This was when I was in my early twenties and we did not have the money for a shared hotel, or hostel and this was well before the joys of Air B and B. After checking into the camp ground, throwing our bags into the damp tent with a splish and a splash we made our way through the dark campsite to the nearest "bier hall" which coincidently was located feet from our tent. This would come to be exceptionally frustrating at two a.m. EVERY NIGHT for seven nights straight.
When in Munich; YOU WILL PARTY. MUNICH WILL MAKE YOU PARTY.
"Partei Bitte!"
Do you see now why after days of much sleep deprivation and even more wursts and bier I would find myself sleeping in a muddy puddle shivering myself to sleep and crying that all I want is a dry bed and quite for four nights straight?
I might make Germany sound like a damp hell hole but it was nothing but exceptional once we left the swamp of a campground.
After we arose from our damp dripping tents in the morning we would take the train into Munich's city center and eat breakfast at this fantastic little café in the Marienplatz.
The food was so good that we ate here every morning of our trip. I have never had orange juice that tasted so fresh and sweet in all my life than when I was in Munich for that week. The coffee was earthy, dark and fantastic too. That is something that most Americans don't realize. Besides having fantastic bier and brats Germany has fantastic kaffe and also when you order breakfast in Germany they have the most amazing yoghurts and mueslis.
After our filling German breakfast we would head out to do something fun and touristy before we started drinking bier. Some days we would walk the fantastic markets of Munich and find trinkets to take home to our loved ones, and usually eat more food. The farmers mark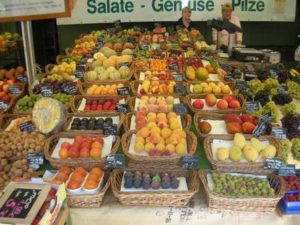 ets were just incredible; each separate farmer seemed to have fifty or so different kinds of fruits and veggies all from nearby farms. Everything was tempting.
One day we spent the entire day drinking beer at a Monastery in the German hills. After we took the train up to this monastery in the foothills we delighted in the most fantastic crispy pork knuckles you could ever imagine, plus an array of German cheeses that I have never tasted outside of Germany and a fantastic homemade apple strudel for dessert. After we drank vats of delicious German bier and inhaled so muc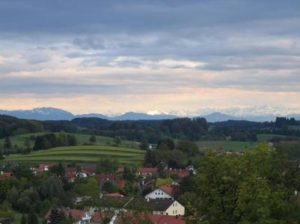 h great German treats we took a stroll through the gardens of the monastery and watched the sunset over the snowy Swiss Alps in the distance.
Some days we would just spend the days wandering the carnival like atmosphere of Oktoberfest, snacking on hot roasted nuts and smelling like a homeless person in my moldy tank top.
Yes, by day three everything I owned smelled of mold. It was seriously disgusting.
On our fifth day in Munich the sun came out and we spent the day sitting outside in the magical sunshine, trying to defrost our frigid bones at the Paulenar Bier Garten. That day was simply fantastic and we were all smiles as we laughed about all the mold we were ingesting from our tents.
We may have been high on mold fumes at this point. It is very possible.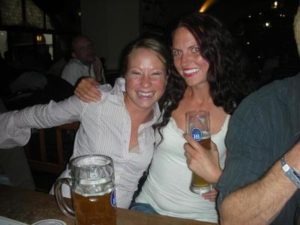 Does it sound like I gained ten pounds on this trip by the amount of stick to your ribs German food we drank not to mention gallons of bier? You can see by this after photo of me, fat and happy on a train leaving Munich that I ate my way across Oktoberfest