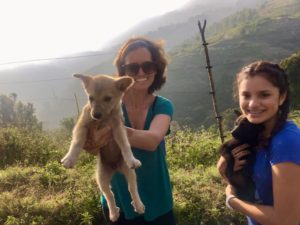 It was ten a.m. in the jungles of southern India. I was sweaty, I was hungry and I was hungry. Have I mentioned I was hungry? And apparently, we had to walk by three more villages, six more temples, twelve random cows a pooping, a partridge in a pear tree and three men in lungis before we could get anywhere near the breakfast that had been promised to me when we started this hike during a foggy sunrise back at the awesome jungle resort we had booked for our Christmas holiday.
As I sat in the lodge listening to the langur monkeys waking up in the dark jungles of southern India, sipping a delicious Sunrise morning coffee with cream and nibbling on one biscuit, just one, I never dreamt I would have to walk ten miles through multiple Indian jungles, dodging cute puppies who might pee on me, just to inhale some calories.
Every hike should have a puppy break. Of course, every hike should also include breakfast and preferably not eight miles and three and a half hours later. Looking back on that foggy sunrise and the steam coming off my bitter delicious Sunrise coffee, why on earth did I not fill my pockets up with delicious Indian breakfast biscuits for later on the trek?
Christmas season 2019; A pre-COVID Christmas
Today's trek into the jungles near Ooty, in southern India was absolutely amazing and out of this world gorgeous. The Christmas season in India never feels like an American Christmas mainly because every day is at least eighty degrees and one never stops sweating. It's a glorious break from shoveling snow back at home. On this winter morning in India's lush green jungles, we trekked past tea plantations and carrot fields and stopped to snuggle stinky mongrel puppies. We also walked past villages so far back in the Nilgiris blue mountains that I doubt the villagers had ever seen an iPhone before or knew who President Donald Trump was.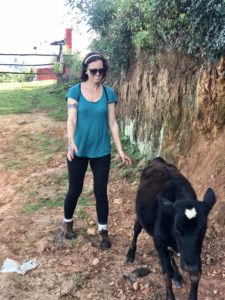 We sweated our way past old men wearing traditional lungis and wrinkly but fabulously colorfully clad village women carrying laundry baskets on their heads to the river. All these villagers thought I was a weirdo for taking selfie after selfie with their village bovines. I mean, come on, who doesn't want to take a selfie with a black cow?
This hike through the Ooty jungle was fantastic except for one thing; Someone forgot to feed The Hungry Mountaineer that morning! A Hungry Mountaineer is somewhat, a complainy mountaineer, especially when trekking through a hot and humid southern India jungle oh and also her hiking boots are falling apart.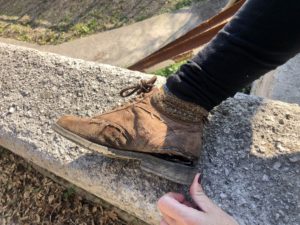 To be fair; I was under the impression the hike would be ten kilometers out and back with a packed breakfast included. I was so very wrong. But with everything in India, just because you are told one thing, that does not mean how the cards will be dealt. The ten-kilometer hike quickly turned into an almost ten-mile trek into a hot and humid jungle up some very steep hills. Yes, by the end of our trek, we had hiked up close to two thousand feet in elevation gain, and we could see our resort down below, just barely peeking out of the clouds. I knew the breakfast buffet; Ghee roast, paleek paneer and butter chicken waited down there somewhere. By noon on this humid morning in the jungles of India, I was ready to stuff my face then dunk my butter chicken ass in the pool.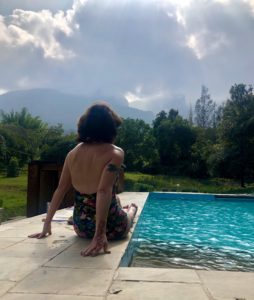 "Are you sunbathing?" The village children, covered head to toe in wetsuit-like bathing suits asked me, hours later, as I relaxed poolside after a hotter than hell and humid eight or twenty-mile morning hike.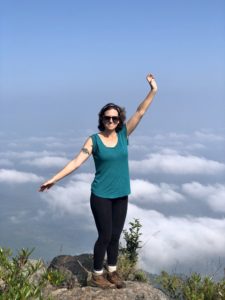 "Well, I'm wearing SPF one hundred and ten so I wouldn't consider that sunbathing" I replied and I was pretty sure they had no idea what SPF was in this secluded jungle with not a Sephora to be seen for thousands of miles.
The best part of our sweaty and starving morning out in the jungles of India had to be this view. Or it could have been when I was actually fed.
Just a typical sweaty afternoon in the Indian jungles near Ooty for The Hungry Mountaineer and family.