It was a Monday in April and there I was poolside with a healthy green juice clenched in my hand and a good book resting at my side. I had spent all morning hiking amongst the wildflowers in a hidden nature preserve just outside of Los Angeles. The skies were the kind of agua blue and clear you only find in Palm Desert in the springtime. I could feel the stress leaving my limbs as I sipped on my ginger, celery, green apple and cucumber beverage and wondered why I didn't do this every day. Oh yeah, because cheap vacations are hard to come by. If you are anything like me, you might work seven days a week during the busy season. Who has time to plan cheap vacations with that kind of nuts work schedule, let alone take the time off from your day job?
I live two hours from Palm Desert and this hidden wildflower hike. It's at least a two-hour drive from my front door to these mineral hot springs that call my name in the spring months. Life and work and running my own business get in the way of fun and zen so often. There are few days I have the time to pick up the current book I'm yearning to inhale in my backyard, let alone step away from my small business as the most popular hiking guide in Big Bear Lake California. Sometimes as a busy hard-working adult, you just need to rest, relax and plan some cheap vacations.
Can you plan cheap vacations to California of all places?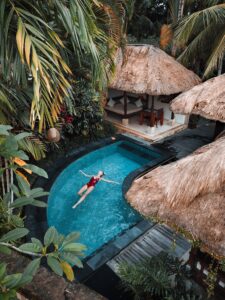 Who wants to go to Disneyland any day, let alone at the tail end of a global pandemic? Tourists may flock to beaches like Malibu and Santa Monica but California has so many more scenic adventures away from the Santa Monica Pier. (But if you do make it to Malibu you do have to visit Neptunes Net for the most epic fresh-caught seafood experience near Los Angeles. And with all the trendy restaurants in the Los Angeles area, lunch at Neptune's Net will not break the bank if you are being frugal and have cheap vacations planned.
I'm definitely not the kind of tourist to ever hike to the Hollywood Sign or shop on Rodeo Drive. I'm not one to visit any of the other uber-popular destinations popular with tourists from areas like Detroit or Milwaukee, freezing cold lands with minus ten-degree temperatures in January and February. Why not trek out to southern California in April when the midwest is still defrosting from another freezing cold winter and from Cincinnati to Kansas City this area of the nation is seeing flooding and tornados. I totally understand why tourists flock to the southland to get away from all that. And California is a great holiday destination even for those on a budget. Who needs to spend thousands of dollars on a Disneyland vacation when you could do a fun outdoor Airbnb experience like this. You can drink coffee with so many kitty cats at L.A.'s best cat cafe! 
But let me give you just a bit of advice about trekking west to California in April. Skip Magic Mountain. Step out of that Lightning Lane at Disneyland. I'm the kind of traveler who likes off the beaten path destinations when I step away from home and outside of my comfort zone. And let me tell you if you are on holiday in California in April there are so many great outdoor adventures to be had here to curb your wanderlust. Many Americans are ready to start revenge traveling now in the springtime of 2022 and let me give you a few pointers on where to lace up your hiking boots or get naked at a hot spring this springtime, especially if you are enjoying a budget-friendly vacation.
The best of Palm Desert; Off the beaten path, that is
As a lifelong Californian, I'm more a fan of winter and the snow than a traditional bake in the desert sun snowbird. Every winter over 30,000 snowbirds from Michigan to Canada and all over the frigid north, travel west to California and yearn to defrost in Palm Springs. I'm normally not the type to escape to Palm Desert. Until April that is when my favorite mountain trails are covered in melted snow and are a muddy mess. Then I start to crave some vitamin D and try to make my way off the mountain and to the east of the Morongo Valley. Set just below the craggy peaks of San Jacinto, the Coachella Valley has a plethora of outdoor options in the springtime.
Every April my wanderlust leads me just west of Palm Desert to Whitewater Preserve. That is when the wildflowers are really in bloom here in the Coachella Valley. I usually share the trail with over fifty Pacific Crest Trail hikers as they make their way from Mexico to Canada along this two thousand plus mile trail that traverses some of the most scenic wilderness in southern California. Before the Pacific Crest Trail trekkers hike up the mountain towards my home at seven thousand feet in Big Bear Lake, they have to hike up through the Sand to Snow National Monument and through the Whitewater Preserve. And it just happens to be the same time of year that the bright yellow Brittlebrush starts blooming and this hidden secret of a trail is a rainbow of flower scents and colors.
This over two thousand acre preserve hugs the Whitewater River as it flows through these desert canyons. The preserve opens at eight a.m. daily but you can hike here earlier if you park on the canyon road. I definitely recommend hiking the Red Dome Trail. Follow signs to the PCT and make a right on the PCT as you trek towards this giant behemoth of metamorphic rock, Red Dome. Once you have taken enough selfies with Red Dome, I recommend heading back in the other direction on the PCT as it snakes up the mountains past hills of wildflowers covered in Grape Soda Lupine and ruby red Indian paintbrush.
You can take this route up onto the ridgeline and enjoy the views of San Jacinto to the south, this will take you back on the Whitewater Canyon Loop Trail. This entire hike is a little more than six miles. Definitely wear layers as the desert heat warms up fast in April as you trek this part of the Sand to Snow National Monument in the San Bernardino Mountains!
Starving after burning all those calories on this hike? I highly recommend inhaling some carbs at Sammy's Woodfired Pizzas' in Palm Springs
Grab some snacks for the road at On the Mark. Their selection of spicy pickled carrots, blue cheese-flavored almonds, duck pate, black fig jam and so much more will have you wishing they had an On the Mark where you live!
Don't drive by Georges Market in Calimesa! You can miss Calimesa if you blink as you drive back to Los Angeles on the ten freeway but if you love quality German food, a stop at Georges Market is a must. This fantastic verkaufen has been serving the Calimesa area for over fifty years, providing the best-smoked brats and pork chops along with German candies, rye bread, marzipan and beer you can not find anywhere in southern California.
For the best nuts and jerky on this side of the Cabazon dinosaurs check out Hadley's Market in Cabazon. Since the 1930'3 Hadley's been working in harmony with the Morongo Band of Indians to bring high-quality nuts and dried fruit to the banning area. And take a selfie with that giant brontosaurus before you drive back to Los Angeles.
Palm Springs is known for three things; Golf, hot springs and spas. Two out of three of these keep me very entertained any time I can make it east to this desert just one hundred miles from Los Angeles. That is one hundred miles with tons of traffic, by the way. The growth in this area in the last ten years is just insane. Just the once small town of Beaumont, California has grown by a whopping 44 percent in the last decade. For this reason, yes, you should expect much road construction on your drive east to the Palm Springs area. Expect a lot of freeway construction on your journey to the Coachella Valey if you drive the ten freeway out to Whitewater Preserve or Two Bunch Palms.
Where to take the waters in Palm Desert

The Springs in Desert Hot Springs exudes a level of zen that is hard to find in southern California. I love to relax at this day spa on a weekday. Escaping what's left of winter, rain and wind in Palm desert by the pool is my idea of a relaxing April morning. Sweating out all those daily toxins in the sauna is where I find my zen.
Two Bunch Palms has to be by far the most peaceful day spa in Palm Desert. However, they do not allow day passes. You do have to get an overnight room there to take the waters at this outdoor oasis. My personal favorite for a relaxing spa experience in the greater Palm Desert area is Azure Palm Hot Springs in Desert Hot Springs.  Their Himalayan salt room and their ice room are not to be missed. The Himalayan salt room is heated to 110 degrees and gives you a sauna-like experience. Inhaling the Himalayan salt is said to help respiratory issues like asthma. In the 1800s people believed that working in the salt mines actually would thin your blood and lead to fewer respiratory issues. Azure Palm Hot Springs has one of the very few Himalayan salt rooms in California. A day pass to this exceptional and relaxing spa is only $55 a day.
If you are planning cheap vacations to southern California this April but still want to take the waters in Palm Springs, check out Miracle Springs Resort and Spa just minutes from Joshua Tree National Park. You can relax at this spa in Desert Hot Springs poolside for just eighteen dollars a day! Nothing says California cheap vacations and yet relaxing as all hell but this deal!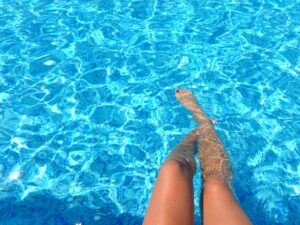 Glen Ivy; The best day spa experience in all of southern California.
First and foremost you have to know that Glen Ivy can be a zoo on weekends and during the high season. Don't go in late June on a weekend. You will not find a zen experience. You will probably find a bunch of drunk fraternity girls having a bachelorette party. I went to Glen Ivy Day Spa for the first time when I was twenty-one with friends. You know, the kind of thing you do in your twenties when you make big fake mud boobies from the red clay mud in the grotto and then bake in the hot sauna with four of your best friends. As I baked under the red mud, a spa addict was born. Here I am almost forty years later and I might live over a hundred miles from Glen Ivy but I try to make it out to north Corona at least once a year to relax in this underground cavern and be painted neck-to-toe with a warm aloe vera, coconut oil, eucalyptus, shea butter and lavender masque by a stranger. It's not a fetish if it includes lavender oil, right?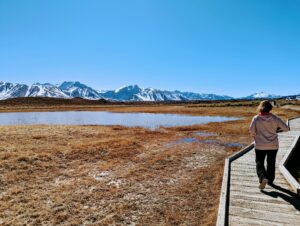 Don't feel like a stranger painting you with eucalyptus flowered mud? A unique natural hot springs experience can be found in the foothills of the eastern Sierras north of Bishop, California. Of course, these hidden hot springs were a local secret before this global pandemic. Thanks to lots of social influencers and everyone sharing this hidden hot spring on Instagram, Wild Willies Hot Springs are not as quiet and secluded these days.
A hike to the MASH set at Malibu State Beach
"I've got a soft spot for Klinger. He looks a little like my son, and he dresses a lot like my wife." As a child, and even now as a grown-ass adult I still think that MASH is one of the greatest comedy t.v. shows of all times. They just don't make them like that anymore. Which could be why I never watch t.v. As someone who has lived my whole life basically two hours from Los Angeles, I had no idea until just recently that you can actually hike through the MASH set! As a hiker and a Hawkeye fan, this idea enticed me.
If you have plans for cheap vacations in California this springtime, The MASH hike is a must! From 1972 to 1983 MASH was filmed in this tiny area of Malibu State Park. This park is the former location of 21st Studio Fox studios. The MASH set is located along Crag's Road. It is just under five miles to hike the whole loop. This is an excellent hike in the Los Angeles area, However, this hike is not dog-friendly as it does take place in a state park. Boo.
A dogs day in OC at the dog beach
So what can you do with your pup on a spring day in southern California? Check out Huntington Dog Beach. I recommend going early in the morning on a weekday when there is a lot of parking. This is a great way to start your budget vacation on a springtime morning. All you need is a few quarters for the metered parking.
I don't know about you but if the southern California weather is finally warming up, I need a few new rompers. If I have cheap vacations planned then I probably want to check out local thrift stores and the Goodwill Boutique in Tustin. This is for sure one of the best for thrift store shopping in southern California. If thrift store shopping is your thing on cheap vacations then also check out Savers brand of mega thrift stores, located all over southern California.
Girls just want to have fun; And snowshoe!

OMG have I wanted to escape to Mammoth in March for some snowy adventures for the last few years. This late March I finally had a few days of vacation to escape to the eastern Sierra, strap my snowshoes to my back and take a hike all over Mono County.
There was so little info available online about where to snowshoe in the Mammoth area after this crazy dry winter that left the Sierras with very little snowpack by March. Being on vacation I was hell-bent on inhaling vacation foods like my Elk and Sweet Potato Chili with cornbread and ready to burn calories every morning. That meant some badass snowshoeing. Snowshoeing burns about a quarter more calories than hiking does. Always use trekking poles with baskets for snowshoeing. Not only will this help protect your knees should you take a bad step but you burn more calories hiking with trekking poles. With the help of those trekking poles, you work your arms, your back and your shoulders. Not only can snowshoeing help you burn off all the chili and cornbread, but it can also be a full-body workout! And you can enjoy that fresh mountain air, reducing your stress levels.
So just where the hell should you snowshoe?
The Lake's Basin is the best place to go for four feet of snow on groomed trails. You can trek all the way back to Horseshoe Lake, which is pretty easy. It is just under five and a half miles to trek the whole out and back trail.  There is not too much altitude gain. You can also be impressed by the nordic skiers flying by you like Olympic athletes (At least I was)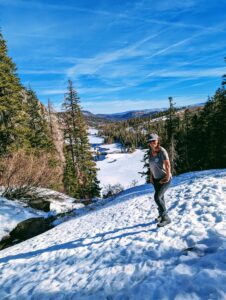 The other absolutely amazing snowshoe trek in the Mammoth area is from Main Lodge at Mammoth Mountain to the Minaret Vista. This is only about a three-mile snowshoe so pretty easy. The views over Red's Meadow in the wintertime are just epic.
Cheap vacation ideas on California's Central Coast
There are so many epic outdoor adventures to be had all over southern California. Okay let's face it, gas is crazy expensive but that didn't stop me from planning a cheap vacation to Pismo Beach this April. I just did not get gas in Big Sur where it was almost seven dollars a gallon!
If you have cheap vacations planned to Pismo Beach and the central coast this spring you have to camp at Montano De Oro State Beach. There are campsites available at Islay Campground. The hike down to Spooner's Cove Beach is only a six-minute walk from this campground and a perfect place to catch the sunset. This is the only beach in Montano De Oro that is dog-friendly as well. Montano De Oro is a great base area to explore up the central coast to Big Sur. Make sure you hike the Hazard Peak Trail. The views looking towards Morro Rock are just epic.
For sure make a stop near San Simeon to see the elephant seals. They are so unique! Pack some sweaters if going for a road trip up Highway 1 as even in April the days can be overcast and chilly. I always stop for a bowl of clam chowder for lunch in Cayucos at Duckies. Cayucos is such a chill little beach town to walk around. Definitely walk into the Brown Butter Cookie Factory for fresh-baked cookies and free samples.
Southern California has way more to offer than just Disneyland, the Rose Bowl and all those things most tourists do when they visit. If you have cheap vacations planned to the southland this spring try and stray from the beaten path and see some of the beauty in the wilderness this state has to offer.