As the Santa Ana winds kicked up to forty miles per hour gusts I knew I had to get the hell out of this mountain town, Big Bear Lake California. With most of the national forests closed in California how was this wanderlust-filled hiker supposed to fill her days? What is there to do if you can't hike or mountain bike in the wilderness? Luckily here in Big Bear Lake in southern California, we are just a two-hour drive from sandy beaches and palm trees. The beaches of the South Bay were calling my name on this Thursday morning. It was time for a long weekend of colorful beach sunsets, thrift store shopping shenanigans, beachside concerts and planes. Lots of planes.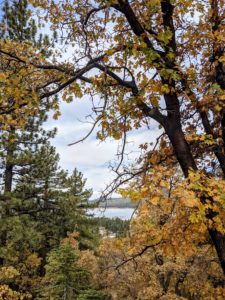 Most Septembers as the leaves on our black oak trees turn from green to orange to yellow, I would never want to leave the relatively cool climate of our mountain communities. This is the time of year the nights get cooler, the black oak leaves start to fade to yellow and I enjoy watching mother nature's grandest artwork as the autumn colors arrive. I mean that is assuming I am allowed to trek through the woods. Only here in California are the forests one hundred percent off-limits to recreational hikers most of September. That would be because the forest service in California thinks that all of us hikers and mountain bikers are going to take a break from our trek up that ten thousand foot mountain peak to start a wildfire or set off illegal fireworks as the tourists do. It's beyond ridiculous the way our national forests are mismanaged in California. But this unheard-of national forest closure did give me a great excuse to plan a California beach getaway.
A sustainable shopping excursion in the South Bay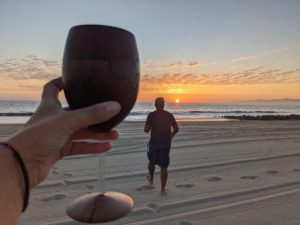 If I can't trek through the forest then I might as well drink wine out of my brand new to me, vintage wooden wine glasses I just purchased at my favorite thrift store. One of my favorite past times when I'm not trekking up ten-thousand-foot mountain peaks is thrift store shopping. The best of the best southern California thrift stores can be found near the beach towns of the South Bay area. I definitely had to take a break from the beach to acquire some new treasures while on our beach holiday.
Staycation in the South Bay
As someone who was born and raised in Southern California, believe it or not, there are a lot of tourist destinations in California I have never seen. There are so many trendy tourist spots only a few hours from home that I have never even checked out. I've never been to the Hollywood sign or Rodeo Drive. I've driven through Beverly Hills one time on the way to see a back specialist. (And the mansions on the way were out of this world) I've been to Griffin Park one time in my twenties (And see no reason to go back) Same thing with the Hollywood Walk of Fame. It's just more of a tourist trap destination. I did drive through Malibu one time and had lunch at famous Neptune's Net (The fried clams were amazing but not worth the traffic getting back up Mullholland Highway to the 101 Freeway. I had never been to Redondo Beach or Manhatten Beach or any of those areas outside of catching a departing international flight from LAX. So on this autumn getaway trip to the South Bay, we decided to basically camp on the beach at Los Angeles International Airport.
We had a reservation to stay at Dockweiler State Beach in El Segundo just a mile or so from Los Angeles International Airport. It's very tough to get a beachside RV site in southern California so jet noise be damned we were thrilled to have snagged a spot at this beachside camping site. Our friends we were traveling with a stay at Dockweiler State Beach quite a bit throughout the year and had warned us it's a gorgeous location but the planes departing and arriving can be very loud and constant. And they were. But we lucked out just a bit in our planning, doing this beach trip at the tail-end of a global pandemic. The plane traffic was probably about a third of what it usually would be. Even with a bit of plane traffic in the skies, Dockweiler State Beach would be our home away from home for the next four nights.
A few fun facts about camping at Dockweiler State Beach.
This is California beach camping and that means the day the date you want to camp becomes available you have to reserve your site at midnight.
There are a lot of vagrants in this area and don't leave bikes, expensive beach chairs, those precious vintage wine glasses or anything else you cherish sitting outside unguarded.
Dogs are not allowed on California State Beaches because California sucks and man's best friend is treated like a dirty beast in California.
You can try to extend your stay at Dockweiler State Beach but only if the site you are staying in is free for two consecutive nights.
If reserving a fire pit on Dockweiler State Beach on a Saturday, make sure you reserve your firepit as early in the morning as possible.
One crazy thing about southern California; It is nearly impossible to get a beachfront camp spot. There is very little beachfront camping and most spots fill up the day they become available. That usually means booking six months before your travel date at midnight. For all the one hundred and fifty miles of beachfront in southern California, beachfront camping is hard to come by.
We were spending a few days in the South Bay area mainly for the BeachLife concert series. Maybe that sounds nuts to go to a concert at the tail end of a global pandemic but most of us were vaccinated and the concert venue was extremely persnickety about Covid safety protocols.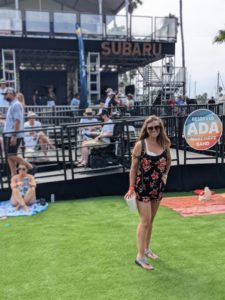 So we left all our dogs at home with the petsitters and decided to get the hell out of Big Bear Lake and drive the one hundred and twenty miles in God-awful L.A. traffic in our two motorhomes to the beach with planes oasis. We reached the South Bay and Dockweiler State Beach on a Thursday early afternoon. The beach was so fantastic; Empty beaches that were groomed with machines every morning. The sand was clean and pristine. This seemed like such a change from most southern California beaches like Newport or Huntington that are crazy busy even on a random Tuesday morning.
As much as I love our mountain oasis I enjoy getting out every once in a while and being on holiday somewhere that I can ride my bike to Whole Foods. Our holiday in the South Bay area of Los Angeles let us do just that.
One thing we found so fun on our stay in the South Bay was E-biking. We rode E-bikes all over Manhatten Beach, El Segundo and Redondo Beach. The beachside biking paths made it so easy! We even rode our bikes to Venice Beach one morning. (Which was a scary place with a lot of drug addicts hanging out and I was very glad I was with two men and on a fast bike where I could peddle away from danger quickly.) We did however have breakfast at the Fig Tree Eatery with delicious vegetarian food and a fantastic oat milk latte. A truly great oat milk latte can make me forget that this restaurant did not have bacon on their brunch menu.
On Saturday evening we rode the E-bikes to Kagura sushi in El Segundo. The fresh sashimi was dynamite and we will definitely have to come back to this place in downtown El Segundo next time we are in the South Bay.
On Sunday after the concert, we decided to take a short drive to Artesia for some early morning Indian snacks. I had been meaning for weeks to drive from our mountain oasis in Big Bear Lake the two and a half hours to Artesia, known as Little India to stock up our kitchen on Indian spices. We were running so low on black mustard, Kashmiri chili powder and authentic Indian brinjal pickles. Luckily Artesia is just a hop skip and a jump do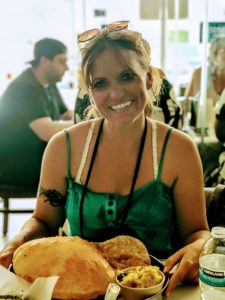 wn the 91 freeway from the South Bay. The last morning of our South Bay getaway we decided to drive to Artesia, stock up on frozen puris, date chutney and ground white pepper (What a simple ingredient; Why do I have to drive all the way to Artesia to buy it?) and also have brunch at the Dosa Cafe. We were camping just thirty minutes from an authentic dosa breakfast; How could we resist?
This early morning getaway to Artesia and a spicy Indian breakfast was the perfect way to end our adventures in the South Bay area of Los Angeles. Yes, most of these adventures centered at shoving food in our mouths! What a great little fall getaway not too far from home.