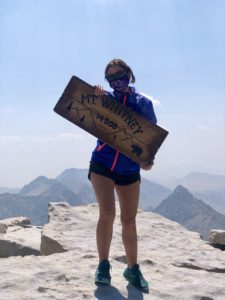 It's summertime 2020 and the eastern Sierra mountains are calling my name. My unbridled wanderlust is getting to me as this pandemic rages through the hot summertime months. If you are anything like me and my family you have been self quarantined since March 6th. You have become accustomed to wearing a mask every place you go (and by that I mean once a month to the Trader Joe's an hour and a half's drive away) If you are anything like me, you might be getting a little stir crazy being safe at home and may be ready to get back to work, back to life or at least have a few adventures.
Here in our mountain resort town of Big Bear Lake, California, we have seen a crush of tourists packing our trails, pooping in our forests and leaving everything from dirty diapers, feces and much, much worse behind on our city streets. Our pristine lakeside beaches are also a dirty filthy mess and living in a resort town during a pandemic where thousands of tourists flock here on a random Monday is starting to get to us. There is always traffic like a holiday weekend even on a Tuesday these days and our local grocery stores are having an impossible time keeping up with the influx of visitors. Living in a resort town can definitely have its downside and during this epic pandemic, our small town is feeling overrun with tourists like a holiday weekend even on a random weekday.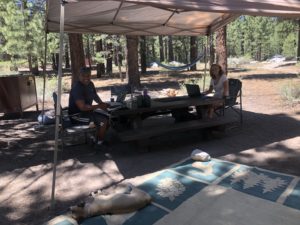 Our family needed a break from our tourist town and the daily traffic that was feeling more like a holiday weekend every Tuesday so we packed our motorhome and raced up to the eastern Sierra as fast as a twenty-year-old Fleetwood RV could. We had plans to hike backcountry deserted trails, fish for native trout at sparkling alpine lakes and relax in the forest away from other tourists. Some of that happened. Our small mountain town in Southern California may be the number one day trip tourist destination in the U.S. that you can easily drive to right now but the eastern Sierra itself turned out to be crawling with masked and unmasked hikers taking selfies by our favorite alpine lakes.
If it's tourist season why can't we shoot them?
There is a reason the locals in these mountain towns hate tourists. We are the ones picking up the broken sleds and garbage left behind in our once pristine forest once the flatlanders leave. We have to yell at folks not to pee in our front yard (No really we do!) We also have to deal with hellacious traffic just to go to our local post office or grocery store. We get over the tourist season fast. So that's why our family made haste and drove our motorhome north on the 395 as soon as we found a campsite available for the month of July. We traded one national forest for another and headed north.
In this southern California mountain hamlet, we are not the only small town fed up with tourists and visitors. Canada, eh, seems overrun with bored American hikers desperate to tour Banf National Park during a global pandemic. Canada is so gorgeous and Americans are that bored, that American tourists are actually illegally entering Canada which seems like a bad idea to me. In Canada, the Canadian Mounted police will actually arrest you right now for doing all those tourist things Americans love to do on vacation, like taking a selfie with a moose while wearing a MAGA hat.
The 395 North
If it's early July you can usually find our family at either a campground like Oh Ridge Campground in June Lake or what was formally known as BLM (Bureau of Land Management) camping off the grid somewhere north of Lake Crowly. Apparently, according to CNN you now have to refer to BLM camping as dispersed camping when you are camping on a dirt road in the forest. This seems kind of nuts to me as I've been referring to camping off the grid as BLM camping since I was a kid. Here in this crazy upside-down world of 2020, I'm starting to think FoxNews should run a ticker at the bottom of the screen every day with words I am allowed and not allowed to say so I don't offend my snowflake friends. I've been camping off the grid since I was a kid with my own family and all of a sudden accidentally saying BLM camping has people yelling at me on Facebook.
There are so many great campgrounds where you can disperse camp right off of Highway 395 and not offend anyone and not be near other campers who may or may not be wearing masks. Definitely try to dispersed camp north of Bishop as it's a higher altitude once you drive north of Bishop and much cooler. It's a lot more alpine north of Bishop also and much more scenic. There are also a bunch of hot springs in this area and COVID cant live in the 170-degree water, right?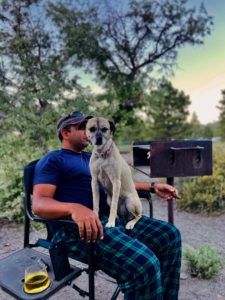 Camp away from the masses in the eastern Sierra
Every campsite near Mammoth Lakes was booked solid for the month of July and August and the campsites were very busy. We were extremely lucky to even find a spot. If you go camping in your own self contained motorhome like we do it does make it easier to social distance and stay away from other people's germs. We don't have to use the public washrooms and we don't go out to restaurants and spread our germs around. We make all our meals in the camp when traveling during a pandemic. This is a great way to be self-sufficient during a pandemic and not share your germs with random strangers you meet.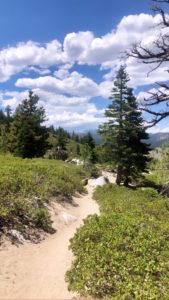 Always try when out and about and hiking to bring a mask with you during a pandemic. Before we left Big Bear Lake, I was hiking down a steep single-track trail and a forty-year-old man was walking up towards me not wearing a mask. I watched him sneeze twice as he approached me, not even covering his mouth and I thought, thank God one of us is proactive with her health and prepared to be in a public place during a pandemic. Singletrack trails can be very narrow and you can have to be very close to other hikers in order to pass and wearing a face mask is essential during a pandemic even when outdoors, since even grown men sometimes are unaware they need to cover their nose when they sneeze.
Explore where the marmots are
If it's one thing I noticed in all my years of camping, if you are camping or hiking where the marmots are running free then you are most probably away from the masses. I think most All Trails day hikers have never hiked as far as to see a marmot even on their longest hikes. (I refer to newbie iPhone reliant hikers as All Trails hikers because without that pesky little app they would never hike their way out of a parking lot) On my recent camping trip to the Eastern Sierras, I took a detour from the giant ridges of Mount Whitney to do a little day hike to the top of the Cottonwood Pass and even father almost to Big Whitney Meadows. I say almost, as the meadow was about 1000 feet below me and I just couldn't bear to hike down 1000 feet and then up 1000 feet when I have a twenty-four mile Mount Whitney hike looming in my future forty-eight hours from now.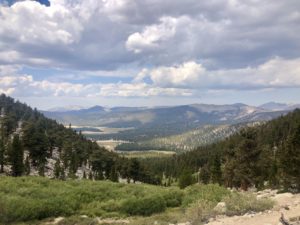 As I hiked up into this gorgeous mountain range that reminded me so much of the stark beauty of Yosemite I realized something odd. There were no tourists anywhere! It was so peaceful and pleasant and I literally saw more marmots on this hike up to Cottonwoods Pass and beyond, then I did hikers. What an awesome day out in nature! I brought my mask with me around my neck but never once even had to put it over my nose. If you find a trail where those cute marmots are, chances are its way above 10,000 feet and not the easiest trail to reach. Leaving you much safer from there hikers germs.
Hike the unpopular trails of the eastern Sierra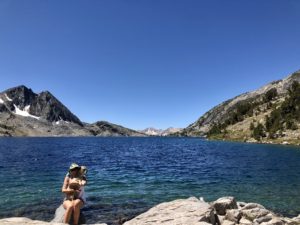 A month earlier on our first day in the eastern Sierras, I made the mistake of attempting to go for a hike up Duck's Pass in Mammoth Lakes and the trail was packed with tons of tourists and a few locals. So many people were being respectful and wearing masks which was awesome, but yet the same people were asking to pet my dog which seemed a little backward. So you are being careful and wearing a mask but you want to put your germy germs on my dog who I cuddle with and take selfies beside constantly? I also had people wearing masks ask me to take family photos of them shoving their dirty snot covered iPhones at me. That is a big nope. Why would I want to touch your germy iPhone? This right here is what selfie sticks with tripods are for; Perfect for a pandemic family moment!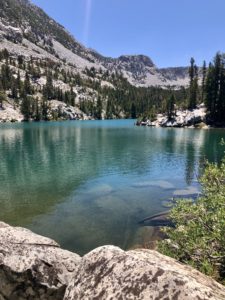 The mosquitos had been so ridiculous bad here last summer that I had to run up the last two miles of trail. I couldn't even stop for a sip of water or less face millions of bug bites. I literally spent less than five minutes on Valentine Lake's shoreline last July when I hiked here; Enough time to take a selfie with my dog and I was out of there before you could say "West Nile" This July I actually wandered around the right-hand shore of this rugged high sierra lake and was shocked at how many large brooke trout were swimming about easily by the shore and the rocky cove. Even after my pup jumped in the chilly waters of this lake at well over 8,000 feet elevation, all the trout made their way back into the cove again. I had been so close to packing my collapsable fishing pole for this trek into the wilderness. I was kicking myself for leaving it behind after finding this hidden honeypot!
One of the best ways to find a secluded hiking spot during a quarantine is to hike the hardest trails. The Yost Lake Trail out of June Lake is an intense uphill hike for the first mile and a half. You gain a thousand feet of altitude in the beginning part alone. When I hiked it last week I did not see another hiker the entire time. (I did see a bear and a bald eagle soaring over June Lake down below, however) The masses tend to not venture onto the very difficult trails which is awesome for backcountry explorers like me!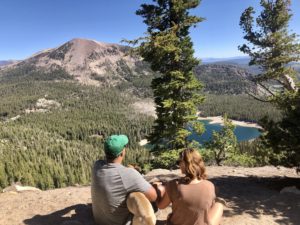 Another way to steer clear of the crowds is to continue on past the popular lakes. In Mammoth Lakes near Lake George, Crystal Lake has to be one of the most popular trails in Mono County. It's a mile and a quarter to scenic Crystal Lake. This short but sweet hike is popular with families and fishermen who don't want to hike very far yet still want to catch that elusive eastern Sierras rainbow trout. Crystal Lake may be just over a mile up this rocky trail but if you make a right at the Crystal Lake junction sign and continue up a strenuous section of uphill trail, in another mile and a half you reach the Mammoth Crest with some of the best views in all of the eastern Sierras. The best part of this hidden gem of a trail is most of the masses head to Crystal Lake. Very few day hikers venture up towards the Mammoth Crest or even further on to Deer Lake. Deer Lake is stunning and just a few more miles up this trail that hugs the ridgeline with epic views.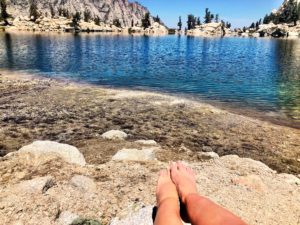 Lone Pine Lake used to be one of my favorites not quite Mt Whitney hikes in the eastern Sierra but unfortunately with the AllTrails app being so popular this once hidden lake is unbelievably crowded this summer! Last July I skinny-dipped in this rugged hidden gem of the eastern Sierras and there was not another hiker to be seen for miles! According to so many hikers I know, this year the shoreline of this lake has just been packed with day hikers and campers.
Good thing high altitude Meysan Lakes start from the same area! Meysan Lakes is one of my favorite hidden hikes in the eastern Sierras and I never see more than a few hikers on this trail, probably because it's one of the hardest day hikes I have found.
Fish on in the eastern Sierra!
Fishing is a great social distance activity. Most fishermen like to be by themselves in the quiet wilderness. A lot of the popular lakeshores in the eastern Sierra can get very crowded in the summertime. The most astute fishermen head for some of the streams in Mono County like the outlet at Silver Lake. You can hike down this outlet for miles if you wish and usually only see a few fishermen and lots of mule deer before you reach Grant Lake. (Also a great place to kayak or float tube and fish) The lakes you can hike miles to with a collapsible pole in your backpack are the best for some social distance fishing during a pandemic.
Row, row, row your kayak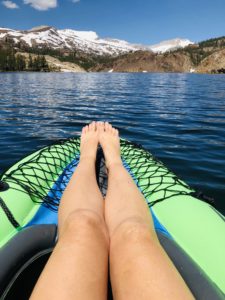 Kayaking by yourself on an eastern Sierra lake is a perfect way to social distance. I take my one-person kayak out with my pup on any day it's warm enough and not too windy. Lake Mary with snowy Crystal Crag behind it is a beautiful lake to kayak. The earlier you go out kayaking on an alpine lake, the least windy it will be. It's hard to be around the germy masses when you are out for a morning on a one-person kayak.
You had to do what where?
In this absolutely crazy unheard-of times of COVID-19 life can be difficult, to say the least. One wouldn't think that just trying to use a bathroom on a road trip would be that complicated but while planning a road trip to the Eastern Sierra don't count on any restrooms being available. When we road trip in our motorhome it's fine because we have our own potty but if going tent camping and needing a restroom on your road trip to get to a campsite, well good luck, basically.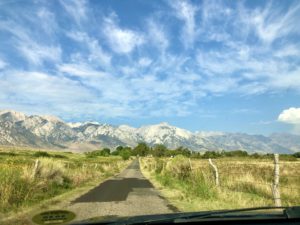 I spoke to quite a few friends while planning my trip up to Lone Pine and Mt Whitney and many of them told me that there are restrooms available at multiple gas stations along Highway 395. When I left my mountain home at sunrise to head north on the 395 I found gas stations with attendants and customers not wearing masks and they wouldn't let me use their restroom at multiple gas stations. And that is how I ended up peeing on the side of a highway and enjoying a beautiful Eastern Sierra sunrise.
If traveling to the Eastern Sierra any time during the pandemic I highly recommend if you want to make a bathroom stop, head to any Flying J, or any other truck stop along the 395. Their bathrooms are very clean and have to be serviced hourly at this time. And most importantly their restrooms are not closed! As a travel blogger, this may be the only time you will find me recommending stopping at a truck stop but it is crazy times we are living in!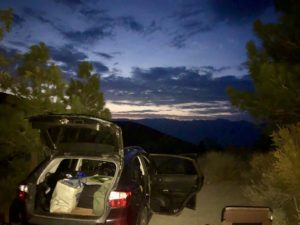 Tips and tricks to camp, hike and road trip safely during a pandemic.
Do use truck stop bathrooms.
Do try to be as self-sufficient as possible at your campsite.
Do carry extra hand sanitizer and Sani wipes.
If you have to pee on the side of a road, don't leave your TP. Leave no trace!
Bring extra masks on your trip with you; They do get dirty!
Don't throw your trash or dirty diapers in the forest.
Don't count on restaurant food. Bring your own pre-cooked home meals.
Don't count on other hikers to wear masks. Protect yourself and your family and always pack a mask for any hike.
Enjoy this great big wilderness world but do it safely and with the thoughts of others. Let's all get through this pandemic together!