My day in Yosemite National Park started out weird; I hiked almost two miles in the wrong direction on the wrong trail, I slammed my thumb in my car door and then I saw a dead Bambi marking the entrance to the park.
After I paid my thirty dollar entry fee ( When did this park get so expensive? I better see a lot of pretty for that amount!) and talked to the ranger on duty about how I was going to hike up Cloud's Rest and he commented on how cute my dog was. I was on my way AGAIN this time up the Tiago Pass and on my way to the correct lake; at least I hoped so.
I drove past gorgeous Tuolumne Meadows VERY SLOWLY as even on a Monday at seven a.m. there was a ton of traffic in Yosemite. Eh, it's the summer time, what do you expect?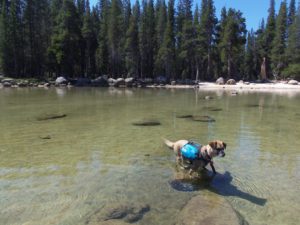 As I approached the shores            ( Finally!) of azure blue Lake Teneya I thought okay this is worth a slight thousand foot hike/detour and at least I'm warmed up enough that I don't need to wear sweatpants and carry extra weight for the rest of my hike. Even though it was only thirty-nine degrees out it was warm enough for shorts, and well, at this point it was an hour and a half later than I had originally expected to start hiking.
Lake Teneya was just gorgeous and I couldn't wait to swim in it after we hiked Cloud's Rest and read my book on its sandy shores.
We started the hike through a meandering meadow and I was so glad I had my little dog on a leash as there were deer every where! She was so entertained and obviously wanted to chase and play with the tall leggy "dogs"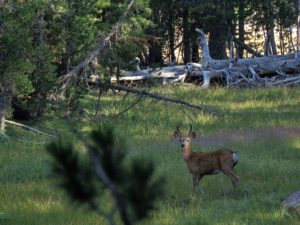 But we had a mountain to climb so up we went. We eventually made it to the switchbacks with a thousand feet in altitude gain and I was so glad we were hiking early in the morning when it was shady and cool!
When we reached the top of the switchbacks I was surprised the trail went back downward on the other side! We started going down (all in full sun now) and I was getting frustrated. Number one the trail was super populated; it was just wall to wall hikers and some of them were not very considerate of other people as in thank you for blowing pot smoke IN MY MOUTH HOLE as I'm hiking past you on the trail. I have a real job hippies….
I was also not very impressed with the hike, honestly. We did have a nice view of Half Dome and the valley from the top of the switchbacks but after hiking to Lake Ediza the day before the Yosemite trails were just not as pretty as the ground we had covered near Mammoth the previous day.
We had hiked over sixteen miles the day before, we were starting this hike an hour and a half later than I had anticipated and now we had to head back downhill ( which meant more uphill later in the full noontime sun) I had enough of hard hiking for one day. We decided to head back and maybe check out Sunrise Lake on the way back.
We detoured to Sunrise Lake a few miles out-of-the-way and we were heading back down the steep switchbacks about ten a.m.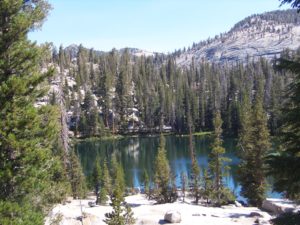 The trail was still packed with wall to wall hikers and back packers coming up. People kept asking me if Carly was a service dog and I thought that was kind of odd and thought maybe because of her pack she carries so she can carry her own supplies?
Finally I talked to one helpful guy who informed me dogs are not allowed on trails in the Yosemite Valley! I had no idea! When I stopped at the kiosk on the way in I had even mentioned to the ranger that we were hiking Cloud's Rest and he has commented on how cute Carly was and not said anything to me about dogs not being allowed on the trails!
I felt like poo for breaking the rules and hurried back down the trail as quickly as I could before a ranger found me and yelled at me (actually it was not exactly yelling it was more like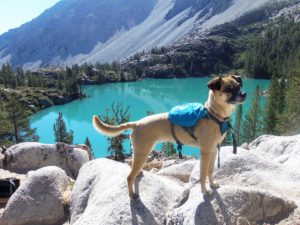 "Service dog? Wink wink"
Some how I managed to look cute still on day three of not showering and also running out of my natural deodorant that does nothing anyways. (It's pretty much less wiping your pits with a sprig of lavender and enjoying paying thirty dollars a tub for the privilege)
It was time to get the hell out of Yosemite National Park.
They did not appreciate my dog or my natural deodorant lifestyle.
But first a quick stop to swim at Teneya Lake which I'm so glad I took an extra fifteen minutes to break the rules because man is that a gorgeous lake.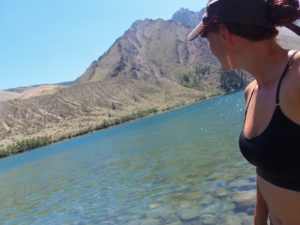 If I did not have an illegal dog in tow I could have read my book there all day long.
But I had other things on the agenda; like paying almost ten bucks for a dirty chai in Lee Vining than swimming at Convict Lake in an inside out sports bra.