I've got a confession.
I'm a germ-a-phobe.
I am completely obsessed with not getting sick. I absolutely hate cash in an unnatural way. I never carry cash if I have anything to do with it. If you ask me three things I can't live without on a daily baises I would say; ice water, sun block and my Am Ex.
A few weeks ago I was in Vegas partying it up with some friends and went into a store where they didn't except Am Ex. Because it was Vegas, I did have a little cash for slot machines, tipping valets, etc.
As I handed a ten dollar bill to the cashier in exchange for a gift for my boyfriend I had to complain out loud about how much I hate cash and how dirty, covered in germs it is. To which the cashier replied
"Oh yeah, especially in this town! These bills have probably been in a strippers thong"
Seriously! That thought never, ever crossed my mind and now I am even more grossed out by the thought of cash than I was before.
Using precooked carnitas this makes the easiest healthy stir fry.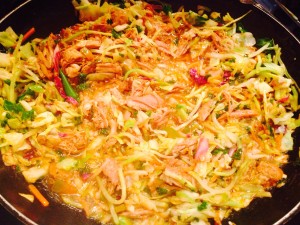 Serrano Chili BBQed Pork with Kale and Cabbage
1 cup pre cooked carnitas ( I buy Trader Joe's brand)
3/4 cup BBQ sauce
1/2 cup shredded kale
1/2 cup shredded Brussels sprouts
2-3 roasted Serranos chopped into pieces
1 cup cabbage, chopped
2 tsp cilantro, chopped
4 tab cashews
2 cups brown rice, cooked
Shred the carnitas and heat in a sauce pan. Add the veggies and peppers and stir fry.
Let cook five minutes and add the BBQ sauce.
Cook for five minutes and serve with brown rice.
Sprinkle cashews on top before serving.