Living in southern California I eat a lot less ocean-caught fresh seafood than I should. When most people envision California, they probably envision palm trees, sandy beaches and Mickey Mouse. That is just a grain of sand of what California is really like. I live basically a mini road trip away from a delicious seafood crab Louie salad at a hoity-toity beachside restaurant in Malibu or Laguna Beach, California. If I am really craving freshly caught off the waters of Baja Mexico rock lobster then that means at least four hours of driving in one day. Yes, the Hungry Mountaineer in me loves seafood so hard that sometimes I do drive to Newport Beach just to purchase the best fresh seafood in all of southern California from The Crab Cooker. Believe me when I say when I make the ultimate version of this salad, I make it with a fresh king crab cocktail from the Crab Cooker. And I usually get a side of smoked salmon, smoked albacore and their world-famous Massachusets Clam Chowder to go.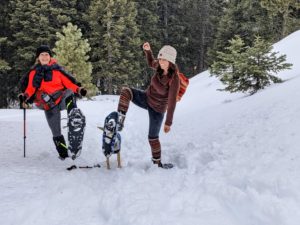 My home is in the alpine mountains of southern California. It's a two-and-a-half-hour drive (Without insane Los Angeles traffic) from those sandy beaches, the red vintage Crab Cooker building and fresh-caught seafood. Most of the seafood I do buy comes straight from the freezer of Costco (Still over an hour's drive from our rural ski town) We do live on the edge of an alpine lake but that means catching pounds of catfish and trout each spring through fall and not the lobsters and crabs that I crave.
I love crab Louie salad. It's one of those delicious fresh fish-filled salads that I will never hesitate to order at any fresh seafood restaurant. Since we have been stuck at home during this pandemic I find myself making lunch at home nearly every single day and most days that means one of my favorite salads like BLT Salad with Meyer Lemon Dressing or Cilantro Cesar Salad. I'm getting just a bit burnt out having my mom's famous spinach salad three times a week for lunch. Living in a resort town at over six thousand feet there is no fresh seafood here unless you mean trout caught from the sparkling water of our now chilly Big Bear Lake. I have to admit the thought of traveling to a seaside village and ordering crab legs and oysters is just so tempting these days. Alas, here in our family we are choosing to stay home and slow the spread of COVID though. So I will do my part by whipping up this delicious crab Louie salad with the freshest lemony dressing in my mountain kitchen.
One thing about those store-bought crab Louie salads. They look so tempting sitting on the shelf of Trader Joe's but the shrimp is always cheap, cold and rubbery. So many times I have honestly wondered is this shrimp going to make me sick when buying a grocery store crab Louie salad. In this homemade crab Louie salad, I feel way more confident in how fresh the fish is coming from my own freezer. All those store-bought crab Louie salads have a dressing that is so full of fat and bad for your body ingredients. The last shrimp and crab Louie salad I purchased had heavy cream in the salad dressing ingredients! Why? It's not spinach gratin! It's a healthy fish salad!
This is a much fresher and healthier version of this seaside salad. I always make my crab Louie salad with higher quality Argentine shrimp and a mixture of either Dungeness Crab or surimi. I'm one of those weirdos who actually likes imitation krab. I don't care if it's spelled with a k.
The Hungriest Mountaineer's Seafood and Crab Louie Salad
1/2 cup Argentine shrimp, boiled
1/2 cup Dungeness crabmeat, surimi or fancy fake surimi Imation crab
3 Asian chilis, roasted in avocado oil?
3 duck eggs, boiled and cut into quarters
Layer all the seafood and crab Louie salad ingredients in a big bowl. Drizzle with the homemade dressing and serve. I recommend eating this outside in the snsg=hine and enjoying that fresh vitamin D sunshine on your face. (Even if it is the end of wintertime still)
Crab Louie Salad dressing
1/2 cup mayonnaise
3 tablespoons hot Chinese chili paste
1/8 cup Meyer lemon juice (Or regular lemon juice
2 teaspoons ketchup
1/2 teaspoon horseradish
1 tablespoon fresh parsley leaves
1/2 teaspoon Worcestershire sauce
1/2 teaspoon white pepper
Mix all the ingredients for the crab Louie salad dressing in a blender or nutri-bullet. This dressing keeps well in the fridge in a mason jar for up to one week.