If it's a gorgeous Saturday in March then it must be Big Cap Day at Santa Anita Park! It feels like spring today with temperatures in the eighties and the sunlight bouncing off the still slightly snow capped Mt Baldy in the distance. It's a fantastic day in southern California to head out to Santa Anita Park and try to pick some winners beneath the shadows of the San Gabriel Mountains.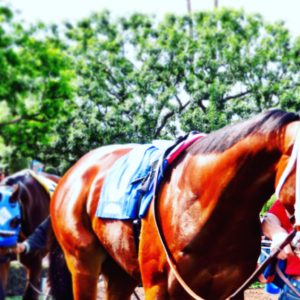 We have a very competitive ten race card with multiple returning horses from last falls Breeders Cup. I am personally very excited to see what well bred for the grass being by Big Brown Dortmund will do on Santa Anita's turf course.
I'm also excited to see Masochistic make one more comeback in the Triple Bend this afternoon. (And yes, I used him as a single in my Pick 6, but only to keep my ticket reasonable.) I will also use the big beautiful grey Kobe's Back in my Pick 4 and spread a little bit in that sequence.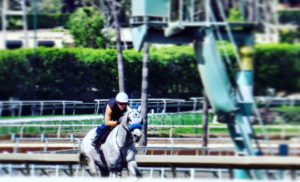 Kobe's Back looked fantastic on the track during this work before the races a few weeks back. He may have looked great but I still think Masochistic is the horse to beat in the Triple Bend.
Amber Exacta's Big Cap Day Selections
Pick 5
1.6
2.2,3,5,8,10
3.3,6,8
4.6,12
5.2,4,5,6. or just use 4,5 in here and go with a $30 budget ticket
$60 ticket
Pick 6
6.1,3
7.10,11,12
8.3,5
9.4,6,7
10.1,3
11.1,5,11
This is my BIG ticket for $432 for the serious handicapper. If you are going in on a budget ticket use
6.1,3
7.10,11
8.5
9.4,6,7
10.1,3
11.5
$48 ticket
Will Kobe's Back be back today in the Triple Bend?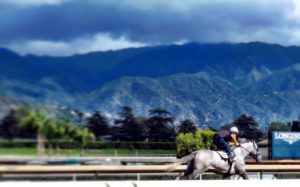 Late Pick 4
8.1,3,4,5
9.2,3,4,5,6,7
10.1,3
11.1,5,11
$72
You can also do more of a budget ticket by singling the 5 in the last leg.
Good luck today at Santa Anita park! Lets make some $$$!