Most days I dress as a hiking guide, my henna red hair frizzy and blowing in the mountain wind. My clothes are covered in dog drool and bunches of cat hair. I might wear a vest on a trek through this alpine forest if I am feeling fancy. My life as an outdoor trekking guide does not give me a chance to "Look cute" if you are not counting yoga pants and running shoes. I simply adore this outdoor life, running my own small business as a local hiking guide and spending nearly every day on the most beautiful trails southern California has to offer. But sometimes I just want to dress cute like those city people.
Well, I tried my best to get fancy anyway. You have to remember I don't get out of the mountains a lot. I see my squirrels and wild donkeys most days as I'm trekking the trails of Big Bear Lake then humans. Sometimes I forget how to act like a lady. This Thanksgiving week trip began with me almost dying my hair pink. I haven't had hair this red since that one time I almost destroyed my hair with henna!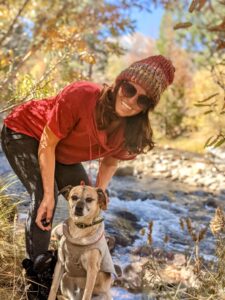 The sustainable fashionista escapes to Baja Norte
When we decided to ditch my family this holiday season and head south of the border to Mexico it gave me a chance to not look like a dirty camper for a few days. I could curl my (Pink) hair, wear my fancy jacket and actually feel like a lady! I could wear lipstick in public for the first time in two years! Remember before this global pandemic when ladies used to wear lipstick outside of their homes? The sad fact of these two years now trapped in a global pandemic world is that international travel is a thing of the past (For now)
Like many wanderlust starved travelers I have the revenge travel bug and I have it bad. Just what the hell is this phenomenon revenge travel, you may be asking? Thank God there is Mexico; A country a road trip away from our home in Big Bear Lake, California. This worldwide traveler had the wanderlust big time by the late fall of 2021. As much as we yearned to visit family in India, Baja Norte would have to do this Thanksgiving weekend. I'll admit, we found our way to Baja Norte three separate times from late November to December 2021. It gave me a chance to put my hiking boots away, straighten my henna pink hair and relax on a beach.
Bienvenida a baja
I dropped off the mutt who is my usual companion and took her doggy blankie out of the backseat of my car. I even made plans to get my car detailed when we were down south! I was feeling cleaner, less covered in trail dirt and dog hair by the minute!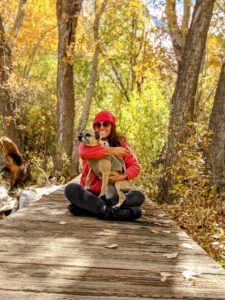 This last-minute planned trip to Baja California gave me a chance to pack all my sustainable fashion for many Thanksgiving costume changes. I could even wear my brand new (To me actually bought for ten dollars at a Goodwill in Brea) Top Mode knee-high suede boots. I bought these forty-five days ago and have not had a chance to flaunt them yet! Probably because I never ever wear jeans in my normal day-to-day activities like walking the dog, cleaning the house and leading vacation trekkers on hikes through our henna like autumn colors in this wilderness.
Pink heads have more fun?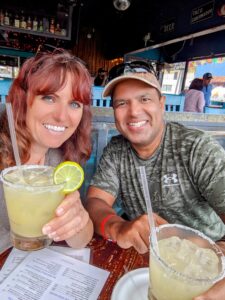 I had this fantastic idea to fancy up my mane in the days before Thanksgiving by using a new hair rinse and trying to pretend my grey wasn't showing. When you work seven days a week, it's hard to find time to visit a hair salon! Unlike my adventures in Henna (Read all about that here)  last time I tried to have red hair for whatever reason this super expensive hair rinse I bought at Sephora turned my hair pink! Looking back I should have just used natural henna and smelled like cow poo for a few days.
Even with pink hair, I was ready to rest and relax in Baja California. We had a beachfront suite booked at the Rosarito Beach Hotel. I was looking forward to drinking tamarindo margaritas on the balcony while watching the sunset. And mornings on the balcony drinking coffee, listening to the ocean waves and reading my book. After weeks of working nonstop as a local hiking guide in Big Bear Lake California where I run my own small business, I was ready for some zen. I may not be a surfer, but I'm the kind of person who can just chill next to the ocean with a hot cappuccino in my hand and blog and listen to the waves for hours. Being near the ocean is one of the only times this hyper chipmunk trekking guide can manage to chill and sit still for a few hours.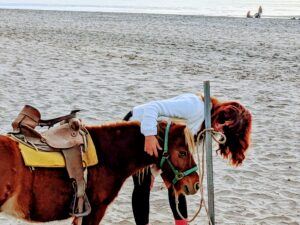 Unless I can convince my boyfriend we should ride camels on the beach this morning. I am really trying to convince him a camel ride will be romantic. I talked it over with this beach pony right before sunset last night and Shaggy thinks it's a grand idea. Because after a few margaritas it's perfectly natural to have a conversation with a mini caballo on a Mexican beach.
If I don't get lucky enough to ride a camel this morning, then I am planning to go to the spa and sweat out some of these sugary margaritas in my system then maybe go for a long walk on the beach. I'm hoping one of these beachside vaqueros will let me ride one of their horses back at a trot because that's something you simply can't do on a trail ride in the U.S.
And then we got on Mexico time…
Of course, that was my plan before an eccentric car washer name Polo stole half of my day of vacation. We had our vehicles detailed at Polo's car wash in Primo Tapio many times before and usually you just drop off the car, and go get some delicious breakfast tacos at the stand next door and Bing bang boom in an hour and a half at the latest your car is ready to go. Polo quoted us just over an hour and a half to wait for the vehicle and luckily our friends who live nearby came and picked us up and we hung out at their beachfront casa for a while. It was so pleasant catching up in the late fall sunshine on their balcony overlooking the ocean. At 12:40 we headed back to Polo's car wash ready to pick up my vehicle. Except he was working on Mexico time and hadn't even begun to remove the dog hair from inside.
And let me just tell you as a dirty stinky hiker (With kind of pink henna hair) with a dirty stinky dog the dog hair on the inside of my vehicle was most of the detail work I needed to be done. This really shouldn't surprise me because obviously, Polo is working on Mexico time. We travel to Mexico a lot. We know how the timeline goes in Mexico. Still, we did not expect to wait for 2 hours while he finished detailing my car. We kept telling him we were late for an appointment and we really had to go. At one point my boyfriend picked up a rag and actually started helping him clean the vehicle! We finally pulled out of the car washing area and wrestled my car keys out of his hands and he was still polishing up the outside as we pulled away. It probably would have been rather comical if I hadn't wasted half of my day of vacation standing in Primo Tapio where there is really nothing to do besides eating delicious tacos. Even I can only eat so many delicious tacos for hours.
Hasta La Vista Mexico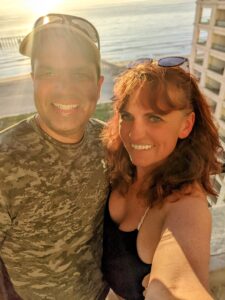 This right here is why I can only take so many days of vacation in Mexico. Sure it's unbelievable to sit out on our balcony and stare at the ocean with a tamarindo margarita in my hand. I feel like I could do that forever and then we leave our hotel room and enter Mexico and all the annoyances that go with it. Like the elevator in our hotel that didn't exactly work. But you can't get annoyed because it's Mexico these things happen. At least we have an amazing beachfront suite!
Flash Forward one day to our voyage to the United States and our $300 a night hotel room at the Del Mar Doubletree. Now we booked this hotel room for three reasons. Being that it was in Del Mar it had a free shuttle to the racetrack and that would save us over $50 in Uber fees. We didn't mind paying an outrageous sum for a tiny hotel room for one night for that reason.
This hotel room also came with a microwave and a refrigerator and originally we thought there would be absolutely no restaurants open on Thanksgiving so we would have to bring all of our food with us for the day. We were planning to use both of those things. Booking a hotel room with a microwave and a refrigerator was very important to us on this trip.
Well, the first thing that happened is we left Mexico at 7:00 a.m. because we got an email from the Del Mar DoubleTree saying that our hotel room was ready. When we checked in it turned out our hotel room was not ready and the surly employees working were none too happy to help us get another room. They finally did and we walked in it was very dirty and farty and there were other travelers luggage inside! It was 8:30 a.m. on Thanksgiving morning and we are so lucky we didn't walk in on someone elderly still in bed and give them a heart attack. Also, this makes me feel incredibly unsafe staying at this hotel if anybody can walk into my hotel room at any point with keyless check-in. I mean we were traveling with our passports and our laptops and what if somebody just wandered into our hotel room and stole everything? That would not make for a Happy Thanksgiving.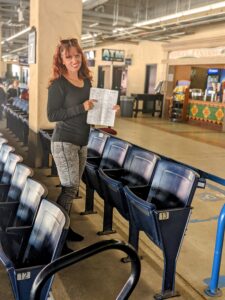 I tried to bring all these points up with the manager of the Del Mar DoubleTree and she just gave me a blank look like why am I so upset. My boyfriend and I have stayed at hundreds of hotels around the world. We have never had anything like this happen before.
So that was ours before we realized our hotel room did not have a microwave as it was specifically mentioned on the website. Then our toilet overflowed and flooded our entire room with raw sewage. Once again the hotel manager really did not give a shit (Literally) about anything. I called downstairs when the massive flood started and asked them to send someone up at once and we waited about 12 minutes and said fuck this and waded into the bathroom through the raw sewage to grab all of our toiletries. We basically ran out of the hotel without brushing our teeth or our hair or taking a shower. So much for our fancy Black Friday breakfast plans! We may not have been dirty campers on this trip but we sure as hell smelled like them after our one-night stay at the Del Mar DoubleTree disaster.
Now I would totally expect to have a few little things go wrong with a hotel while staying in Baja California or any third-world country. You can't really complain when you're paying such a low rate for a hotel when their elevator barely works. But when you pay $300 a night for a hotel room and get treated like garbage and end up with your designer boots (which I obviously bought at a thrift store but still) covered in raw sewage and needing to be dry cleaned you might find yourself a little bit pissed off.
I'm thankful to never stay at the Del Mar DoubleTree again
Aside from our Del Mar hotel hijinks and some seriously pink henna like hair we had a great four-day getaway. Many Thanksgiving recycled clothing costume changes took place. I do my best to buy only recycled sustainable fashion from thrift stores and Goodwills. Thrifting has definitely become one of my fun hobbies in the last few years. My sister-in-law and other earth-loving friends have gotten me hooked on keeping textiles out of dumpsters and helping curb my carbon footprint just a bit. And let's face it, every time I spend five dollars on a sixty-dollar sweater from Nordstrom, that is fifty-five more dollars I can spend on betting on the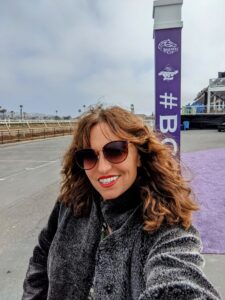 ponies (My other favorite hobby) I like to think of that as a degenerate gamblers math equation. Or maybe I'll just spend that savings getting my sewage-smelling boots dry cleaned. Or actually using natural henna on my hair next week.
Where the turf meets the surf at old Del Mar
It just wouldn't be a Thanksgiving trip to Del Mar Thoroughbred Club if a PETA protester didn't yell at me because of this awesome sustainably purchased faux-fur coat. And you might be thinking, really, PETA protesters are wasting their Thanksgiving away from family by standing out in the cold at the racetrack and glaring at gamblers like me? I mean who wants to eat a gross Tofurky anyways. This coat is my absolute favorite item of all my recycled clothing finds. It's nice to get out of the mountains with my shiny reddish henna hair. Get off the mountain trails and dress like a lady. Even if I don't smell like one until I get my boots dry cleaned!