The track was fast. I know, because I ran it that morning.
It was Santa Anita Derby day and my boyfriend and were waiting patiently in the stands with 54,668 other horse racing fans for the big race and for the (literally) big horse, Dortmund .
My boyfriend is a giant fan of the big 17 hand horse chestnut Thoroughbred Dortmund. He woke me up Kentucky Derby Saturday by gently whispering in my ear
"Dortmund" Yeah, it was weird.
Santa Anita Derby Saturday we both competed in the Santa Anita 5K. It's such an awesome race; you actually get to run through the back side of the race track and it ends on the actual Santa Anita Racetrack. It's one of the most unique 5k's I have ever done. We ran this race with some other friends and I was shocked that even barely being in shape, literally not having run in two months at all, I was able to run a twelve minute mile! That, for me, is extraordinarily fast! I'm still patting myself on the back!
I was not feeling quite as happy six hours later as I was hobbling back to our hotel room with my heels in my hand wondering why we had decided to walk back to the hotel after I wore heels for most of the day after our race. I think what with the 5K and the walking around to and fro the track, we must have walked ten miles total.
I deserved every bite of the giant sushi platter including live fried shrimp heads that we devoured after that.
After I run a 5K and then walk five more miles in heels I totally deserve to eat a cobbler.
Not everything I make has goat cheese in it.
See?
This super easy cobbler is great with any combination of fruit.
I have used plums, raspberries, apricots, blueberries, nectarines, peaches or pears. It's so great for the summer; I just kind of add whatever mixture of stone fruit and berries I have on hand.
Raspberry Apricot Cookie Cobbler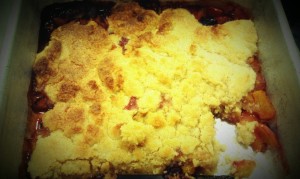 2 cups apricots, cut into chunks
1 cup raspberries
1/4 cup butter
1 tsp cinnamon
1/4 cup brown sugar
Cookie Dough
1/2 cup sugar
1 egg yolk
1/4 tsp vanilla
1/2 cup flour
1/4 tsp baking powder
pinch of salt
8 tab coconut oil
Preheat oven to 400.
Combine the fruit, butter, brown sugar and cinnamon in a saucepan. Cook for ten minutes.
Oil a baking dish, add the fruit to this.
In a mixer, mix the coconut oil, sugar and then the egg yolk and vanilla. Add the dry ingredients.
Put this dough over the fruit.
Bake for 15 minutes.