Two high Sierra mountain passes in two days might have been a bit much for me looking back. Especially when the second one required three thousand feet in altitude gain in ten miles. But still, as this sunny and oh so hot July morning dawned in Bishop, the pup and I were sweating our way up Italy Pass near Pine Creek. The old Tungston mine was down below us and the marmots were yelling at us from the pack sta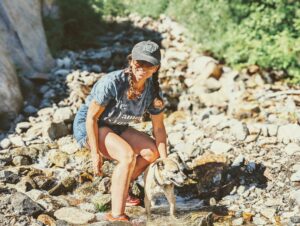 tion. I thought perhaps these granite mountains were named because they look like the alps in Europe but actually Lake Italy is shaped like Italy's boot-like outline. I mean, I guess. The pup and I made it halfway up the pass and halfway to Upper Pine Lake. After a 1,200-mile slog straight uphill we were done and ready to soak in Pine Creek. This was our twenty-fourth hike in twenty-six days in the eastern Sierras and my calves burning and my lungs wheezing were a very familiar feeling at this point.  I was kind of over hiking by the time we turned around. And I was kind of ready for fall weather. And maybe some pumpkin muffins.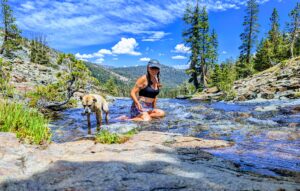 This was my last high Sierras trek of our month-long vacation and I was determined to make it a good one. This month-long vacation has been filled with over one hundred and fifty miles trekked through the John Muir Trail, three different mountain passes and oh so many acres of the Inyo National Forest but it's also been just a little fraught with stress. Now, why the hell did that need to happen? I don't know why some yahoo had to steal all my online information and ruin my day last Wednesday when I was having a picture-perfect vacation day, trekking to Minaret Lakes, swimming in waterfalls and being totally off the grid for twelve hours. Basically ignoring other human's in nature.
I work seven days a week during the winter months in our ski town of Big Bear Lake, California. On weekend days I usually work ten hours a day from December until January. It feels like all I do is work in the winter months and I do that because in the month of July I can escape my small business and life and stock up our thirty-four-foot motorhome. Most July's our family spends three weeks at least in the eastern Sierra motorhome camping enjoying the zen of the great outdoors. And I'm blessed to be able to hike all my favorite alpine trails with my favorite trail mutt for about twenty-three days straight. This is supposed to be my peaceful kumbaya time of the year to unwind and destress from the last eleven months. It's supposed to. But then 2022 happened. The year 2022 has left me with way less patience, a much bigger butt and yes a craving for carbs and maybe pumpkin muffins.
2020. Where has the TP gone? Oh shit.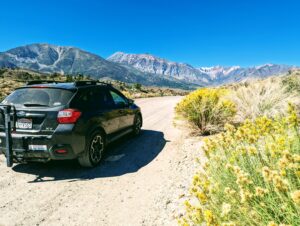 Okay well, first 2020 happened and I couldn't even hug my grandma for a year. Then 2021 happened and we couldn't hop on a plane to go visit any extended family out of the country. And my piece of shit Subaru was falling apart and I couldn't even imagine buying a new vehicle because there were no new vehicles to be had. Even though my car does not have air conditioning and I drive all over Southern California, "Just get over it girl and get used to sweating. It's great for your skin!" I mean that is basically what the Carmax dealership told me all like six times I took my shit Subaru into the Duarte and Riverside dealerships in 2021. Do you see why I have to stress eat and shove pumpkin muffins at my face?
But then 2022 dawned and it was all right. You could buy toilet paper again! I still can't buy a new vehicle and I'm still stuck with this shit Subaru. No air conditioning but at least Donald Trump is no longer president and we don't have to listen to that tweeting idiot every day.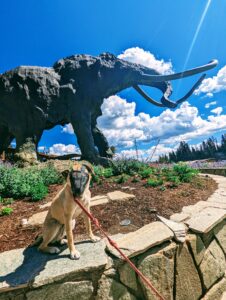 2022. I need to wear a mask again? Are you fucking kidding me?
Yep, 2022 was going to be better. The pandemic was going to end. We were all going to stop wearing masks. Even my dog.  Things were going to get back to normal. And then we went on vacation and my identity was compromised. Seriously, this is supposed to be my vacation. It's supposed to be a time to relax not a time spent spending hours and hours and hours a day on my computer trying to find somebody at META/ Facebook to email me back. Wasting hours a vacation day trying to figure out how to get back twelve years of my social media posts, memories and photos. And why did these yahoos have to take over my entire social media life? And why did they have to post something so vile that Mark Zuckerburg would kick me off of the FB forever? Or was it simply because I posted this photo of my dog in a Trump bandana? Is that the vile thing that has had me kicked off Facebook for the rest of my life? What the hell Mark Zuckerberg?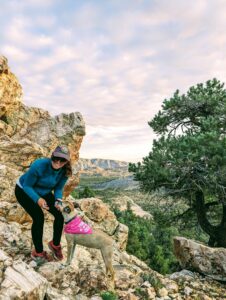 And this right here is why I have to shove pumpkin muffins at my face. Also, we kind of have a lot of pumpkins. I might have channeled all my stress into retail therapy aka buying every fall thing I could find last week. I was lost inside Hobby Lobby for many hours and had to call a friend to save me. A good friend saves you from the autumn section of Hobby Lobby before you cab fill a shopping cart and max out your AmEx on ceramic pumpkins, every fall pillow and new autumn doormats for every room in the house. (Or kitty cat peepee pads as we like to call them in our home)
After I escaped Hobby Lobby with my dignity and only one small shopping bag full of pumpkin-decorated muffin paper cups and pumpkin-decked-out ziplock bags I took to my kitchen, baked a pumpkin or two and decided yes it was time to create that perfect pumpkin muffin.
That perfect Pumpkin Muffin; Pumpkin Coconut Streusel Muffins
2 cups roasted pumpkin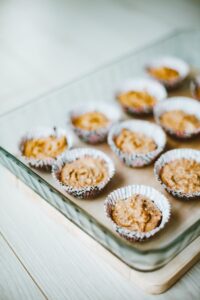 1 cup organic white sugar
1 /2 cup organic brown sugar
1/2 cup coconut oil, melted
1/2 cup coconut milk
1 teaspoon vanilla
1 3/4 cups flour
1 1/2 teaspoons pumpkin spice mix
1/2 teaspoon salt
1 teaspoon baking soda
1/2 cup candied ginger, chopped
The best maple glaze
1 cup powdered sugar
3 tablespoons maple syrup
2 teaspoons coconut milk
Mixed nut streusel
2 teaspoons almond meal
1/4 cup pecans
1/4 cups walnuts
1 teaspoon cinnamon
1/8 cup salted butter, room temperature
1/4 cup brown sugar
Bake your pumpkins in the oven. Scoop out all those pumpkin innards and seeds. Using an ice cream scoop, dig out the flesh for the pumpkin muffins. Bash with a potato masher and set aside.
In a food processor combine the streusel ingredients; Butter, nuts, almond flour, brown sugar and cinnamon until smooth. Spoon this batter into the bottom of your paper cups in the muffin trays.
In a stand-up mixer, cream the sugars and the coconut oil. Add vanilla and the eggs. Mix in the pumpkin innards and the coconut milk.
Mix all your dry ingredients then mix in with the pumpkin muffin batter. Blend until smooth. Fill your super cute Hobby Lobby prize pumpkin paper muffin cups. Bake at 375 for about forty-five minutes until the pumpkin muffin batter is completely set. You can serve these just as they are or if you want them sweeter, combine maple syrup, coconut milk and powdered sugar to make a maple glaze to spread on top.