Did anyone else meet a friendly gold miner Memorial Day Weekend? That's what happens when you take the wrong dirt road back to the truck while taking the doggies on a walk about and decide to "save time" by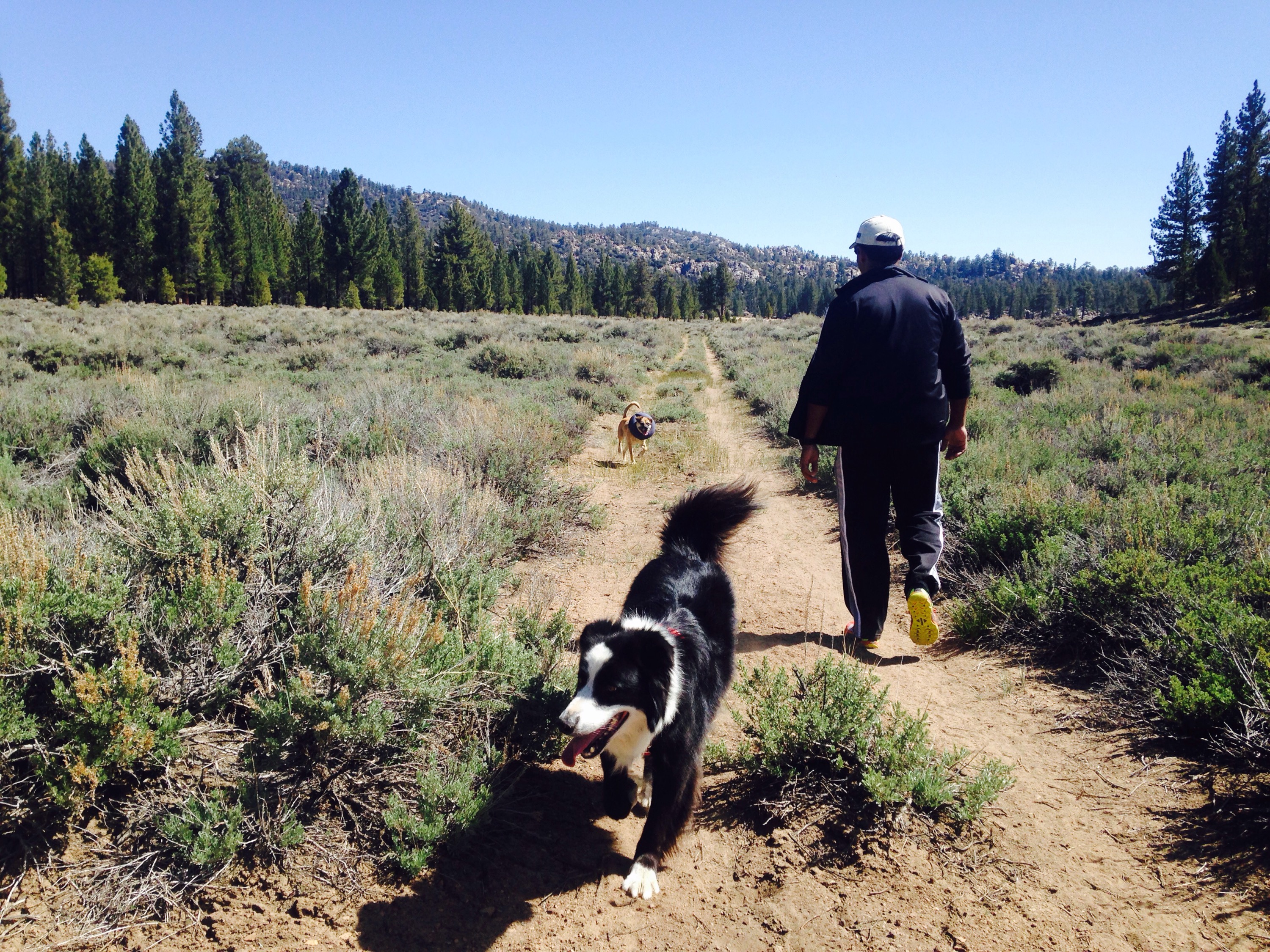 cutting cross country through Bucks Brush, cacti and Jeffrey Pines. This short cut turned out to be painful in so many different ways. It did save us a few miles going straight over the mountains towards where we knew the truck was parked on Van Dusen Canyon Road but this route meant climbing to the top of multiple ridge lines in long lost Holcomb Valley.
Van Dusen Canyon is just one of the many roads that runs through Holcomb Valley and what was once the town of Belleville, California. Belleville was a gold mining town back in 1860 . When you offroad, snow shoe or hike through this massive valley it is so completely crazy to think that less than one hundred and fifty years ago 1,500 people lived in this valley as they tried to pan for gold in Caribou Creek.
This kind of hike would not be possible in a month. There would be a good chance of running into rattlesnakes out here in one of the highest, elevation wise, areas of our national forest. Trail blazing as we did today is really not a great idea. This is how people get lost in the Wilderness. Luckily we could see San Gorgonio, all 14,000 feet of it in the distance to the south and we knew as we trudged up and down the ridgelines, that Van Dusen Canyon was in the direction of San G.
It was a gorgeous day to get lost in the forest.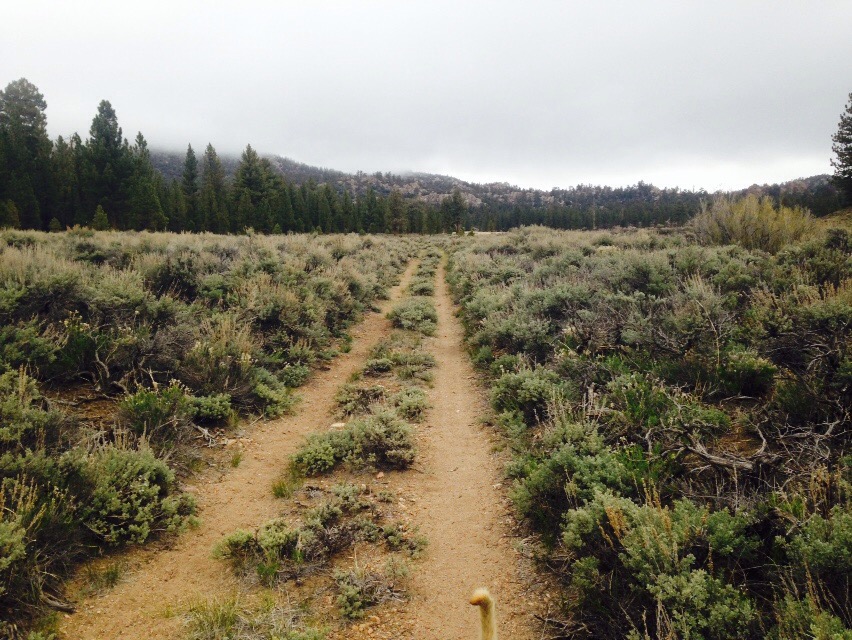 We reached the top of yet another ridgeline, no dirt road to take us back to the truck, in sight yet and suddenly we came upon a guy with a Subaru and uhaul trailer. It was the most random pace to run into a dude with a Uhaul.
We were soon very happy top learn that he was a friendly gold miner. He explained to use that the neighboring gold miner had a shotgun and would threaten you with it if you stepped on his claim. The friendly miner dude gave us directions (That we kind of followed) back to the truck, finally, eventually and we managed to reach the truck with out running into his not so friendly shotgun bearing neighbor.
This hike was a rough and tumble adventure through brambles, over barbed wire fences and belive it or not it was Tilly's first adventure with us! Tilly is a beautiful cattle dog who is visiting our little mountain town of Big Bear for the month.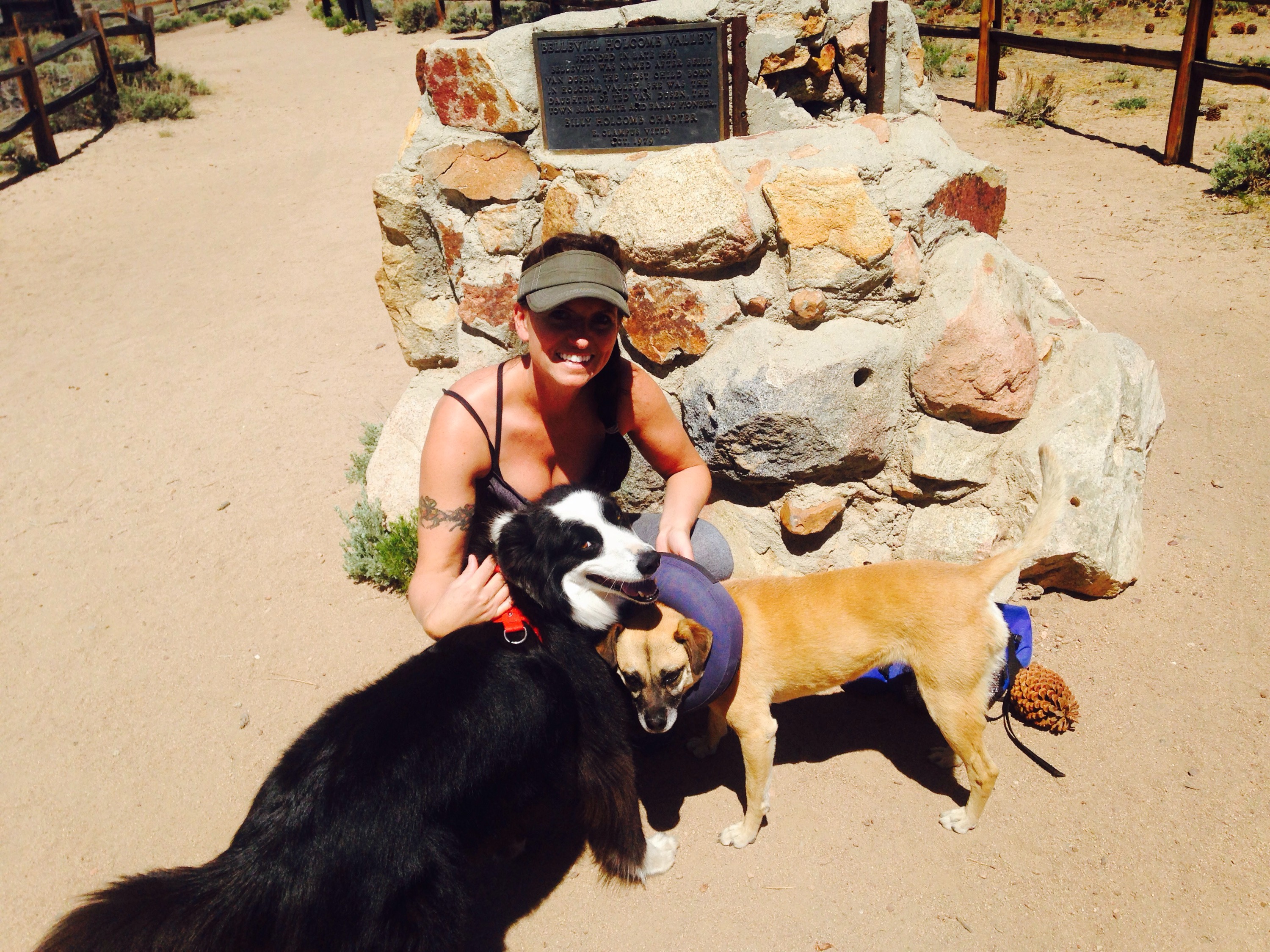 Tilly is also Carly's new buddy and he will be joining Carly and I on all our adventures for the next forty days or so. Tilly's first adventure with us was pretty intense and I'm pretty sure he will sleep for a week after this!
I know Carly will; poor little girl is exhausted!
This humus is brilliant after a hard eight mile hike of trail blazing and getting almost lost and thanking God for the wonders of gps. It's great with pita chips, on flatbread or in a veggie sandwich.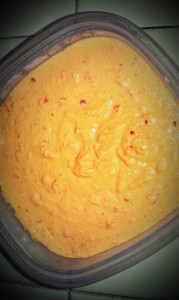 Peppadew Pepper Humus
8 peppadew peppers, drained from their liquid
1 can chickpeas, drained
1 head garlic, roasted
juice of 1 lemon
1/2 cup tahini pasta
1/4 cup grape seed oil
1 tsp garlic salt
1 tsp chili powder
* Optional
* If you like a spicier pepper humus, add 4 banana peppers
Drain the peppers and beans.
In a food processor combine the peppers, beans, lemon juice, garlic, garlic salt and grape seed oil. Combine until all ingredients are chopped up and smooth.
Sprinkle chili powder on top of the humus and serve.