Once upon a time I was on the last mile out on a fifteen mile hike and I was dragging. The trail, formally completely frozen in the early morning hours was now a gooey, sticky, muddy mess and my exhausted feet felt like they were powering through gum as my legs fought with every step to process closer to the car and eventually home. My boyfriends pup, who was with me on her first real hike ever was slightly less tired than me, as she was trotting down the trail head about a quarter mile in front of me. Carly had to be exhausted but she just kept up with me some how. It reminded me of another time when I had almost broke my friends dogs on a hike.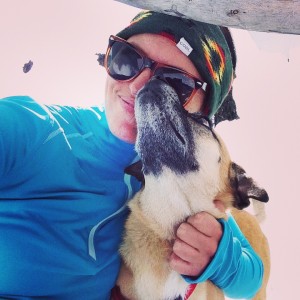 Once upon a time I had some friends who had some dogs and it was a hot summer day and we were bored and looking for an adventure. I was about twenty two years old and at this point was not the creek girl I am today. I had heard there was a creek in which to swim down an old dirt road some where so Ryan, Rachael and I decided we would take our sweaty selves and their pups, Teva a black lab and Chubs, a cocker spaniel on an off road adventure. We than proceeded to off road my bad ass Ford Escort into the forest
We stopped at Jensen's market to get some tasty chicken sandwiches with peppercines to eat on the trail and took off down the dusty trails of the forest. I had no idea where we were going but figured the creek couldn't be to hard to find. Once again we were in a two wheel drive Ford Escort so the whole off roading idea didn't work out so well, so we soon started hiking, in the ninety degree heat, uphill.
Its been over ten years since this little incident and I have no idea how many miles we truly hiked but it felt like fifty. It was probably more like two. The dogs quickly became angry. Chubs began to lay down in any spot of shade, no matter how little we could find. He would lay down and refuse to get up. Teva found this to be a great idea and soon started to copy Chubs.  Chubs is not a mountain dog to begin with and I don't think he had ever hiked before a day in his life. His favorite past times include sneezing right in my face.
There was no creek in sight and we had very little water with us. The dogs had given up on life and were merely lumps in the shade at the point that we finally gave up and turned around.
P.S. I'm pretty sure my friends, also hated me.
It was hilarious in a "I can't believe Amber dragged us out here to die" kind of way.
Well, maybe my friends did not find it so funny as we then had to drag the canines back down the very hot dusty trail on a 90 degree day. The good news was we did have extra water in the car.
Oh yeah, then a certain cocker spaniel puked up a couple ton of water in the back seat of a certain Ford Escort. He would have sneezed in my face if he had any extra fluids in his body.
Those are the thoughts that were filling my head as my feet pulled me through the muddy goo and the car came into sight up ahead.
And I told Carly "It could be worse"
After a fourteen mile hike I like to eat an incredibly filling pasta like pasta carbanara.
2 zuccinnis, sliced thin
2 yellow squash, sliced thin
1/2 an onion
2 cloves garlic
2 tab kerrygold butter
1/2 cup pancetta, cubed
6 egg yolks
1/2 cup Pecorino Romano cheese
3/4 cups creme fraiche
1/2 a lemon
1 tsp fresh thyme
1 tsp garlic salt
2 cups whole wheat pasta
Put the onion and garlic in a food processor until smooth. In a sauce pan heat the kerrygold butter and add the onion garlic mixture until just browned. Add the zucchini and the squash. Cook until the veggies are brown and stir in th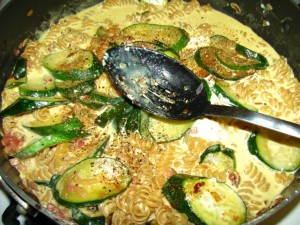 e pancetta.
In a separate pan boil the pasta, drain and set aside. Reserve 1/4 cup pasta water.
Turn down the heat on the pancetta.
Mix together the creme fraiche, lemon juice, yolks and the Pecorino.
Slowly stir this into the veggies, adding the reserved water also. Add the thyme and garlic salt. Let cook for about five minutes just until the sauce starts to thicken. Serve over the pasta.