Last August under the hot Colorado sun I learned how to make homemade parathas from my Anglo-Indian boyfriend's mother, an expert at this age-old Indian flatbread. She gave us a quick course on authentic paratha making 101 at our campsite in the gorgeous mountains outside Telluride.  This was six months after I visited Karnataka and Bangalore and ate as many parathas as I could for a month straight.
My boyfriend's dog is an old lady. Although if you are counting in dog years Candy is way older than me, he actually refers to me as "the old lady" quite a bit as my sciatica is out of control at the moment and just walking has me limping around the house like Sophia from the Golden Girls.
I have been calling Candy his ten-year-old rescue mutt one of the Golden Girls the last few weeks. Some times I call her Blanche when she's feeling frisky. I call her Rose when she's being more Betty White.
Yesterday I threw her a ball and  she almost took a tumble on the back deck and I yelled
"You'll break a hip Sophia!"
My boyfriend does not at all understand my 1985 Golden Girls references but I think it's so funny.
When I'm done referring to his old dog as Bea Arthur I came up with this crazy good and healthy whole grain recipe for Paneer Cheese Stuffed Spinach Parathas.
Now "Thank you for being a friend"
Paneer Cheese Stuffed Spinach Parathas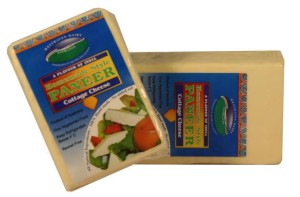 1 cup spinach, cooked and drained
2 cups whole grain flour
2 cups white flour
3 tsp plain yogurt
1/2 tsp sea salt
3/4 cup warm water
8 tablespoons ghee, divided
Panner cheese, cut thin
In a food processer combine the spinach salt and flour. Add the warm water slowly to form a dough. Add the yogurt and two teaspoons of the ghee.
Turn the ball of dough onto a cutting board. Knead, and knead and knead until it forms a dough. Put in a bowl and place in the fridge for thirty minutes at least.
Using a tortilla press, put the sarane wrap on both sides of the press. Make a dough ball with a slice of cheese in the middle. Press with the tortilla press.
In a hot cast iron skillet heat the ghee. Fry the Parathas in the ghee on both sides.