The first time I had tikka masala I was in London, twenty-five years old and a little scared of Indian food. After all the bullshit I had been fed back in California about how bland and God-awful English food was I wanted to run straight towards a familiar restaurant. Take me to the Olive Garden. This was years before a hungry travel blogging mountaineer was born.
Beans on toast. PG Tips
It took two weeks in the English countryside, a few nights in London and many strolls down the streets of Cambridge along the River Cam  (With a stop in a pub or two) to convince me that English food was beyond flavorsome. It honestly took my first authentic English breakfast at a dark and dreary pub in the tiny hamlet town of Bury St Edwards to convince me that English food was something to behold. I fell in love with Heinz beans on toast that was basically deep-fried in butter. I could live without the slimy English bacon but the mugs of hot steaming and sweet PG Tips tea on a chilly winter day in the UK had stolen my heart.
I was already enamored with the rain, the time-worn buildings and the custom of trekking everywhere from Tesco to a stroll alongside the Thames. I fell in love with these small college towns like Cambridge with a few pubs on every street. I adored the thirty different types of crisps you could nosh on from any roadside petrol mart. (Like prawn or Worchester flavor!) The blossoming foodie in me had the best-tasting yogurts of my life that winter in London (like Mueller yogurts before you could get them in the United States and they are not the same)
Wales; Jacket potatoes, cider and so many aged cheddars
Then we road tripped to the gorgeous rolling hills of the Wye Valley in Wales and had jacket potatoes stuffed chock full of more beans and sharp welsh cheddar cheese. Suffice to say we tooted our way the three-hour drive from Cambridge through Birmingham and onto to the Severn Bridge. By the time we were enjoying scones with clotted cream near Tintern Abby, I was thinking every American I know had lied to me about what the food of the UK was really like! All the cuisine I tried from London to Oxford and back to Cambridge was so flavorful that I never even tried the fish and chips that are supposed to be so famous in the UK!
Chicken Tikka Masala in London
And then there was the time my best friend, an ex-pat living in Cambridge, dragged me into a curry house east of London's Brick Lane. I had been to a cheap Indian buffet in California that friends of mine swore was so delicious. Everything tasted the same as it sat under a heat lamp for many hours reheating in piles of oil. The naans even tasted store-bought and frozen. That was my first taste of Indian food at nineteen years old and I was not impressed.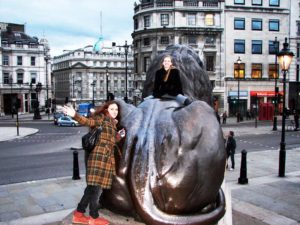 The dreary cold and rainy winter in the UK is the perfect atmosphere to shove a hearty Indian curry at your face. It's no wonder everyone in England loves a good chicken tikka masala. But how did this flavor wagon of a stew make its way across the middle east and halfway across Europe to England? Back in the day, British colonists returning to England to retire brought back tall tales of all the spices and flavors of the Indian cuisine scene. With so much immigration of Indians and Pakistanis to the Uk, an Indian food revolution in England was born. These days when traveling to London or even smaller towns like Cambridge there is a great curry house on nearly every corner. Tikka Masala is one of the most popular dishes on most curry house's menus.
After an afternoon of walking around Picadilly Circus and Covent Gardens, then topped off with a few pints in a few too many pubs down Frith Street in Soho, we were ready to get out of the cold and head indoors to a curry house. Well some of us were.
Obviously being a girl from California who was terrified of curry after my last six-dollar all-you-can-eat Indian extravaganza in San Bernardino, I opted for the tikka masala and prayed I would like it. British Chicken Tikka Masala has been voted as the most popular dish in the UK. It had to be good, right? I figured if I was brave enough to try a baked potato smothered in baked beans I could handle a tomato and spice Indian curry.  When looking to order I was so lost by all the foreign-sounding words. This was so many years before iPhones where you could google what the hell a moong dal was. I had no clue what aloo or paneer was  (Only my favorite food group!) Reading names like brinjal, rogan josh, and saag I was so lost. And what the hell is a momo anyway?
Thank God I had good friends to point me to about the most American thing on the menu. Long story short, my friends adored the Indian dishes they ordered. I just thought the whole meal was eh. It's so crazy to think that twenty-five-year-old Amber was not very brave when it comes to Indian food.
Beja fry and paan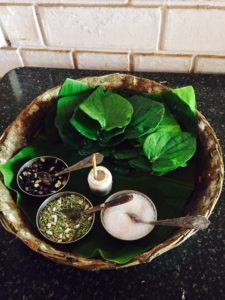 Since these days in London fifteen globetrotting years ago, I have tasted Beja fry (Goats brains cooked in masala) on the busy streets of Bangalore. I have had more street tacos in Baja Mexico than I can count (And adopted exactly one street cat from Mexico) I even spit out disgusting tobacco-flavored paan at a shack of a restaurant somewhere on the backroads of Tamil Nadu, India.
Turns out calcium hydroxide is just not my thing. I don't care how good it is for your stomach. My boyfriend had a grand old time laughing his ass off after he tricked me into trying the paan telling me this betel nut concoction was a delicacy every foreigner must experience. I think that was the only time in my life I have spit out food. Of course, being an American, I spit it into a trash can and not on the ground, which would have been way more culturally accurate.
With all the worldwide traveling I did when I was younger it took me many years to make it to India and find a love of Indian cuisine. But now I'm a little obsessed with it. When you are living a keto lifestyle Indian cuisine can fit into your diet real well. In this particular Tikka Masala, I substitute almond meal for the gram flour to carb the carbs a bit.
Gram flour and Kashmiri chili powder
When I first started cooking Indian food seven years ago if I wanted to buy gram flour I had to drive to Little India, Artesia near Los Angeles. It's amazing how the ethnic groceries available in the last two years have changed. Here we are in the year 2021 and yes there might be a global pandemic but I don't have to drive one hundred miles to buy frozen parathas or curry leaves. There is an ethnic market an hour's drive from my house that now carries basic Indian ingredients. I know to some people only an hour's drive might sound crazy but I'm blessed that I can now purchase date chutney without driving practically to Santa Monica.
I don't know how Anglo-Indian Americans survived even two years ago in the suburbs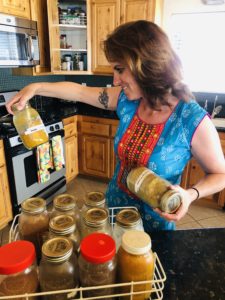 of Los Angeles. Finding authentic Indian spices like garam masala or Kashmiri chili powder was nearly impossible. If you hoped and prayed sometimes Trader Joe's would carry paneer cheese but not usually. Amazon delivery and Sprout's markets opening in more locations have been a God-send to Indian home cooks lusting after an authentic vindeloo. Here in the year 2021, tamarind paste is easier to find at the grocery markets than toilet paper! Now if only we could buy shrimp pickle in the United States…
So how do I create a delicious vegetarian tikka masala in my home kitchen?
Authentic tikka masala calls for marinading, usually chicken in a yogurt and spice sauce and then grilling it. I like my tikka masala wet with gravy as Anglo-Indians would say. You could also do a dry tikka masala with basically no sauce. The protein is then finished in a masala, spice and tomato-based soup, basically. Indian cooks living abroad in the UK came to bring this oh-so-popular dish to the streets of London in the 19070's. It's a spin-off of the Punjabi dish butter chicken. My vegetarian version of this dish definitely has some northern Indian influences, from its darker orange color to the layers of heat that reflect in this curry.
Paneer and Peas Tikka Masala
For the paneer marinade
1/2 cup of cubed paneer, cubed into large pieces but large enough to skewer later
1 teaspoon garlic, minced
1 teaspoon ginger, minced
1 teaspoon garam masala
1 teaspoon turmeric
2 teaspoons almond meal
1 teaspoon white pepper
1 teaspoon lemon juice
1/2 teaspoon salt
3/4 cup Greek yogurt, plain
1 teaspoon tikka masala powder
The curry for paneer tikka
2 red onions, diced
3 teaspoons ghee
1 serrano chili, cut in half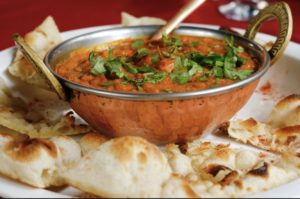 1 teaspoon garlic, minced
1 teaspoon ginger, minced
1/2 teaspoon turmeric
5 cloves
1 teaspoon cardamon
1/2 teaspoon fenugreek seeds
1 tesappon garam masala
1 1/2 teaspoons cumin
1 1/2 teaspoons coriander
1 cinnamon stick
1 bay leaf
3 cups bone broth, beef or lamb (Yes, I use bone broth in this vegetarian dish but feel free to use veggie stock)
1-2 cups water
1 teaspoon salt
2 cups canned tomatoes, ground up
1 cup peas
Firstly, combine all the ingredients to marinate the paneer. Mix the paneer in the marinade and set aside for at least an hour. In this time heat the wok with 2 teaspoons of ghee. Cook the serrano halves in the ghee and remove. Add the red onion pieces to the ghee and roast under brown, stirring constantly, at least fifteen minutes. Stir in the fenugreek, cloves and cardamom seeds for the last two minutes. Mix them in well and set aside the onions to cool for ten minutes. After ten minutes add the onion mixture plus the serrano chili to a mixi and grind well.
Add the rest of the ghee to the wok along with the onions, cumin, coriander and garam masala. Mix and cook stirring constantly for an hour. Constantly add water for the first thirty minutes as the onion masala cooks down. You want it to consistently be a thick paste, thicker than a soup but not dry and stick to the bottom of the pan. Stir in the turmeric, the bay leave, the cinnamon and the salt.
Now as the curry is roasting heat your grill. Skewer the paneer and grill lightly on all sides. Scrap the rest of the marinade from the paneer into the paneer tikka curry. Add in the tomatoes and the rest of the broth to the curry. Keep cooking and continue to stir it as you add in the paneer cubes. Cook the paneer at least an additional thirty minutes until the color starts to deepen to a darker orange. Finally, add in the peas ten minutes before serving.