Social media apps like Rover, Wags and Dogster make it so unbelievably easy to be a pet owner and have fun adventures and/or stress-free vacations with or without your animal. Free apps like Rover make being a pet owner so convenient to be able to look up a dog sitter or a dog walker with five-star reviews. Until something goes so horribly, terribly wrong.  No pet owner wants to go through the stressful shit show that my boyfriend and I had to deal with last weekend when our petsitter from Rover lost our dog and our pup almost drowned in the Pacific Ocean.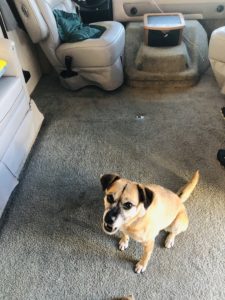 This sounds like a four-legged friend soap opera but this crazy tale unfolded last Saturday in San Diego when we were trying very hard to have a relaxing Thanksgiving weekend vacation in Del Mar. We had reserved a spot for our 32 foot Fleetwood RV at the RV park right across the road from Del Mar Thoroughbred Club and we were so excited to spend Saturday at the races with friends, go to the free Easton Corbit country concert after the races and then walk to a nice restaurant nearby for dinner. We live in a rural mountain ski town three hours from San Diego and we may hike, mountain bike and fish out on the mile high seas of Big Bear Lake every weekend, but we really don't get out to the city much. We were so looking forward to our weekend away in San Diego and doing all the fun things.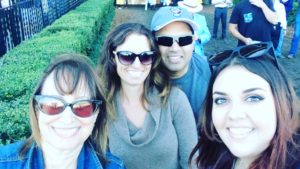 Our fun vacation plans came crashing down all around us Saturday afternoon right after hitting a winning exacta in the fifth race. Between sips of my cocktail on the gorgeous outdoor veranda overlooking the Pacific Ocean in the distance, I wondered, why is the dog sitter we found on Rover calling me? Then my heart started to beat super fast, and it was not from the Sugarfree Redbull and vodka I was drinking.
Our dog had run away from the pet sitter and was somewhere running free and terrified in San Diego, 200 miles from home.
Two weeks earlier when I had booked a petsitter on Rover, my first time using this popular doggy style app, I had not just pointed and clicked and choose the first dog sitter I could find. I read through review after review for ten different dog sitters. I also on this particular trip to San Diego, was looking for a dogsitter who was based near where we were staying, as we had just brought the RV with us, no tow car and did not want to drive our pup to the petsitters home in a 32 foot RV. I found David with great five star reviews and even better, he lived within two miles of our RV camping spot and would come to pick Carly up and drop her off afterward. Communicating with him was fast and effortless and I thought, wow, Rover is awesome!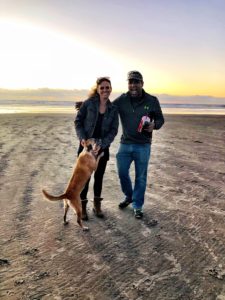 We rolled into the sunny beach town of Del Mar, California Friday afternoon and took our mutt Carly for a sunset walk to the nearby dog beach. (She really is a mutt; She is part Beagle, Terrier and Pug, so pretty much a very fancy high strung Pugle. She was rescued from the Big Bear Animal Shelter on her last day about seven years ago) Carly had a fantastic evening frolicking in the Pacific Ocean with her new doggy friends in Del Mar and we had an early evening, pumped up for a day at Del Mar and gambling on the ponies the next morning.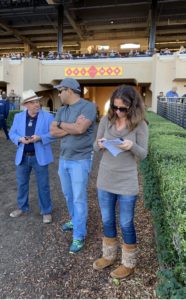 These two degenerate gamblers and this fancy Pugle woke up early on Saturday morning to go their separate ways. David picked up Carly and took her away in his truck, and my boyfriend and I walked to the race track in plenty of time for the first race, to meet friends and get a good outdoor table in the owner's lounge. Cocktails ordered wagers placed we sat back to watch some high-quality Thoroughbred horse racing where the turf meets the surf. Life was good.
Until that heart-wrenching phone call.
Our pup was lost 200 miles from home and was most likely terrified and desperate to find her people. We come from a small mountain town in the forest where our version of man's best friend is more likely to run past grey squirrels and wild hares then traffic driving fifty miles an hour down El Camino Real, a real busy street where she went missing in San Diego County on Saturday evening. As soon as we raced away from the good times at the racetrack to start searching this neighborhood near Encinitas, California I felt my heart drop as I saw the cars racing past on this busy street. I felt so sure that if a coyote in the nearby hills didn't eat Carly (And it was getting dark fast), then one of these vehicles zooming past at fifty miles an hour would strike our pup for sure.
But luckily before that could happen, somehow our pup raced across the busy street and fell off a cliff into the fast-moving waters of San Elijo Lagoon and almost floated out to sea. And then these bikers partying in a bar next to the ocean saw her drowning, trying to keep her head and little pink collar afloat, set down their Budweisers and jumped into the murky freezing waters of the lagoon to save her.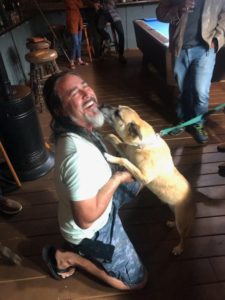 Chase and Peter are real-life heroes and they saved our little dog's life today.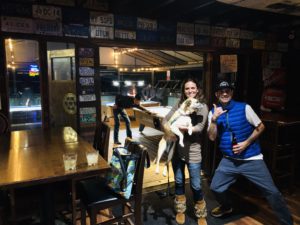 David, however, will not be getting a review from us on Rover, as I just can't leave out that he walked our pup off leash. Once again, why on earth would you, as a dog sitter/ pet walker in a busy metropolis city of all places, walk a dog you just met off leash? It's extremely irresponsible.
We did, however, find his help in locating our pup after the incident instrumental, so in this case, I think it's better to just say nothing at all, don't leave a review what so ever and "Shut my beautiful face" As my boyfriend would say.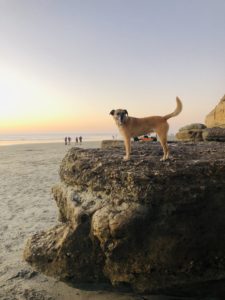 After our debacle in San Diego on Saturday, my boyfriend and I decided to stay in Del Mar an extra day when a site opened up at our campground last minute. We figured we could salvage the trip by going to Del Mar Thoroughbred Club on Sunday instead and God willing, have a much more fun day. The only problem was, although our pup was exhausted and limping around from her adventure the day before, we still did not want to leave her in our rig unattended for six hours while we gambled on the ponies. What is a degenerate gambler to do? So I reached out to seven or eight different pet sitters, last minute on Rover. All were booked. What choice did I have? I figured lightning could not possibly strike twice and I messaged David, who was available, to see if he could, at this late hour, watch Carly for a few hours Sunday morning. Well, the pet sitting went off without incident but I was definitely waiting for my phone to ring all afternoon.
I highly regret now sending a link to friends and family recommending they also try out Rover. I was so impressed the weeks before this disaster with how easy it was to book a pet sitter with excellent reviews, it was so inexpensive. Well, I guess the first time you book you get a discounted rate. Rover did refund my stay with David on Saturday but then when I rebooked for Sunday I did not get the cheap rate, I now had to pay double. Seems kind of shitty, when you see what happened to us with our first Rover experience. I feel like Rover should have still given me the half off rate, as they refunded my first booking, since, you know, my dog almost died.
Have you used Rover to book a stay for your pup? If you ever have an experience with an irresponsible pet sitter like mine, there are a few things to keep in mind in an emergency situation.
What to do if your pup goes on the lamb
First things first, download Next Door.com. All those online creepers in your neighborhood will be the first to see your pup run by.
Reach out to friends and family who live in that area where your pup was lost.
Call any area shelters and make sure they have your pups info.
Make sure your pet is microchipped ahead of time and all the information is up to date.
Hope and pray that your pet sitter from Rover is not a spaze!
Would I use Rover again?
That is a tricky question to answer. I was surprised it took Rover three days to reach out to me after this terrible experience. I felt like they should have called me the same night, in an incident like this. On the other hand, they offered me $100 to use in Rover Bucks next time I do use the app. The only issue is after this experience I am feeling very distrustful of other people being cautious enough and smart enough to watch my pup.
This week I am linking up once again over at YeahWrite.