I've been slogging my way it feels like straight uphill for five miles now under a hot mountainous but still kind of deserty sunshine. I thought we were going to get thunderheads today but they never aspired. So my pup and I have been sweating our way up this dusty trail and it might only be eighty outside but I swear it feels like it's ninety-two to me. I'm dressed in my favorite loose-cut hiking jean shorts with giant pockets that hold everything from my selfie stick remote to my other present tissue and my SPF chapstick.. There might also be a bag of macadamia nuts in my pocket. Just saying. Because those are my favorite hiking trail breakfast snacks in 2022.If I'm getting this kind of sweaty on a Tuesday morning you better believe I am all decked out in my favorite summertime thrift store treasures.
I shed my second hand white long sleeve about half a mile after leaving the car. But I felt like it was very important to have with me today as I've only hiked this trail once. I'm not one hundred percent sure what some of these mystery plants trailside are. I do a lot of treks in the Eastern Sierra's but not usually at Italy Pass because this is one hell of an uphill slog. I see so many plants on this trail that I don't know how to identify and I'm assuming none of them are poison oak or poison ivy in this area that we're hiking in. The eastern Sierra is not known for these kind of plants but saying that I somehow stumbled upon stinging nettle on a hike three days ago and my calves are still covered in welts. So just in case, I tied the long sleeve, one of my favorite summertime thrift store treasures to my extremely filthy at this point hiking pack. Some of my favorite supplies for outdoor adventures I absolutely have to buy through Amazon or REI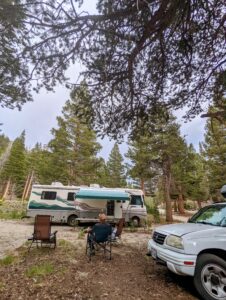 like my extremely lightweight runners backpack and my Saucony running shoes. When it comes to being an outdoor adventurer who also has plantar fasciitis, one really can't scimp on a good pair of hiking shoes or running shoes when you are on your feet for twelve hours a day. Or my brand new pop-up potty for tent camping. Summertime thrift store treasures be-damned, now that is the kind of camping equipment you buy new, especially during a global epidemic.
But when it comes to the rest of my wardrobe for outdoor adventures, I try to help out this planet that I so enjoy trekking through and buy sustainable clothing options as much as possible. When I packed our thirty-four-foot Fleetwood motorhome for this trip, I would say ninety-six percent of the clothing items I packed were all purchased at my favorite thrift store. As an outdoor adventurer, I love this planet of ours. And I feel so blessed for the three weeks every summer I spend on the trails of the eastern Sierras in such a beautiful place.
How collecting summertime thrift store treasures helps this planet
It's really a lifelong goal of mine to help keep this planet as beautiful as I can. And I do that by picking up other trail adventurer's discarded trash when I see it but mainly trying to curb my global footprint as much as possible. That's a lot easier in this day and age of a global pandemic when we really can't fly anywhere yet in our hometown of Bear Lake. I try to ride my mountain bike as much as possible around town to run errands so not to waste all that money on gasoline for my Subaru. My biggest contribution in my world to curbing my carbon footprint is definitely my love of all things recycle fashion. In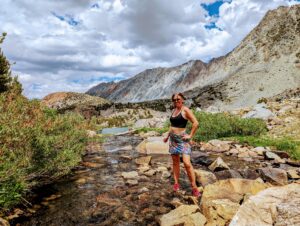 the last five years, recycled fashion and becoming a sustainable shopper has become a hobby and an obsession of mine. I've always had friends and family who are into thrifting and I used to do a little bit of that as a teenager with my mom and aunt. But now as a forty-year-old adult who just loves these beautiful Alpine forests, it's definitely become something that is important in my life. And I love that feeling when you pick out the perfect thrift store treasures.
Two of my white shirts I brought with me I ended up just throwing away because all the bleach in the world is not going to get out all that sweat and trail dirt out. The thing about trekking one hundred fifty miles in twenty-four days is that you sweat an unbelievable amount and the trail dirt just packs itself into your clothing. This is not the time to be buying sixty-dollar T-shirts from Nordstrom. Most of my white t-shirts I have to throw away after my camping trips. That is how sweat-stained and trashed they get. And that is why I have to buy a lot of my ba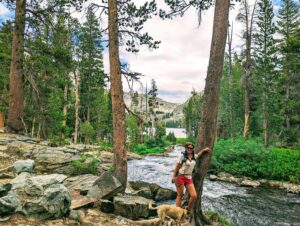 sic t-shirts from thift stores. Not to mention I cook everything in our home kitchen. I blend up my own salad dressings from scratch. I cook bacon in our oven two or three times a week. When I baste the ribs with my delicious five-spice Asian glaze, I usually also end up wearing some of it. My lifestyle does not call for sixty-dollar t-shirts.
But I see stuff like that all the time out on the trails at home in Big Bear and the eastern Sierra's. I see these Fur Coats, chicks from the city who shop for hiking clothes at Nordstrom, out on a lovely three-mile hike. These gals are always wearing thin t-shirts in bright colors that look brand new. And they usually smell good not like Deet. Oh, honey, you have honestly not been out in the sun sweating for twelve hours and your t-shirt is definitely not covered in thirty smashed mosquitos and all their blood stains.
All of that cheap made-in-China by sweatshop working children textiles that you buy at TJ Maxx and Marshalls are such cheap quality. And I have such a hard time supporting the idea of fast-fashion. During the p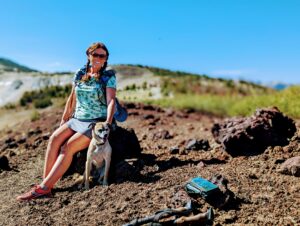 andemic, I found that a lot of my favorite thrift stores did not have dressing rooms. So I basically was forced to buy running shorts and skorts through other options such as TJ Maxx. I swear to you every pair of shorts I bought have ripped in the crotch. At this point. I don't know what part of my hiking lifestyle has me overworking my crotch muscles but something has. My hiker's badass muscles were not meant for cheaply made Ross brand clothing.
Aside from buying sustainable fashion thrift store treasures I also try to find fashionable and yet comfy hiking boots for those sh
ort autumn months. I have a love affair with this style of boots. Sometimes when I trek through all those fall leaves, I just don't feel like looking like a dirty camper. On shorter hikes or when I only hike less than two miles with my clients, I tend to wear these short lace-up ankle booties. Sometimes your hiking guide might feel like looking cute, especially in those cooler autumn months.
Some days even the dirty campers need to get dressed up. Yes, this thrift store shopper owns a lot of summer dresses. And a few times a summer I try to get down to Del Mar Thoroughbred Club in San Diego to dress up with my girlfriends, take some selfies and drink some cocktails. And maybe bet a few dollars on the ponies. Which of my favorite thrift store dresses to wear? Now that is the million-dollar question.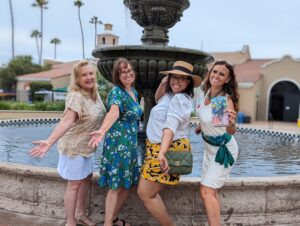 I do spend most of my day's trekking miles on my favorite trails but sometimes I do get to the city and try to dress like a lady. Like today. I met up with my favorite horse-minded girlfriends at Del Mar Thoroughbred Club for a girl's day. And I dressed like a lady for once, not in my favorite stained thrift store t-shirt and ripped leggings. I actually found this vintage looking off-white lace dress in my closet. Okay if I'm finding items I bought six months ago and have never worn in my closet, it might just be time to clean out my closet, I might admit. I think I picked up this vintage-looking dress when there was still snow on the ground in our ski town and knew it would be just perfect for a humid day at Del Mar Thoroughbred Club in August. Now doesn't this dress just scream, I need a Del Margarita?
Do you have awesome thrift stores where you live? What are your most cherished thrift store treasures?