Nothing says Happy Valentines Day like a big ass bowl of Muslim Lamb Biryani. If you can't smell cumin and coriander and basically all the gamey smells of Hydrabad India seeping out of your pores it must not be February 14th. This mixed rice dish brought from Afganastan by the moguls four hundred years ago is one of my absolute favorite Iranian-influenced slowly cooked rice dishes. As the aromatics fill our home with the smells of southern India it's hard not to feel romantic. Or at least very hungry. Even the name, birinj biriyan translated from a long-gone Persian dialect means fried rice.
A marinated gamey meat Valentine's Day Treat
Sometimes when I hike from dawn to dusk, I think to myself, damn it do I deserve a big ass bowl of Indian rice with all the fixins and maybe some lamb. Thankfully if I started trekking up trails at 5 a.m. under the stars, I was lucky enough to spend hours the day before preparing the absolute tastiest lamb biryani in Big Bear Lake, California. And let's face it, what tastes better on a chilly fall evening with some good friends but a savory Muslim-style lamb biryani?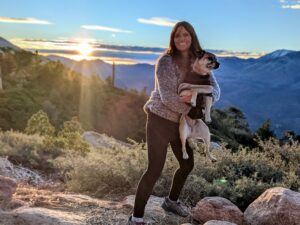 Here in the autumn of 2021 a lot of things have me feeling thankful. Having the good health most days to be able to hike my ass off at 5 a.m. is such a blessing. And it's a blessing to my boyfriend if I take my hyper chipmunk attitude and our hyper chipmunk dog and leave quietly before dawn to get out some of our nervous energy. The rest of the family can sleep in and we can hike up mountains under the stars.
Hike. Done. Time to create a Lamb Biryani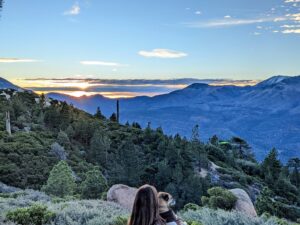 One summers evening, I decided to shove my fat ass in my largest kurti and whip up an Indian dinner for the whole neighborhood. Because why not cook over a hot steaming stove for six hours straight when it's a record high eighty-nine degrees outside in our mountain neighborhood? That was a few months before the leaves changed from gold to orange to red and we received our first snow of the season here in Big Bear Lake, California. It's also back in the day when my fat ass still fit in my kurti. That was many lamb biryanis ago.
Here is the deal with creating an authentic Indian meal; An authentic Indian meal takes time. You can't make a thirty-minute chicken curry and expect it not to taste like something you can get at an $6.99 all-you-can-eat Indian buffet in San Bernardino. A very popular food blogger recently published a recipe for a 30 minute Butter Chicken to rave reviews. I was disgusted at her Americanized attempt to make authentic Indian food in 30 minutes. Yes, you can make an Indian curry in 30 minutes, but your spices will be raw, your onions will not even be cooked thoroughly. A great quality Indian feast takes time and you can't rush perfection.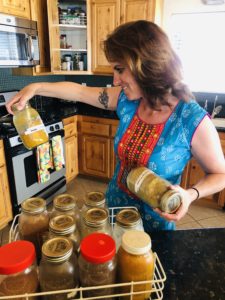 I'm a big fan of a Muslim-style biryani like this one. A Muslim biryani is chock full of cashew pieces and golden raisins. If you don't care for the cashews and golden raisins feel free to omit them.
This Valentine's Day, forget the steak and lobster. Defrost a lamb shoulder, throw it in the pressure cooker and break out the cumin. And who needs sexy lingerie when I have a selection of kurtis to shove my fat ass into!
Muslim style Lamb Biryani with Golden Raisins and Cashew Nuts
2 red onions, sliced
2 serrano chilis, sliced
4 teaspoons ghee
1/2 a leg of lamb
3 cups basmati rice
1  teaspoon turmeric
1 teaspoon paprika
1 teaspoon green cardamon
1 teaspoon cloves
1 teaspoon peppercorns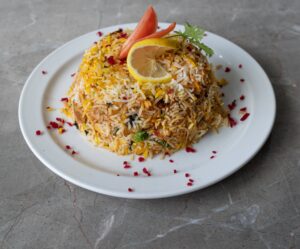 1 teaspoon cumin
1 teaspoon allspice
1 teaspoon dried papaya powder
2 teaspoons Greek yogurt
a queeze of lemon
2 cups water
1/4 cup cashews pieces
1/4 cup golden raisins
Firstly fry the chilis in the 3 teaspoons of ghee in the base of a pressure cooker. Remove the chilis and add in 3/4 of the onions. Fry until deep brown. Add the ginger garlic to the onions and mix in the cumin and 1/2 a cup of water. Letting it cook down for ten minutes until the spices are not raw. Mix in the turmeric, cardamom, paprika, alllspice and papaya powder. Cube the lamb into one and a half-inch pieces. Let fry up just a bit and mix in the lamb pieces. Let the lamb fry up just a bit in the sauce. Mix in the yogurt and the lemon. Add in 1  and a 1/2 more cups of water. Pressure cook the lamb for fifteen minutes under pressure. Let the pressure cooker sit for at least ten minutes before you open it.
Cook the rice to 3/4 doneness as the lamb is cooking. Next drain the rice. When the lamb mixture is good to go, layer the lamb mixture over 3/4 of the rice in a big pan. Add in the rest of the rice on top. Cover with a lid and put on simmer on the stove top. Let simmer for twenty minutes. While this is simmering, fry up the rest of the onions until very browned in the last remaining one teaspoon ghee.
At this point your biryani is ready to serve with raita and garnish with chashew nuts, golden raisins and the onion garnish.
Thirty-minute curry dinner my ass. For more authentic Indian recipes check out the Curry Bum category of my blog.