Most people if they're lucky only have one "Oh shit moment" in a day. When you are traveling across the country as a new RV owning family in a 34 foot rig sometimes you have more than one "Oh shit moment" in a day.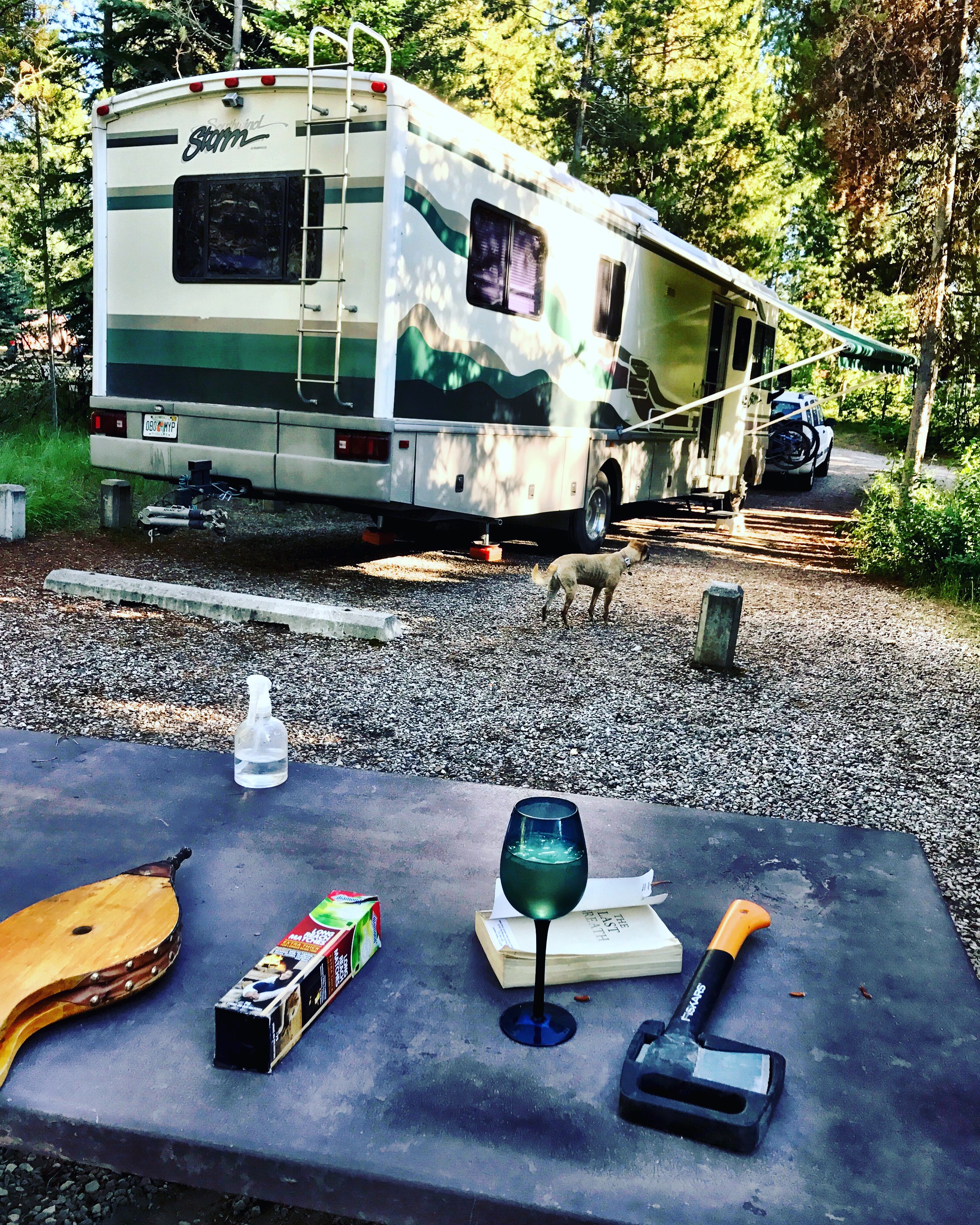 Days like this I know God was looking out for us as we enjoyed this new to our family RV life in between moments of sheer and complete panic.
Thinking back about today's 320 mile drive from Lake Powell in Utah, to the barren mesas and red deserts of Arizona to the mountains of Colorado I'm not sure which moment was more panicking; When my boyfriend forgot to set the parking brake and the RV started rolling down backwards down a hill or the moment that our tow car became unattached from the RV in the middle of the freeway.
No one told me that RV life would be so completely terrifying.
This morning dawned bright and sunny, so incredibly hot as we sat in our sofa bed in the RV sipping our coffees and watching the hot Utah sun rising over Lake Powell in the background. RV life was good at the moment as the sun reflected off the rippling lake in dark purples and pinks. Now this is how you start a day of cross-country vacation.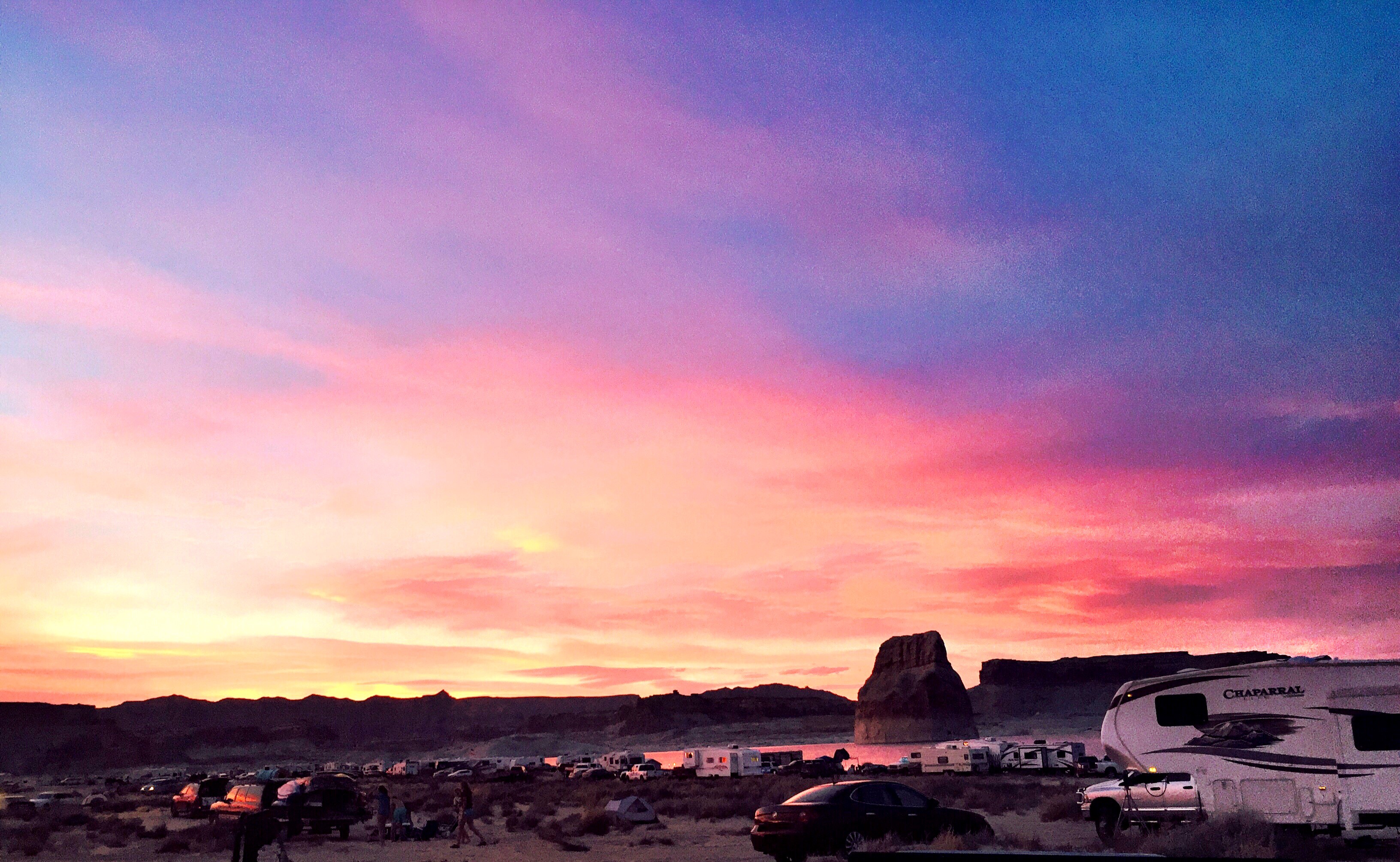 Coffees drunk and the slide outs retracted we were driving towards Arizona before 8AM towards the Arizona desert. Good bye Lake Powell; You were a good time yesterday despite the fact that it was 106 degrees on your sandy shore until 9PM at night. (Utah! What is wrong with you! This is not an acceptable temperature!)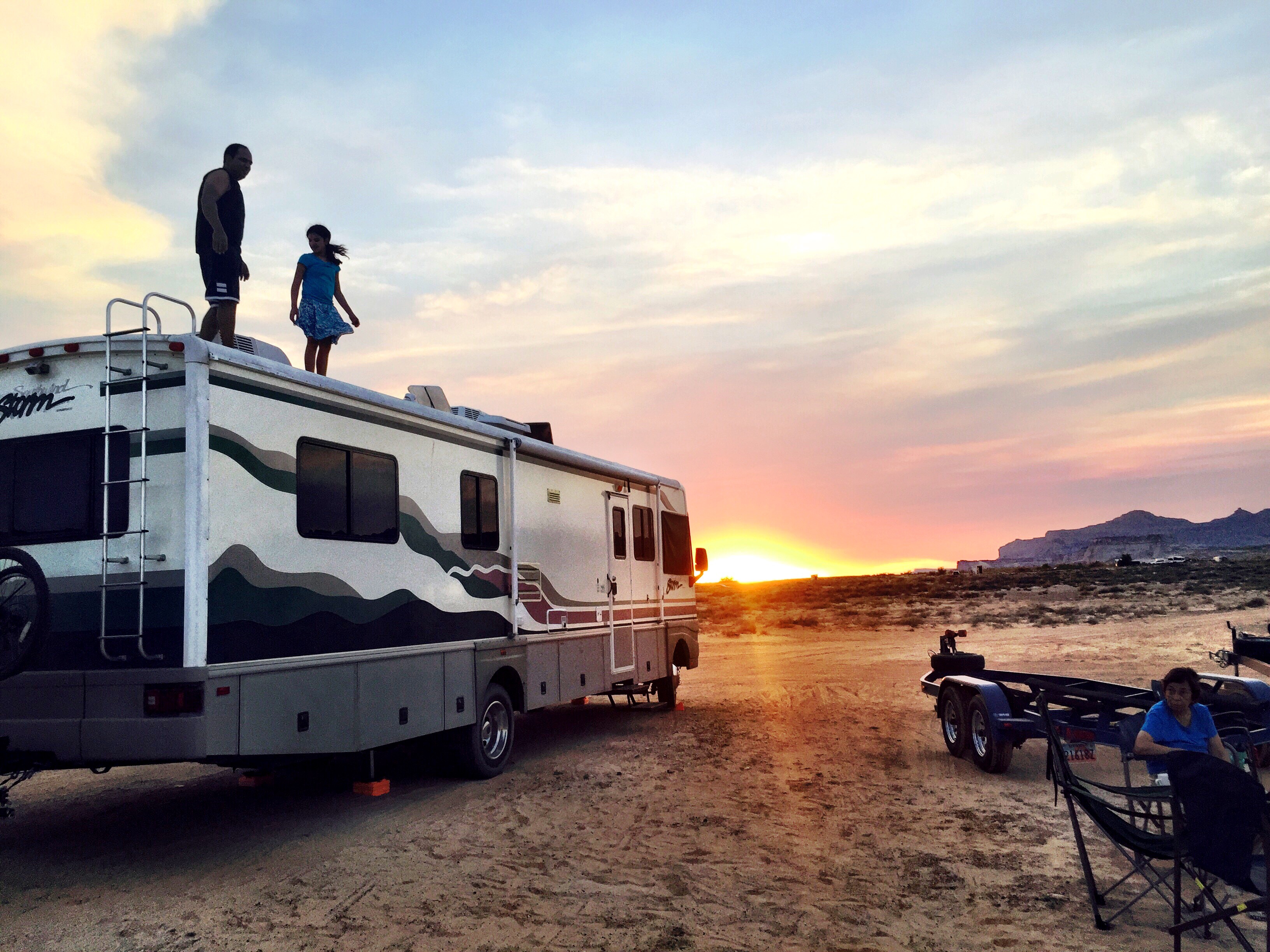 But first we had to get rid of our shit. Yes, it was time for the worst job in RV life; Emptying the black tank. Luckily our awesome campsite at Lone Rock Beach had its own dump station.
Yea and this should be fast and easy (Just like how I filled up the tank after a night of Indian dinner) The one snafu on our morning was this Father's Day Sunday dawned with my boyfriend receiving the gift of germs for Father's Day. Yes, he woke up sick and we had a big ass drive ahead of us from Lake Powell, Utah to Rico, Colorado. He pulled up to the dump station and made a beeline for the toilet.
I was standing outside the RV waiting to make sure he was lined up correctly with the sewer system and all I knew was that the RV was rolling backwards and gaining speed.
I screamed at the top of my lungs as the RV was rolling quickly backwards towards a hill that would have been the death of the RV and disastrous for the people inside it. No one told me about his part of RV life.
Luckily he heard my shrieks of panic as he was on the way to see a man about a wallaby and threw on the parking brake.
Whew… My heart did not stop pounding until we had crossed well into the John McCain state.
At least I could sit back and relax as we rolled our way through the red rocky state of Arizona, past the mighty Colorado and made our way past red mesas and buttes. We were in the absolute middle of nowhere, maybe 200 miles shy of the Colorado border when my boyfriend screamed,
"Oh shit! We lost the toad!" Even as I glanced from my passenger seat at the back up camera I could see that our tow car was no longer attached to the back of our RV.
The toad had gone walkabout and we were on a very narrow desert highway flying at 60 miles an hour downhill and on a turn. Somehow my extremely talented driver of a boyfriend pushed our entire rig into the incoming lane to get the toad to not hit the guard rail. It's a miracle the toad did not hit the guard rail, number one, and that the whole RV was not pulled out of control by the downhill speed of the toad doing whatever it damn well pleased behind the RV. God was looking out for us at that moment.
Also luckily there was a very small turnout at the bottom of this hill and we were able to stop on the shoulder and assess the situation. I did not sign up for this part of RV life, you know the terrifying I think I just pooped myself part of RV life.