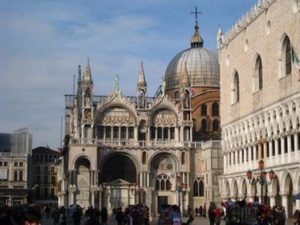 It was six a.m. in Venice Italy and I couldn't sleep. I looked at my two flat mates snoring and cozy in their beds and knew I couldn't sit here all morning cocooned in my nice warm bed, waiting for these silly hungover girls to wake up.
It was time to hit the streets of Venice, Italy.
I threw on some sweaters, (It was maybe thirty degrees in the chilly alleyways) hat and a scarf and quietly and with a " buon giorno" to the concierge was out the door and into the alleyways of a Venice that was just barely waking up. I stopped in the first cafe I saw and ordered a cafe latte and a zeppole, a cream puff-esc dessert with raisins. When I was in Venice four years ago I was having a love affair with the freshly made, doughy zeppole. I don't even really care for raisins, but these were so much better then cheap American donut treats and they really hit the spot. They were airy, just a little sweet and so good with a perfect cup of Italy's best Lavazzo coffee. As I sipped my foam covered espresso drink I wandered down the empty stone streets of Venice, wandering past tourist popular, Caffe Quadri, where you might pay as much as fifteen euro for a cup of coffee and to sit outside in the winter sunshine, watching all the activity in St Mark's Square. I took my cafe and dolci (Sweet) and kept walking. I made my way to the waters edge.
I sat down on the stone steps and devoured my doughy raisin cream puff desert and sipped on my latte as the Italian sun just started to rise on the horizon over the water. The streets of Venice Italy were almost empty still at this early hour. It was so beyond perfect.
I didn't feel like a tourist that morning. It might have been merely two mornings before the masses excited the water taxis and exploded into the streets of Venice Italy in a costume filled display of debauchery and good times, (Carnevale) but this February morning I had a real locals feel for Venice. I starred at the gondolas, covered in blue, waiting for the day to begin and thought about how much fun we would have at tomorrows Carnevale Ball.
My coffee finished I rose form the hard ground, my ass cold and asleep in my True Religion jeans. What would possibly be open at this hour? A grocery store? What a great place to get some Venice souvenirs!
In my travels, and when I say travels, I mean getting lost in Venice maze of streets, I had come across a little grocery store around the corner from our hotel. Well, actually it was down an alley way, across the Rialto bridge and down another corner. I ambled over there, trying to walk fast. I had been warm sitting in the sunshine by the docks, but once I entered the alleyways, the two and three story stone buildings blocked out the sun and yeah, this California girl was cold. The little supermercati was warmer then outside and I was quickly lost in a world of Venetian cookies, candies, chocolates and coffees not like anything we had at home. I was in heaven! Until I went to the deli counter, attempted to order some squid salad and was ignored forever and then treated like garbage because I can't say anything in Italian, especially not
"Half a pound of squid salad please"
I finally just gave up after pointing and grunting and smiling wasn't working for me. This is grocery shopping, being an American girl traveling through Venice Italy.
I went to check out and was angrily denied any plastic bags as I guess you are supposed to bring your own bags. I didn't know, just a tourist here. One thing is for sure; grocery store clerks in Venice Italy hate me. I stuffed everything I was buying in my huge purse, and with my arms overloaded with a tiramisu cake and three bags of Venice's best coffee for friends at home, I made my way back to our hotel room just in time for my friends to be getting up.
Yea, that meant we could all go down and enjoy the hotels free breakfast of Muesli, amazing European style yogurt and free lattes together before our day of exploring the streets of Venice.  I then drank three free lattes, as I did every morning we stayed at that hotel, much to the chagrin of the people who worked there.