Once upon a time, I worked until eleven-thirty at night. Then I drove forty minutes home. Then I stepped in cat puke. Than I got in bed. Than I realized I had stepped in cat puke. My alarm was set for four-thirty, so I could be back at work by six A.M. and in that exhausted moment, I did consider for just one second (A very, very brief second) sleeping in a puddle of fish-flavored puke… Than I got up, cursed a few cats names and cleaned up the puke. I knew I would get eight minutes less sleep and for just a moment I was jealous of my friends who own birds (birds who are not, I'm assuming, bulimic)
That fish-flavored puke moment was a long time ago and as this holiday season is fast approaching life is a hell of a lot better then I could have ever dreamed five years ago. I do still have those crazy cats though. And I do still make this fantastic sweet potato pie. I'm not a pie person but this is no run of the mill pie. I mean it's chock full of delicious Italian mascarpone cream; How could it not be amazing. Mascarpone cheese and its smooth creamy deliciousness transports any dish to OMG amazing.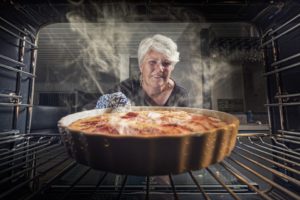 If you make one pie this holiday season it should be this one. P.S. It also is studded with chunks of candied ginger.
It is out of this world good.
Mascarpone Sweet Potato Pie with a Gingersnap Crust
4 cups mashed sweet potatoes
1 1/2 cup brown sugar
1/2 cup maple syrup
1 tab vanilla
1 tab cinnamon
8 egg yolks
1/4 cup candied ginger, chopped
2 cups mascarpone cheese
1 package gingersnap cookies
2/3 cup butter, softened
In a food processor combine the cookies and 1/3 cup butter. Press this mixture into a baking dish. In a big bowl whip the yolks with the mascarpone cheese. Mix in the vanilla, the other  1/3 cup butter (Melted) the brown sugar, maple syrup, chunks of candied ginger and the cinnamon. Add the sweet potatoes. Put on top of the gingersnap pie crust. Bake at 350 for 50 minutes with the top covered in foil.
When you remove this from the oven, the sweet potato layer will be custard-like. Don't worry if it's not cooked completely through. Let the pie rest at room temperature or in the fridge at least an hour.
Please don't hate me to much when you eat four slices.
This makes a huge pie. You can cut this recipe in half easily for a small gathering.