It's September sixth here in Southern California and I might have just made a terrible decision to head to Las Vegas at the tail end of a heatwave. It was one hundred and thirteen miserable degrees as we approached sin city and the low-carb margaritas and culinary delights were calling my name. As well as a day spa or two. Ice sauna? Yes, please. When it's way too hot outside to even walk on the strip, the ice sauna at Imperial Health Spa is calling my name for sure. Are you looking for Las Vegas fitness, food and wholesome options this fall? You might be on holiday in the neon capital of the world but you can find lots of neon (Veggie) choices in wholesome restaurants all over the Las Vegas metropolis if you know where to look.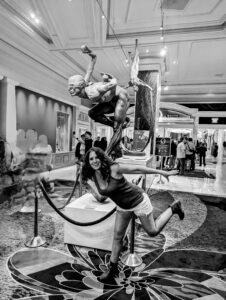 The last time we drove to Las Vegas Nevada we drove home chock full of the Coronavirus. On this trip to sin city, we were ready with the zinc packed, electrolyte water and Emergen C in our luggage just in case. You can only hide form COVID-19 for so long. After spending most of the pandemic staying away from crowds and being oh so safe we gave in and took a holiday to Las Vegas, a neon town full of germs.
When I planned this trip to Las Vegas I asked multiple friends and family who live here, how do I find healthy food options. Las Vegas fitness and wholesome choices have to be available in this mecca for foodies. Trying to pry the name of a wholesome choice restaurant out of these Vegas foodies had me feeling like I was interrogating my friends if they were at the Capitol on January sixth! Why all the big secrets are Las Vegas healthy food options?
On this recent jaunt to Las Vegas we were prepared for a warmers-than-usual early fall trip and were hell-bent on not catching any major illnesses this time around. We might have been road tripping to Sin City but we had some very active activities like golf, hiking and thrift store binging planned. But come on, it is Las Vegas after all and you can't be wholesome all the time; Here in the fall of 2022, the only thing I would be catching was a buzz as I lounged by the pool with a pina colada and a good book in my hand.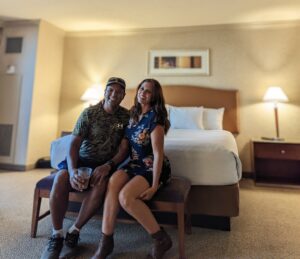 Maybe a lot of people wouldn't visit a desert town like Las Vegas during a humid 112-degree heatwave and then head straight to a day spa with ultra hot saunas but it's always nice to sweat out yesterday's low-carb margaritas. Don't you want to start out your Wednesday in Las Vegas feeling refreshed? Wouldn't it be nice to possibly de-stress at Las Vegas's finest naked Korean day spa? Especially at the tail-end of a global pandemic when also your hometown in the pines is evacuated because of a big-ass California wildfire. If one is going to get evacuated in the middle of a heat wave then you might as well drive three hours to Las Vegas and stay at a hotel that is only eighteen dollars a night (I mean that is before resort fees of course)
How was our first stay ever at the Rio Al-Suite Hotel and Casino for eighteen dollars a night? Not bad at all! Our room was a bit basic but clean and all the amenities were easily assessable. I mean it was a bummer to not have a coffee maker in the room. I mean what the fuck man? You travel to India and they give you a kettle and Bru instant coffee. But stay at any hotel in Las Vegas and they expect you to stroll down to Starbucks in the a.m. for a crap latte and happily pay seven dollars for the privilege while you are hungover. Or you can pay for terrible room service coffee to be delivered to your room at an exorbitant price. When we left Las Vegas on Saturday morning there were one hundred tired hungover travelers in line at the hotels Starbucks. This is why I stock our hotel's mini fridge with pre-made espresso from home. It might not be an optimal coffee choice but it's better for my body than a three hundred-calorie Starbucks Frapacino at six a.m.
How can you try and be healthy in Las Vegas?
When you pack that suitcase make sure when you pack that short skirt and bikini but also pack some healthy snacks. When it comes to Las Vegas, fitness and healthy food choices, the last thing you want to find, is yourself in your room, starving and ordering crap fries from room service. Or picking up some junk food from the tiny grocer downstairs you find in most casinos. I like to pack some zesty kale chips, macadamia nuts and my favorite beef jerky for those snack cravings at odd hours. Electrolyte water is something else I stock our in-room mini fridge with. The tap water in Las Vegas can be the worst tasting and I avoid it like the plague (Or Covid 19)
As delicious as those sugary pina coladas by the pool are, I only order one on every trip. I try to pack a few low-carb margarita drinks in my suitcase so I won't be tempted by an actual margarita full of sugar. After that, I try to just stick to vodka sodas while we are out and about walking the Las Vegas strip. Las Vegas fitness, health and making wholesome food choices while on holiday can be challenging but some pre-trip planning can go a long way once you are faced with choices like a thirty-two-ounce food coloring brighten pink Mai Tai from Fat Tuesday.
Take a hike!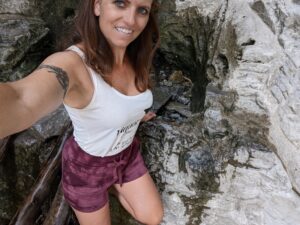 We might be on holiday in Las Vegas but that does not mean we are skipping our workout routine. No, we are not doing P90X in our suite-sized hotel room but we have golf and hiking planned throughout this active vacation. The whole point of escaping to Las Vegas last week for us was to get the hell away from the unhealthy smoke and the California wildfires. Then we woke up at the Rio with skies so grey we couldn't even see the Spring Mountain Range in the distance. Damnit, where did those mountains go that I planned to hike?
This morning in Las Vegas the air quality index was 185. That was worse than in Delhi, India on the same morning. (But at least they had instant BRU coffee in their hotel rooms!) My boyfriend and I had evacuated Big Bear California four days earlier from a massive wildfire. These wildfires are burning out of control all over California. Not that most Californians could give a flying fuck about what is happening to our environment. After I escaped smokey Las Vegas today to go on a hike in the wilderness near Kyle Canyon, I came across multiple illegal campfire rings that people had built in the wilderness. See, This is why we can't have nice things like nature. Because even in the areas that used to be off the beaten path apps like All Trails and social media influencers and tweeters have brought into the public's eye, even the most out-of-the-way wilderness destinations.
See this is why even while on holiday in an urban jungle like Las Vegas I have to take a more holistic approach to my holidays and get the hell away from other travelers. Except that did not quite happen today. Sixteen months ago, the last time we visited sin city I also traveled up to the Spring Mountains and further north to Mt Charleston to do some day hikes. I had a zen-like day full of ponderosa pine-filled trails and stellars jays singing in the pines. I saw one other day hiker the entire morning. I saw more of the rare golden mantel ground squirrels than people on the trail taking me up the ridgeline into the ancient bristlecone forest. Okay, looking back this was still right in the middle of the pandemic and traveling to Las Vegas had not resumed at its peak yet. So maybe this is the way hiking outside of the city limits of Las Vegas just is but I was a bit surprised by all the day trippers.
So where do I get lunch after the hike?
Just because you are on holiday in Las Vegas does not mean you have to eat sinfully. There are other options besides wood-fired pizzas, diabetic coma-inducing donuts from Pink Box and Pink's famous loaded hotdogs.
I adore authentic Indian food because it's full of pure and wholesome ingredients. Each dish is bursting with ghee, clarified butter and turmeric. And the fact that I can order most dishes made with high-protein lamb or goat also helps. Following that keto kraze? If you manage to ignore the garlic naan and tandoori oven-baked parathas then Indian food can be a good choice to stay in ketosis while on holiday in Las Vegas. Did you know there is actually a Hindu and Jain temple in Las Vegas? If you are looking for a place for spiritual growth after your healthy lunch of paleek paneer and before you go back to the slot machines a trip to a temple to focus on your spiritual well-being is a great way to continue a wholesome day in Las Vegas.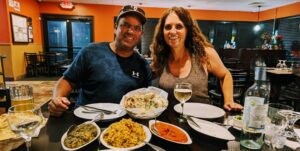 Do the hoke poke
One of my favorite healthy lunches is fresh poke. Fresh fish and a whole lot of greens, does it get healthier than this? The town I live in does not exactly have a poke place I would recommend. I do make tropical ahi poke in my home kitchen though. But considering I live a two hours drive from the ocean, fresh fish is not something I have often. On this trip to Las Vegas, I think I found my new favorite poke place. Too bad it is three hundred miles from my home! Sweet Poke has everything I have been looking for in a good poke place; So many unique fresh fish options, delicious spicy sauces and reasonable prices.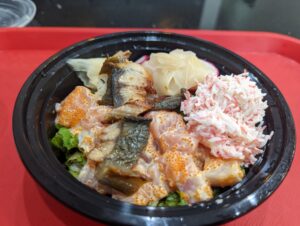 Sweet Poke is one of the few poke places I have found that offers unagi on their menu! Sweet Poke, you had me at unagi. And that is even before I added soft shell crab and fresh yellowtail to my bowl. I like that they didn't charge extra to add crab meat either. Sweet Poke had so many great raw fresh fish options I honestly had a really hard time choosing the protein. They had so many choices and they were all so wholesome. For the three-scoop bowl I ordered, it only came to fourteen dollars and that included the crab salad. I liked that they had multiple spicy sauces to add on also.
Las Vegas healthy lunch options galore
There are many popular health food restaurants in Las Vegas like Greens and protein with their seven Las Vegas area locations and their acai bowls and vegan peanut satays. Honestly, nothing on their menu really stood out to me (Although I had to wonder why bull's blood was mentioned so often on their menu. Is that like Rocky Mountain Oysters?)
True Food Kitchen is another Las Vegas fitness foodie favorite with starters like the vegan Roasted Acorn Squash Flatbread, studded with truffle honey, lemon almond ricotta, pistachio, Calabrian chili, arugula and garlic. Looking to get in all your veggies before you start drinking bloody Mary's on the strip? Try their Charred Cauliflower. It's vegan! It's gluten-free! It's full of harissa tahini, Medjool date, dill, mint and pistachios.
Ten years ago you would be hard-pressed to find any purple sweet potatoes or ube on any menus in the U.S. Now here we are in the year 2022, we survived a global pandemic and our economy might be screaming towards a recession but hey, you are on holiday in Las Vegas; Order that purple ube cream layered donut.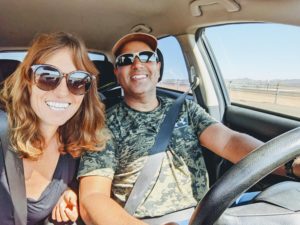 Life might not be exactly back to normal yet but we are able to find ube, purple sweet potatoes from the Filipinos all over the United States these days. The Purple Potato is a great little shop in Las Vegas to get a breakfast ube donut or cronut after you sweat out some calories on your morning hike. Ube is nutritionally pretty close to a sweet potato. Yes, I climbed a thousand-foot mountain this a.m. I do deserve a high fiber sweet potato ube velvet cookie made with cashew nuts.
So what if you don't feel like being healthy? What if you are just hungover or on vacation and want to shove something glorious in your face at seven a.m. before you hit the spa and sweat out all those carbs and sugar? You might need a kolache from District. Donuts. Brews. at the Cosmopolitan full of candied jalapenos. Yes, I did say candied jalapenos. I ate a salad on my way to Las Vegas as we cruised down the fifteen Freeway and I prayed my air conditioning in my shitty Subaru would hold out for this three-hour drive. I knew that a housemade fancy donut stuffed with homemade bacon and yes candied jalapenos was in my future. District. Donuts etc also has healthy items, I swear like fresh squeezed orange juice but most of this food hall favorite at the Cosmopolitan is all about going into a diabetic coma asap.
The best keto-friendly steakhouse in Las Vegas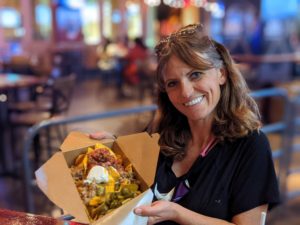 If you are okay with a sixty-dollar uber ride to get to Red Rocks Casino then you might also be okay with paying two hundred dollars for a wet-aged steak. Then T-bones Chophouse is the place to go. I may not be a PETA supporter but I just can't bring myself to order the seventy-dollar veal chop when I read it was milk raised and imagined Sammy the calve being bottle-fed for my dinner. I don't have any visions of lambs being bottle-fed in my head so I went with the pistachio-crusted lamb chop with a demi-glaze. Because when in Vegas every meal should include wine, right?
This chophouse has so many keto options from their apps like big-eye ahi tuna, oysters, oysters, oysters to their wedge salad. T-Bones Chophouse wedge salad features Point Reyes blue cheese and that is one of my favorite of pungent blue cheeses.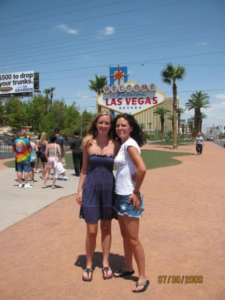 A friend who lives in Las Vegas told me any foodie who loves fish has to try Catch at the Aria. As soon as I saw truffle hamachi, I thought, nope. But then again I am that foodie who thinks that truffles taste like old truck tires. This place is just confusing. I was led to believe it was a fishery and their menu is chock full of Cinnabon delights like their cinnamon roll pancakes which do feature candied almonds and sound fantastic if you are ready for a diabetic coma at nine a.m. They also off a sushi menu that sounds like sushi you can get just anywhere with items like eel avocado, spicy yellowtail etc. I'm just very confused about what kind of restaurant this is. They have a lot of random things on their menu and not all of them sound great. Truffle sashimi? Why?
One of my absolute favorite things to do in Las Vegas is going to a good day spa. Canyon Ranch, Caesars Palace's Que Spa and Imperial Health Spa are all excellent choices at different price ranges. After an evening of hard living the way one does while living it up in the city that never sleeps I would love to fall asleep in the red clay room at the Imperial Health Spa. The infrared light in the red clay room improves metabolism and delays the aging process. The red clay sauna removes all those Las Vegas toxins you ingested last night. I feel like all of this is very helpful to recover after a first night out in Las Vegas.
After a healthy (Or not so healthy lunch if you choose the cinnamon roll pancakes) it's time to find a relaxing day spa to sweat out all those calories. The Canyon Ranch Spa at the Venetian has to be my favorite fancy spa in Las Vegas. If you want to be truly pampered spend a morning at Canyon Ranch and relax in their cedar sauna and herbal steam rooms. The Que Spa at Caesars Palace only runs twenty-five dollars for a day pass. It's a little more, eighty dollars for none Cesars Guests but very worth it especially if you try out the laconium room. If your body is craving the detox relief of sweating out some Vegas, the laconium room is perfect. A gentle heat radiates from every direction and the humidity nurtures dry skin.
After a night of gambling in Lost Wages, your body may be crying out for a spa day to relax and sweat out those toxins. A morning at a day spa is the perfect way to unwind and prepare your body and soul for another night out in Las Vegas, Nevada. Or it is the perfect way to end your trip to Las Vegas, the city that never sleeps but has many hidden healthy options.