What do all the tastes, colors and smells of autumn have to do with India? India is a world of color and an explosion of flavors, a rainbow of yellows, oranges and pinks and then there are the smells; Most are good; A blend of cardamon seeds, zesty coriander, sharp clove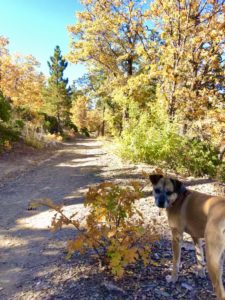 and cinnamon found in every Indian kitchen and used to create the most mouth-watering curry base. Walk into any Indian home and the smell of ghee roasting with well, basically, anything on a stovetop is sure to great you. But India is also home to deplorable toilet situations. By my second trip to India, I had no qualms about squatting over the hole in the floor toilets. I just got used to it and I figure might as well multi-task; Do some squats while using the toilet. Yea for working out so I can eat more curry. The smells of India can be intense and everywhere; men who don't wear deodorant and mongrel dogs who poo on the streets. You always want to watch where you are walking on the colorful, crumbling cement streets of Bangalore.
Big Bear Lake might be nine thousand and some miles from the loud congested streets of Bangalore or the humid coastline of Goa but autumn here in the mountains of California is also an explosion of colors. Although I have to admit, we don't get the aromas of India; One of the things I miss most about our travels through Bangalore and beyond. As I make my afternoon Pumpkin Spice White Russian on a chilly autumn afternoon sometimes I just need to take a deep whiff of our spice cupboard, especially the white cardamon pods. That scent is intoxicating to me and brings with it all the memories of spending the holidays in India.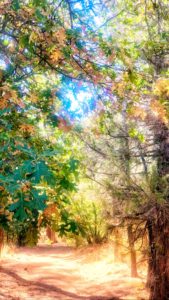 Here in the mountains of southern California at over 6,000 feet, autumn days out on the trails in our mountains mean the shrub oaks are already turning yellow as the nights just start to get cooler. A few maple trees in our neighborhood have just begun to drop fat auburn maple leaves onto the streets as the pup and I wind our way up the trails further into the forest. You can hike for miles on these intersecting trails and just take in all the yellows and oranges of falls. Our mountain forest can be just as colorful as the streets of India with the ladies in bright yellow and orange sari's and green and orange rickshaws filling the crowded streets.
These days, six months deep into an unheard-of pandemic traveling the world, and relaxing toes in the sand, on a tropical beach in the south of India seems like a lifetime ago. Last New Year's Eve we joined my boyfriend's family on a ridiculous eight to twelve-hour road trip to touristy Goa India to celebrate the New Year in a New Year's Eve adventure we will never, ever forget. There were some shenanigans along the way for sure (A paid driver who took us on his "Expert route" that ended up turning an eight-hour drive into a twelve-hour one.) It meant way to much time sleeping in a cramped Tempo Traveler then one should when they are in their forties. But at the end of that ridiculous road trip through the lush Indian jungle, we were treated to views of the aqua blue waters of the Arabian Sea and the hippie beach town, Goa. I never expected a hippie enclave in southern India beach town, but the red dirt roads of Goa are nothing if not surprising.
Our holiday in Goa was unlike any beach vacation I have ever been on before. You wouldn't expect curries to be so delicious at the hot h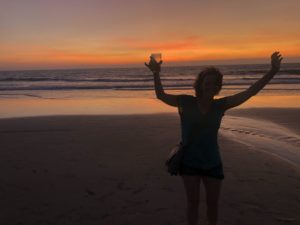 umid beach but the freshly caught crab curries and lobster ghee roast we had at beachside shacks was out of this world delicious (and for pennies on the dollar) consumed at beachside outdoor cottages near steps from the ocean. Did I mention it was a beach full of puppies and friendly mongrel dogs? And did I mention we kind of wanted to smuggle all of those stray pups home with us?
What the hell did I just step in? Welcome to India
Travels to the south of India are always an explosion of smells, colors and what the hell did I just step in. (There is a pretty good chance it was cow dung) As soon as you exit Bangalore International Airport, even if its 1op.m. at night in this bustling metropolis, the city is an explosion of noise after the calm of the sleepy nighttime airport. The parking lot outside the international terminal may not be very busy at this hour of the evening but Indian drivers are honking and beeping at each other and rickshaws are swerving into the nearest lane to pick up tired travelers who just want to ride to nearby Kammanahalli. It seems like it's never ever quite in Bangalore, even at three a.m.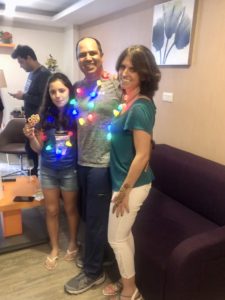 As we searched the international terminal for my boyfriend's brother last December and also attempted to trade in our dirhams from our overnight trip to Dubai for rupees at the cash exchange, I pulled the Christmas light flashing leis out of my checked luggage and requested, no order, we all put them on before meeting family.
It was the holidays after all
I feel so blessed that we made it to India for one last international romp right before the world became very unsafe for international travel. It was so amazing to spend the holidays with my boyfriend's family as Lord knows when we will make it back to this fragrant spice kingdom again in a post COVID world. Our last trip to India was a mad dash of beachside shenanigans in tropical Goa, to frolicking with tuskers (Elephants) in the jungles near Masungundi and wild Langurs (Monkeys) jumping in the hired car with us.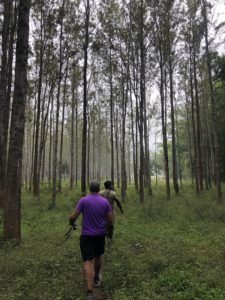 Now that we are back at home living through this pandemic with an asteroid hurtling towards earth faster then you can say, will Donald Trump get reelected, I am just so grateful we were able to travel internationally last winter. I don't see a time that it will be safe for my immune system to venture again to India in the near future. Travels to the Himalayans and to visit our favorite jungle resort are more than likely years away.
It's autumn here now, nine thousand miles and half a world away from Bangalore and we once again have a plethora of squash in our garden. In Indian kitchens, they don't usually have ovens to bake a giant Kombucha squash but here in the United States we do, so I chose to precook the squash in the oven for this recipe. Squash is excellent in a vegetarian curry as it holds up firmly to be simmered for a while in a sauce. I choose to make this red curry very similar to my favorite butter chicken recipe from the Empire Restaurant chain so popular all over the streets of India
To roast my squash, I simply cut it into quarters, slather in ghee and pink Himalayan sea salt and roast in a 375 oven for forty minutes. You can substitute coconut oil for the ghee in this recipe if you want to make a vegan version.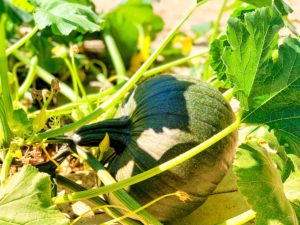 Kombucha Squash Curry
2 cups roasted Kombucha squash, sliced into bite-size pieces.
1/2 cup ghee or coconut oil
1 red onion, chopped
2 serrano peppers, sliced in half
1 teaspoon grated fresh garlic
1 teaspoon grated fresh ginger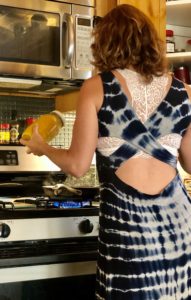 2 teaspoons coriander powder
2 teaspoons cumin powder
1/2 teaspoon turmeric
1-2 cups of water
1 cup fresh tomatoes
1/4 cup ground cashews
3 teaspoons heavy cream
2 teaspoons, chopped fresh cilantro leaves
In a wok, add 1/4 cup ghee roast the serrano pepper slice. Add the red onions and roast for at least fifteen minutes until very brown. Add the garlic and ginger and continue stirring for five minutes. Remove from heat. Allow to cool and then pulse until smooth in a blender.
Add the onions and the rest of the ghee back in the wok. Add the cumin and coriander powders. Add 1/4 cup of water to thicken the paste and cook down. Add another 1/4 cup of water and the turmeric and keep cooking. When the spices are fully roasted add in the tomatoes and the other cup of water. Bash up the tomatoes as you are cooking them. Cut the now cooled squash pieces into bite-size pieces. Add the rest of the water and the squash pieces to the curry. Continue to simmer forty-five minutes to develop the flavors. Mix in the ground cashews and the cream. Simmer ten more minutes. I prefer to serve this over a bed of brown rice. (Or cooked spinach if you are looking for a keto version) Garnish with chopped up cilantro leaves.