This isn't my first rodeo. I mean blizzard. Our 2023 southern California blizzard, dropping seven to ten feet of snow from Crestline to Big Bear and everywhere in between has made international news. We had long-lost friends in the UK calling this morning (They are obviously on London time) to inquire if we were defrosted from the blizzard yet. The answer is yes. We have enjoyed our week of snow, nothing but snow. We shoveled. A lot. We built an outdoor snow lounge complete with a bar. Part of that had to do with the dead mouse in our wall and the wretched smell in our cabin. Of course, this had to happen the one week we are trapped inside by a blizzard. I walked the puppy in the snow. I played with the puppy in the snow. I walked the Norwegian Forest Cat in the snow. And we cooked a lot of delicious Indian food. Burning between three hundred and eight hundred calories a day shoveling had me feeling not guilty whatsoever deep frying vadas for our appetizers in the evenings.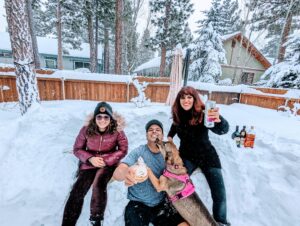 In the last four years, especially, we have had so many people escaping city life and that concrete jungle that is Los Angeles. They all want to escape to a more rural way of life in the San Bernardino Mountains. Our winters in the last ten years in southern California have been mild, to say the least. In the last few years, as my skier friends weep for man-made snow all the commuters in their Subarus in Big Bear Lake are high-fiving. Until now. Because we just had a normal amount of snowfall and all these mountain newbies are not prepared and losing their minds.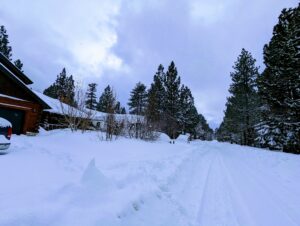 Snow what?
This is the most snowfall southern California has seen in many years and as we hear words like avalanche risk, snowcat and helicopter rescues. Our muscles ache from days spent shoveling snow and some of us wonder dear God why did I purchase an electric snowblower?
When our mountain highways are closed for more than a week straight, what else is there to do but snowshoe mountain trails? Or what I mean is, try to break through four feet of snow to snowshoe. I swear there was a trail over yonder beneath the juniper pines. This is my thought as I'm struggling uphill, panting until my calves and hamstrings are aching and the puppy is exhausted. When I get to the lookout point and I'm sweating and panting like a crazy person and r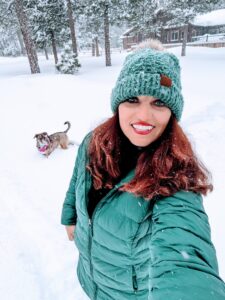 eally, it's only twenty-four degrees outside, that might be considered a good workout. That was all before, according to my smart watch, I burned there hundred and fifty calories shoveling fresh snow this morning. I love snow days because the calories don't count. I just might one of these days, snowshoe back to the truck and drive home to deep fry some green pea vadas. But first I have to turn around in three feet of fresh powder.
Walking in a winter wonderland
Here's the thing folks, in southern California we just survived a blizzard. And shit is getting crazy. Our mountains are closed to just locals. Our infrastructure is failing big time. The same snow plow has gone up and down our street, ten times in the past twelve hours yet the neighborhood across the highway from us has not been plowed in a day.
We have few snow plows to maintain our mountain highways. and the ones that are out and about seem like they are stuck on Groundhog Day. Our groceries stores are out of all essentials and the resupply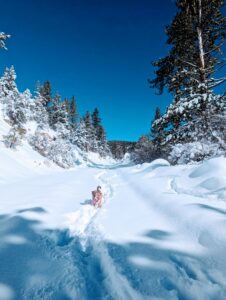 is happening very slowly. Our gas stations were out of gas for days. Now two gas stations had fuel yesterday but you had to wait for fifty cars deep to fuel up and hope you didn't get in a fistfight at the pump if you took too long. Seriously, a sheriff had to be stationed at the gas station to babysit like this is kindergarten and kids fighting over toys. But now the gas station is out of gas again and after two feet of more snow last night none of the highways are plowed yet. We have a three-foot snow berm across the nearest cross street and I doubt it's getting plowed anytime soon.
So I am thanking God and my planning skills that we filled up all our vehicles with fuel before this massive series of storms rolled into southern California. As much as Big Bear Lake clearly needed some precip to fill up our drought-stricken lake I'm getting a little tired of snowshoeing just in my neighborhood. I drove halfway around the gorgeous snowy lake the other day. There was no parking to be had absolutely anywhere. The main highways were barely plowed enough for two cars to pass. I wanted to snowshoe around the lake with the puppy the other morning but there is just no parking to be had there is just so much snow here.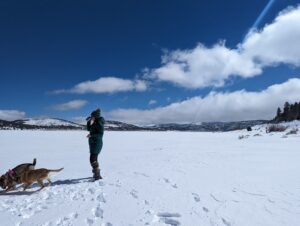 So when I get bored with snowshoeing the same old trails I guess it's time to get back in the kitchen and get to work creating savory snacks. My tired muscles say they need to be refueled with healthy proteins. Okay, maybe healthy proteins that are deep-fried.
Have you ever even heard of a vada? They are not the kind of Indian food most six ninety-nine Americanized Indian buffets tend to pass out. A vada is a savory fried snack popular in south India. What is not to like? Especially if you like me have spent oh so many calorie-burning days shoveling snow. You obviously have to serve these delicious vadas with the best Mint Chutney Sauce ever!
Keto Garden Pea Vadas
1 teaspoon ghee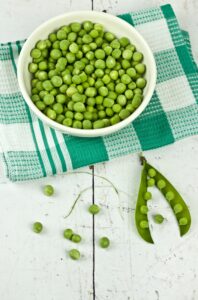 1/2 a red onion, grated
1 teaspoon grated ginger paste
1 teaspoon grated garlic paste
1/2 teaspoon cumin powder
2 dried red chilis
1 teaspoon potato starch
2 cups peas, divided
1 teaspoon salt
In one tablespoon of ghee fry your red chilis and set aside. Fry your grated onions until dark in the ghee. Mix in the garlic, ginger and cumin powder with just a half cup of water until the spices are roasted about ten minutes. You can add in more water if the masala gets too dry. Remove the masala from the heat to cool and crumbled in the fried red chilis. While the masala is roasting separate your peas. With half the peas dry them as well as you can with a paper towel. Grind these in a food processor. When your onion masala is cooled, mix in the salt, potato starch and the pea paste. Stir in the rest of the peas gently. Form the vadas into flattish patties and deep fry them in canola or coconut oil. Serve with coconut chutney or your favorite raita.