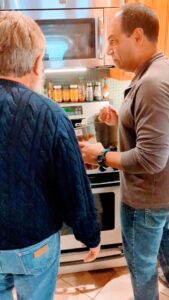 Last Friday night we entertained the whole neighborhood by hosting Friday Night Indian Dinner Class, Part One; I've Got Big Indian Meatballs. The neighbors came from far and wide (Okay actually from just as far as across Paradise Way) to learn how to prepare Anglo-Indian Style Okra and a southern Indian Meatball Curry. When you come to Indian dinner at our place, be prepared to try out recipes you won't find on any curry house menu in the U.S. Learning Anglo-Indian cooking is one of my favorite pastimes and one of the things that kept me sane during the two and a half years of this global pandemic. When life gets tough; Learn how to make Tofu Butter Chicken! That is my motto anyways.
Now that most of our friends and family have already struggled through Covid, recovered and are fully vaxxed and boosted we can feel safe hosting Indian dinners again. This pandemic is finally feeling behind us. Forming meatballs and grinding the fresh spices for a homemade curry powder reminds me of how unique and amazing travels to India are. My wanderlust is just bursting within me to return to this colorful land of trash cows wandering in traffic in between rickshaws. I swear next time I am blessed enough to return to the beaches of Goa along the Arabian Sea, I won't be such a baby every time I hop on the back of a Royal Enfield motorbike.
Masala Curry classes for the stuck-at-home globetrotters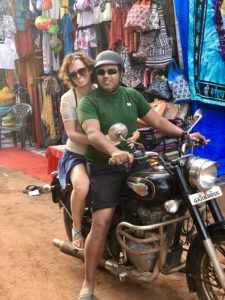 These two and a half years stuck in the United States with no globetrotting to be done safely have given me so much time to focus on Anglo Indian cooking. It also has me furiously yearning to trek back to India. I would love to wander the boulevards in urban Kammanahili and buy my girlfriend's colorful Kurtis for just a few rupees. I wouldn't even mind being stared at wearing my most conservative one-piece bathing suit at the pool at the jungle resort as the locals whisper "American" under their breath. As much as I hate the humidity and as big as my hair gets in the moistness that is the south of India, the world traveler in me is so desperate to travel back to the land of paradise. This spice capital, India has her claws stuck in me. This world traveler who has been trapped in California for this entire pandemic is just desperate to get out and go someplace ethnic and off the beaten path again.
I'm dying to jump on a plane, even if it is with a facemask, and wake up so bleary-eyed, sleep-deprived and jet-lagged in a faraway land half a world away from home. All the scents and tastes of Indian embedded in this meal we created for friends last night showcasing Anglo Indian cooking reminded me how much I yearn to go back to Karnataka and Tamil Nadu. Sometimes when I am being environmentally conscious thrift store shopping in the city and trying to curb my carbon footprint, I will come across a conservative kurti-like blouse and just can't help myself from purchasing the gently used treasure. I need this. I may not have purchased a plane ticket yet, but someday soon I will travel to India again.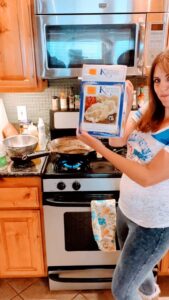 That one time I learned hands-on about Anglo-Indian cooking
Shopping for fresh veggies in the markets just below our rented apartment in the urban center of Kammanalli was one of my favorite morning delights when we holidayed in Bangalore, pre-pandemic. After I sipped a mug of strong chicory-flavored Indian Bru coffee I would prance down to the fruit and veggie stalls and buy some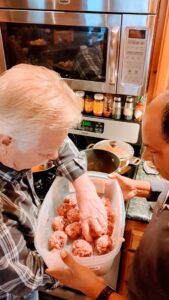 thing I had never heard of like the twisted green and pink jungli jalebi, shiny starfruit or purple mangosteen. Our rented apartment was just a few floors above multiple markets with fresh veggies, curd and so many fruits I had never even heard of.
The first Christmas season I traveled to India, I decided to bake sweet potato pakoras one of my favorite Anglo-Indian cooking choices at home in California. In California and all over the United States, sweet potatoes are a common ingredient. As I learned on this first-holiday adventure in the Silicon Valley of India, the population of India does not cook with sweet potatoes except on rare occasions. If you are actually in Bangalore, I really doubt there is any way you can locate these Okinawan sweet purple sweet potatoes although any Sprout's nutrition in the United States carries them in 2022. Indian cuisine is well known to combine Asian fusions with Anglo-Indian cooking and this hearty dish is a perfect example of that. I love the sweetness of the purple sweet potato against the tangy and spicy curry. Did you know that purple sweet potatoes are chock full of Vitamin C and healthy antioxidants?  Originally grown in the tropics of Okinawa, here in the United States most of these Barney-colored root veggies hail from North Carolina.
Kerala Style Meatball Curry with Purple Sweet Potatoes
Anglo-Indian Ground beef meatballs
1 small onion, grated
1 teaspoon grated garlic
1 teaspoon grated ginger
1 serrano chili, roasted
1 teaspoon cumin
1 pound of ground beef
1 egg
Mix all these meatball ingredients and form them into tight meatballs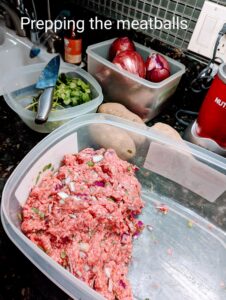 For the Delicious Curry
2 red onions, sliced thin
1 serrano chili, halved
1  and a half teaspoons of cumin powder
1 and a half teaspoons coriander powder
1 teaspoon cumin seeds
1 teaspoon garam masala
1/2 teaspoon pepper
1 1/2 teaspoons salt
3 teaspoons ghee
1 teaspoon grated ginger
1 teaspoon grated garlic
2 cups lamb stock
2 cups water
1 can of coconut milk
2 small purple sweet potatoes, peeled and sliced into bite-sized pieces.
1/2 cup fresh cilantro, chopped, for garnish.
Firstly roast the chili in the ghee. Remove the chili from the ghee and roast the onions until very browned, stirring constantly. Stir in the cumin seeds just until roasted, not burned. This step should take about twenty minutes. Let the onions cool slightly and then mince until fine in a mixie or blender along with the roasted chili. Return the onion puree to the stovetop. Add in the garlic, ginger, cumin, coriander and garam masala. Cook very well, adding in the water a half cup at a time until the spices are well roasted for at least twenty minutes. Mix in the pepper. Stir in the lamb stock one cup at a time. Simmer for at least thirty minutes. As the stock is boiling add in the meatballs carefully. You have to stir to the bottom very carefully to not break up the meatballs. Add in the salt, the purple sweet potatoes and the coconut milk. Let simmer for twenty minutes until the sweet potatoes are cooked. Stir very carefully so as not to break the meatballs. Garnish with chopped cilantro.