"Who wants to go camping in Pomona?" I must really love this man of mine because he convinced me to camp in the gangs and smog capital of sunny east Los Angeles in the hottest weekend in September, Labor Day weekend, 2017. Yes as we made our way out of the rainy thunderstorm mountains where I had to put on sweat pants and a sweat shirt this morning, no joke because it was actually cold, I thought to myself, I am going to need a lot of cocktails at the pool this weekend to survive 114 degree heat.
If it wasn't for the children in our lives you would not find us tackling the Los Angeles County Fair in 114 degree heat, because lets face it, the fair is just not the same since they took out the Fairplex Thoroughbred Race Track (And everyone I speak to recently mentions this to me, it's not just I and my degenerate gambler friends and boyfriend. The Fairplex bull ring horse races were what made this "county" fair great. If you are from the Midwest or Texas the Los Angeles County Fair is not what you would expect of a county fair. There are no draft horses to hug, there are no pig races and you will be lucky to find any mutton busting sheep racing.
Our plan was to stay at the Pomona KOA and walk across parking lots to the Los Angeles County Fair. Our friends from Colorado were staying at the Sheraton across the parking lot so we had plans to rendezvous at any large body of chlorinated water we could find, in between sweating and riding the Ferris wheel at the Los Angeles County Fair. This was our first time staying at a KOA and after seeing them featured on Undercover Boss I thought it would be a delightful experience.
Prepare to see how wrong I was.
It started at check in. As we walked into the "general store" I noticed that the general store had ice to sell and a few candy bars on the shelves,. It was a big building and it looked complexly wiped out food wise. I briefly wondered if we had waltzed into a general store in Hurricane Harvey's wake, that's how few items were stocked in the big "store" area.
This must be a really fun story, considering how many equation marks I have used so far.
Then we started talking to the two ladies at check in, who were bickering amongst each other and complaining about everything and not at all friendly like what I saw on Undercover Boss. What the hell, Television! You lied to me! This is not the friendly KOA experience I imagined. I asked what was included in the continental breakfast and they said carbs.
And more carbs.
And some sugary breakfast cereal.
More carbs! Yea! We were going to have to really walk and sweat all over the Los Angeles County Fair Grounds to work off all those carbs! Good thing I brought my own Greek yogurt and organic blackberries!
I then asked where the sauna was that was promoted on the website and the first girl said "We don't have a sauna" I told her it was advertised on their website and she just said simply "Well we don't have one" We would soon come to see this is normal at the Pomona KOA, to advertise things they don't have. Like cable. It's probably good that I have to break the umbilical cord that has me tied to watching CNN twenty-four seven since the hurricane hit, but still, it's a little frustrating that they advertise cable and our site didn't even have a hook up for cable.
After we said goodbye to the girls at the front desk so they could get back to looking at Facebook on their phones, we tried to find our campsite. Which could have been easier if we had good directions on how to find it. It's beyond frustrating to be given wrong directions when you are driving a 34 foot motor home and towing a tow car. It's even more frustrating when the campsite you are staying in does not have the sites clearly marked at all. The campsite numbers had all worn off and I literally had to walk through the campsite to each one trying to find our numbered campsite. This must be very hard to park a RV if you don't have an assistant helping the driver! This is why we recommend that you get your camper insured with a company like One Sure Insurance so that it has cover for accidental damage as well as equipment cover.
Finally finding our campsite we parked the RV and started unpacking. That's when we realized our site was so insanely tiny the motor home just barely fit. No joke to go down the stairs of the motor home we have to step on our neighbors picnic table. That's how close the sites are! Its ridicules!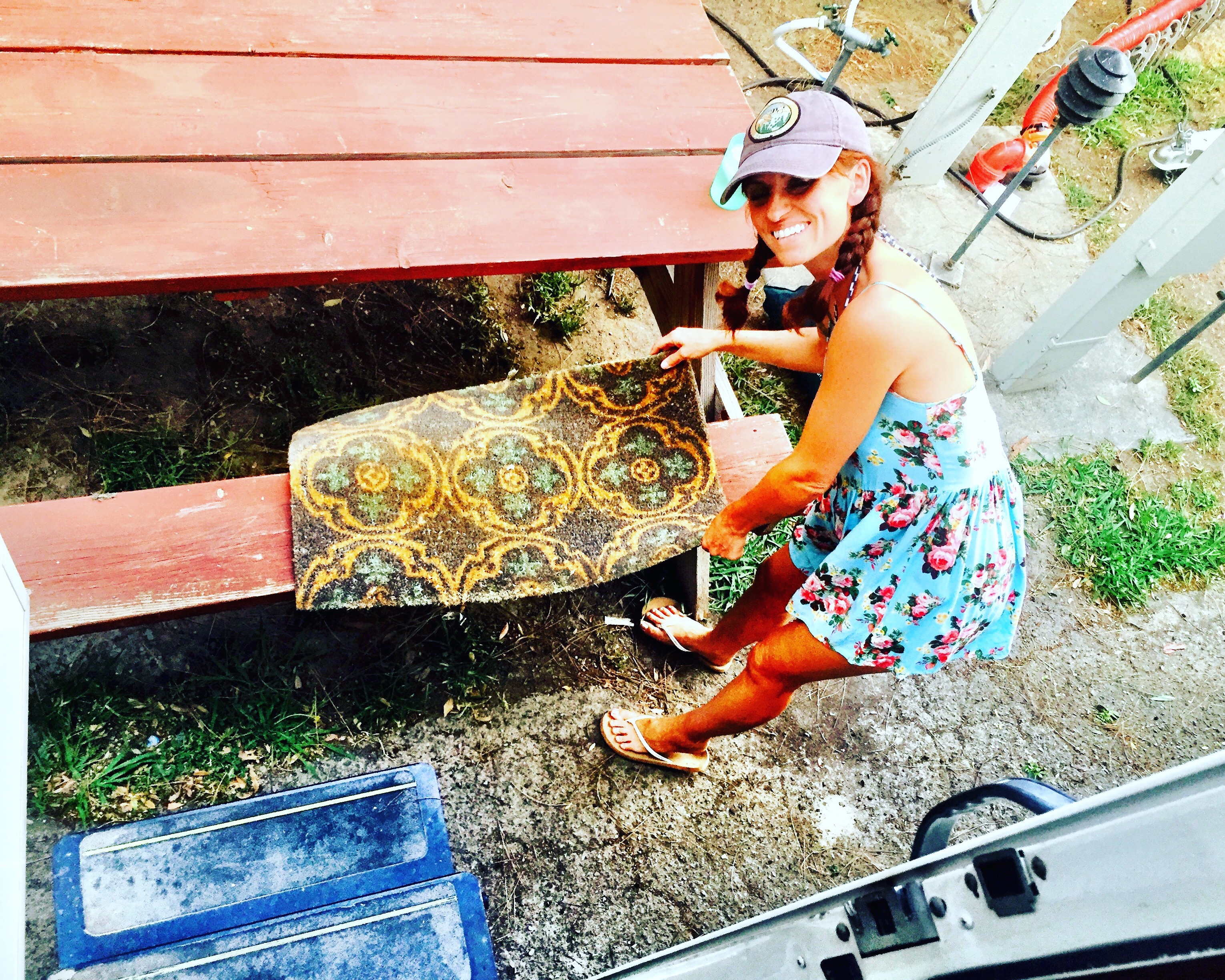 The sites were so small our slideout was just inches from the tree!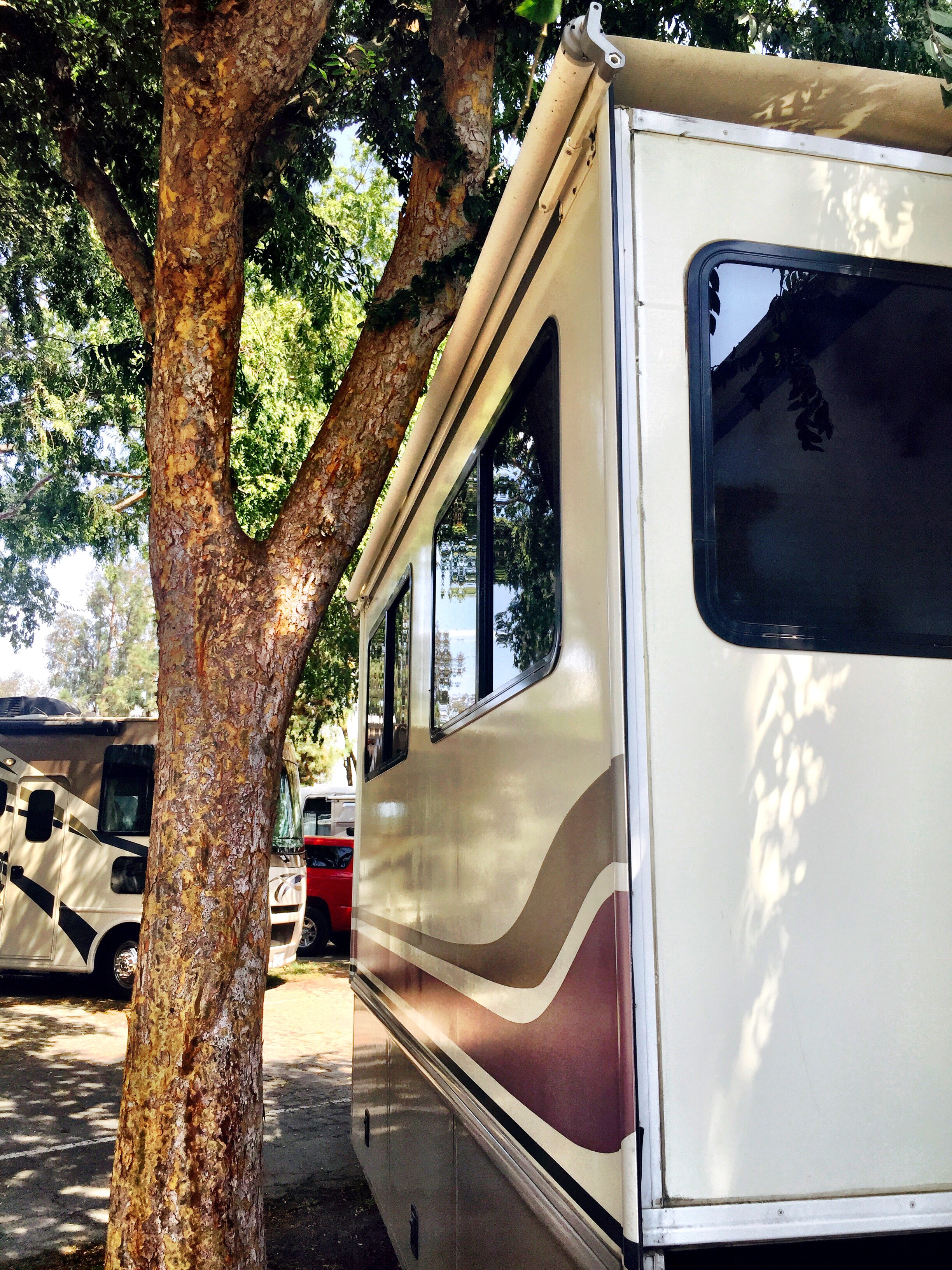 I would love to say that's the end of the story but then we went to the pool to watch the sunset and all get bit by insects because the pool area was so dirty and bug infested. Also my boyfriend cleaned the extremely Filthy pool before we could even think about swimming in it. If he's going to drag me to 114 degree Pomona I will put him to work!
Lets go camping in Pomona!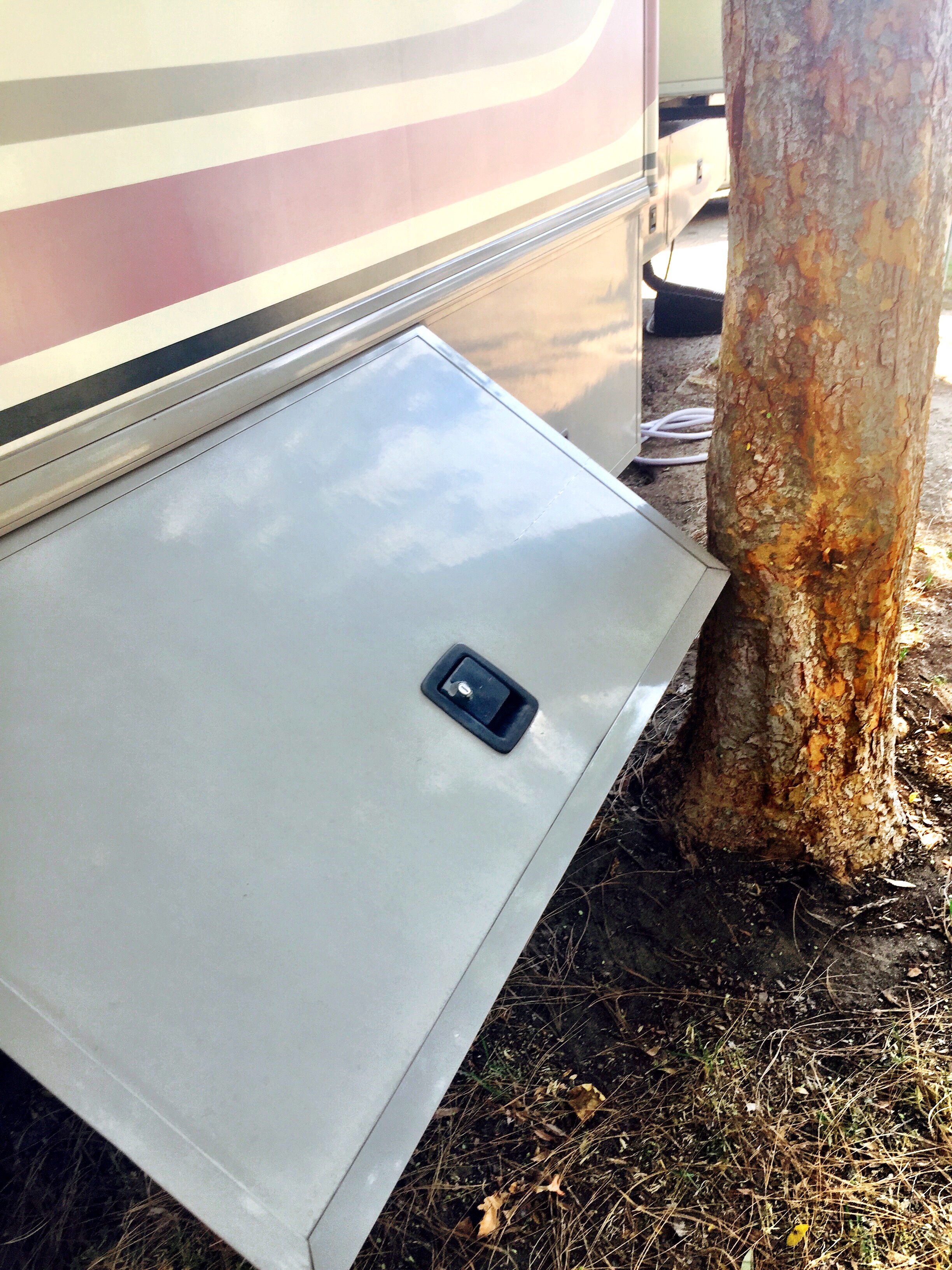 Next time we pay one hundred dollars a night to "camp" Smokey the Bear better give me a personal foot rub for that price!