Tippy loves to cause problems.
When he is not starring at me like a creep with those haunting Garth Brooks eyes, he's usually up to something.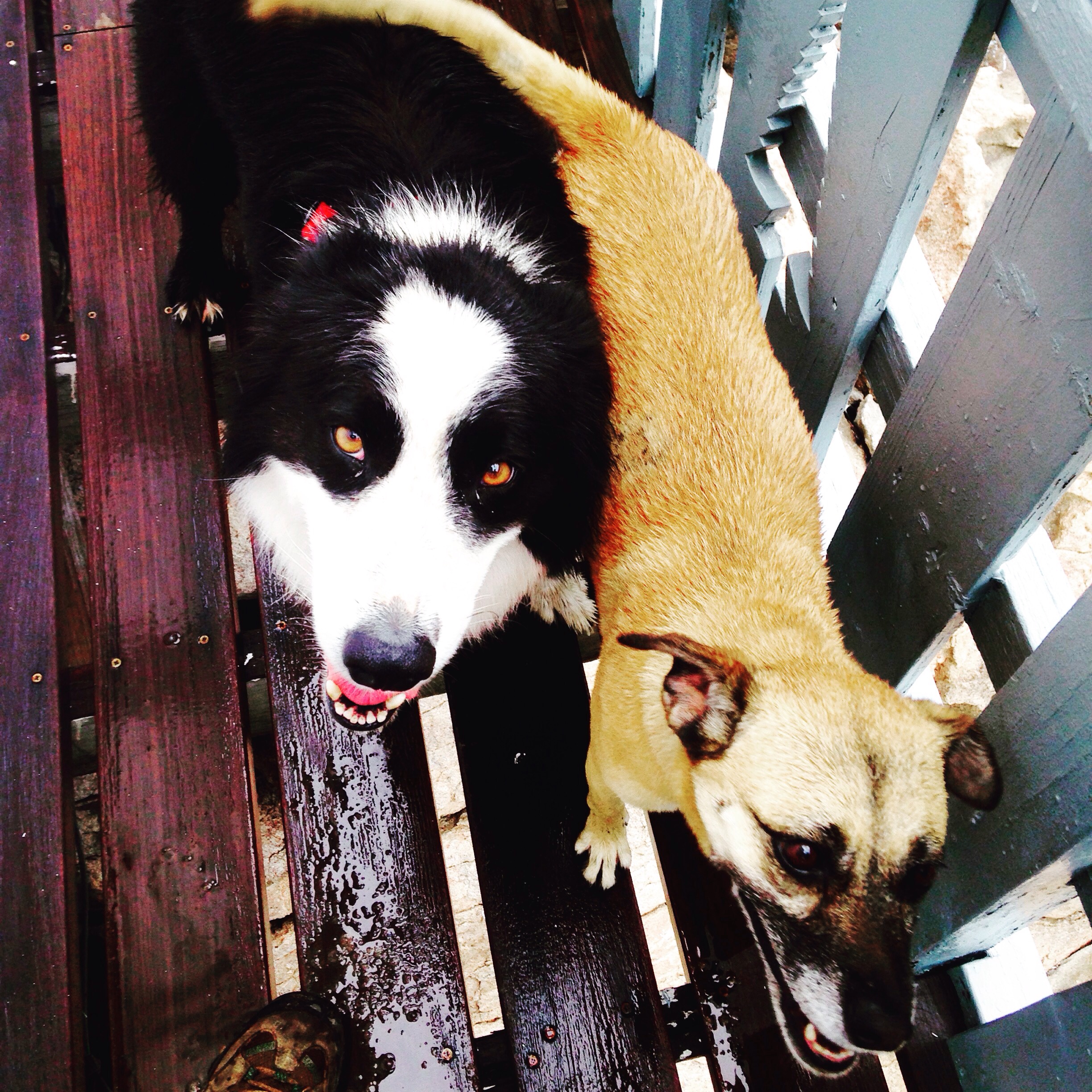 Maybe he's swam so far into the lake trying to catch a duck that I really think he is going to drown this time. ( I mean, he swam out to almost the buoys!) Or maybe he's trying to catch the baby ducklings even though I keep repeatably telling him
"Baby ducklings are to cute to chase!"
( What is it with the spring? There are baby ducklings every where, every time we go to take the doggies swimming at the beach! I'm not one to normally complain about precious cute creatures but its annoying when you have a cattle dog who does not understand he is not allowed to play with the little ducks!)
Tippy is an expert at jumping out of the truck when he is not supposed to.
Today on the way to Fun Dog Day we had to drop off an old mattress at the transfer station. When my boyfriend jumped out of the cab of the truck, Tippy went with him, because the dump is a fun place for a cattle dog to play, right?
As Tippy crept out the door, my boyfriend had no idea there was a cattle dog following him, and he was so damn close to closing Tippy's big fluffy tail in the door!
I screamed out a warning to him and in the confusion he managed to not close The Tipster's tail in the heavy truck door but instead the door closed on his knuckle!
I jumped out of the truck, trying to wrangle the cattle dog ( now the shoe was on the other foot) as my man writhed in pain.
I felt so bad for him but we were both just so thankful that it wasn't Tippy's tail! That would have meant a trip to the vet for sure and would have been horrible for poor Tippy.
We had to get gas before hitting the road for Fun Dog Day and I ran in looking for an ice pack or a bag of peas or anything frozen for my babies hand.
I also needed a ball as I had forgotten Carly's water toy. Speaking of toys, I feel like stocking up when it comes to buying toys for your dog would mean that you won't forget them, just like I did.
As my boyfriend stood outside pumping gas in extraordinary pain and I scanned the Seven Eleven Convience Store looking for anything frozen that would work, I caught the eye of the girl who worked there and inquired if they had ice packs or dog toys. In particular, I was looking for some indestructible dog toys that I had seen on JugDog. ( I know, the most random items to buy at a gas station, right?)
She said no. I felt like I had those crazy Tippy eyes as I scanned the shelves like a crazy person and I finally grabbed the next best thing; a frozen burrito.
Than I started laughing as I remembered my boyfriend had got a very, very short, almost military looking haircut two days ago. Hes very dark skinned and he usually looks like his Indian heritage but now with the buzz cut he looks very Mexican.
And here I am buying him a frozen burrito at ten a.m!
Maybe it was the crazed Tippy like expression in my eyes or maybe it was the fact that I was giggling hysterically over a frozen burrito but some how the girl at the register inquired if I found everything okay and I told her,
"Well, I really just needed an ice pack. My boyfriend just shut his hand in the door of the truck."
She felt so bad for him she gave me an empty plastic bag and told me to take as much ice as we needed. That was so nice of her, and unexpected! Such is life in a small town!