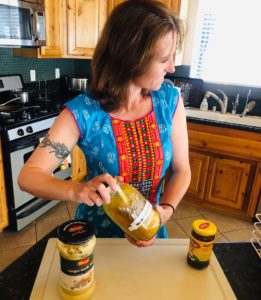 Earlier in the week I had to take a break from gluten-free baking and roasting jalapenos to put on a fashion show for the kitty cats. Yes, this might just be day fifty of quarantine and have I lost it? Have I been locked inside our home mostly and our remote mountain community away from coworkers, Whole Food's employees and coffee house barista for so long now, that I have lost my mind and started modeling kurtis for kitty cats? Well not exactly.
Like millions of Americans work is scarce right now but I have these things called bills and I need to find some way to make some cash. So I just signed up to teach my first cooking classes online! Starting this week you can book an Indian cooking lesson with The Hungry Mountaineer to learn how to make Fig Chicken Curry or Mint Chutney. Or you can learn how to make delicious gluten-free baked goods like my amazing Gluten-Free Banana Bread with The Hungry Mountaineer, all from the comfort of your living room!
The thing with hosting these Airbnb experiences for online cooking classes is none of my photos show me in the kitchen in a candid manner so I had to stage some candid photos. I know, it's pretty ironic. And that's how I found myself squeezing my butter chicken ass into my prettiest kurti and taking candid baking photos while a kitty cat (or two) photobombed me in the background.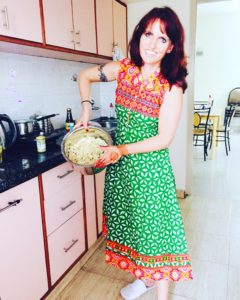 What is a kurti you may be asking? It is a ladies long shirt worn in India. Kurti is a Hindi name for this tunic and you should never wear a kurti as a dress as in Indian culture you basically look like you forgot to put on pants. Yes, I may have shown up to Christmas Eve dinner once upon a time in Bangalore wearing a kurti as a dress and yes everyone in my boyfriend's Anglo-Indian family just assumed I was pants-less. Now I do realize in this day and age of COVID-19 it's pretty common to wear sweatpants all day or no pants at all but when going to a holiday dinner with your boyfriends family, always wear pants.
When I'm not modeling my fanciest kurti's for my pets I'm usually coming up with new and unique ways to eat jalapeno poppers. This April I'm a little addicted to my homemade jalapeno poppers. I've found that sticking them in a salad or stuffing them in a chicken breast is a great idea when it comes to jalapeno poppers.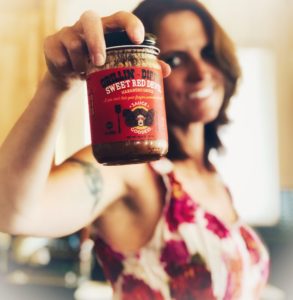 Living the keto lifestyle means yes I will jam a ton of cheese, poblanos, and jalapenos in this chicken breast. Then I will wrap it in bacon!
It's your choice whether you de-seed the jalapeños for this recipe or leave them spicy. Use your favorite low sugar BBQ sauce to baste the chicken after you stuff it with your favorite Cheesy Jalapeno Poppers.
Jalapeño Popper Stuffed Chicken with a BBQ Glaze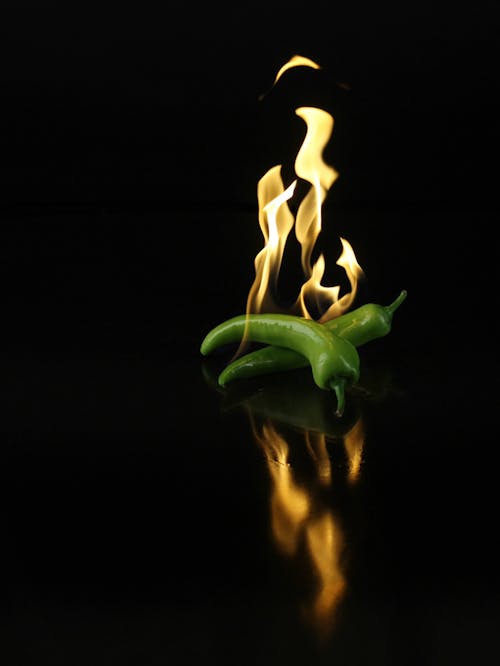 2 chicken breasts
1/2 cup cream cheese
1 teaspoon fresh cilantro, chopped
1 teaspoon fresh chives, chopped
1/2 cup sharp cheddar cheese
6 slices bacon
4 jalapeños, roasted
2 poblano peppers, roasted
Mix the cream cheese, cilantro and chives. Stuff this in the Jalapeños. Put the cheddar inside a poblano then the jalapeño inside the poblano.
On a cutting board place plastic wrap. Lay your chicken breast down, both sides now covered in plastic wrap and pound it with a mallet until thin enough to roll up. Place the pepper inside and roll it up.Wrap the chicken in bacon. Glaze with BBQ sauce. Bake the jalapeno stuffed chicken at 375 25-30 minutes.At 15 minutes flip the chicken over so the bacon cooks on opposite side. I like to serve this over a bed of lettuce with my Creamy BBQ Dressing.
Creamy BBQ Dressing
1 part mayonnaise
1 part your favorite low sugar BBQ sauce
Mix the two ingredients together and dress the romaine salad. Slice up the jalapeno stuffed chicken and layer on top of the salad.