It's a fantastic morning to be alive in Poovar India. I'm not just saying that because I had the most fantastic Indian breakfast buffet of my life. This morning I tried puris and Ummpa for the first time. The Ummpa was so delicious, a couscous overflowing with fennel seeds, curry leaves and pine nuts, not to mention tomato curry, curry leaf chutney and spicy chutney.
Now that we finally arrived finally at Poovar Island we are so thrilled to start our Kerala vacation! It was a journey, over land and through many emotions most of them anger at a dishonest airline that scammed us out of our seats on our original flight.
But now that have arrived at Poovar Island Resort and we are watching the sunrise from our cottage over the sea it's finally time to relax and enjoy the gorgeous jungle state of Kerala.After we used to ninety three degree heat with ninety percent humidity. Can anyone ever really get used to this kind of heat?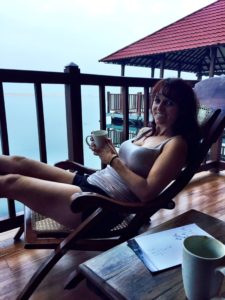 This island on the sea in the south is a land filled with so many eagles (eagles who seem to consist on a steady diet of trash and more trash) that our river guide suggested to us it would be nice if someone would set up a bomb to blow them up.
Who knew there could be so many eagles in one place they would be looked at as a pest like rats or cock roaches. The natives of Kerala and Poovar Island may hate the mighty eagle but I don't. I think they are glorious birds.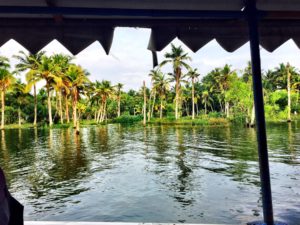 India is a land rich in hypocrisy.
Yesterday I saw a naked dude changing back into his dude skirt ( called a mundi here in the south) and yet if I wear anything that does not cover ninety percent of my skin people stare none stop. India is a land where I can wear the most conservative one piece bathing suit ever on the beach and still hear people talking about me
"American" We can clearly pick that out although the rest is in Malayalam. It may be perfectly fine for local guys to swim in tiny tighty whitey underwater, but ladies have practically wear a burka even if they are swimming in a pool or the humidity is at ninety percent.
Even with the humidity and feeling like I'm an oppressed female, the Island of Poovar has been a fantastic thirty six hour break from the smog, crowds and hustle and bustle along the streets of Bangalore. It's incredible to think this is our resorts busiest week of the year, and that the resort is 100 % booked as we barely saw another guest our entire stay!

The sky might have been full of trash eating eagles but the resort did not feel crowded one bit!