After two weeks of being in India, yesterday India almost killed me! Although it didn't have to do with the crazy hottest curry ever, or eating street food. I did something kind of stupid and I actually brought this on myself! If like I, you don't want to singe your mouth and not enjoy your Indian meal, try this delicious India spinach korma recipe. Believe me; that little bit of yogurt added to the Indian food helps cool down even the fiery curries!
Day two of our trip to Poovar Island and we dined on crab curry caught that morning off the coast by our resort and fresh local caught lobsters. The food at our resorts restaurant is some of the best we have had in India and we were really looking forward to this lunch.
After an afternoon spent at the pool enjoying some cocktails and trying to beat the humidity, that sounds awesome, right?
The first dish, fresh caught tiger shrimp came with green beans. I thought I saw a green bean next to the masala marinated lobster I ordered so I took a giant bite of it;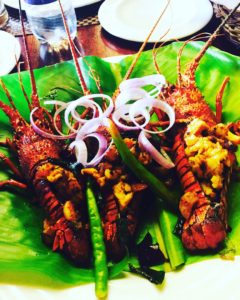 It was not a green bean. It was the hottest pepper I have ever had in my life! I had to spit it out it was so hot!
Everyone thought I was going to start crying I was so miserable ( when actually I thought I was going to throw up it was so hot)
And I eat A LOT of spicy stuff!
This pepper was hotter than a habanero! It took me a good twenty minutes of chugging water and begging for yogurt (Even though I could barely talk my mouth was so on fire!) before I even began to feel better again, and could actually try to enjoy my delicious seafood lunch.
Thank you India; You got me!
#cryingonthetoilet
The next night we came back to this restaurant again and I tried another seafood dish; fresh caught grilled calamari with a India spinach korma. This India spinach korma was the best I have ever, ever had in my life and this is my version.
India Spinach Korma with Lamb Meatballs
2 cups ground lamb
Zest of one lemon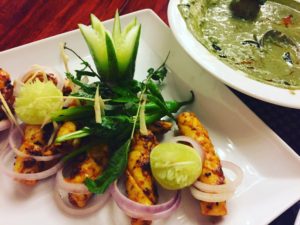 1 teaspoon Ginger
1 teaspoon turmeric
1/4 cup basam flour (Garbanzo bean flour)
1 egg
4 cups spinach
1 cup Curd (Indian style yogurt)
1 teaspoon garlic
1 teaspoon ginger
1/4 cup cashews
2 Serrano chilis
2 teaspoons ghee
1 teaspoon garam masala
1 cinnamon stick
1 teaspoon coriander powder
2 cardamom seeds
1/2 cup tomatoes
Combine the lamb, eggs, basam flour, turmeric and 1 teaspoon ginger. Roll into meatballs.
Fry the meatballs in one teaspoon ghee. Set aside.
Cook the spinach for five minutes and drain out most of the water. Combine the cashews, spinach, 1 teaspoon ginger, 1 teaspoon garlic and chilis in a food processor.
In the same saucepan as the meatballs heat the rest of the ghee. Add the garam masala, cinnamon stick, cardamom and coriander. Let fry just a bit. Add one cup water, than the spinach and tomatoes.
Let simmer thirty minutes. Add the yogurt. Simmer five minutes. Add the meatballs for ten minutes.