I was sure I was going to get kicked out of the forest today.
It was Sunday, and I felt like being a rebel.
I also felt like running…. Far.
In less than a week I was going to be hiking Mt San Gorgonio, the highest peak in our mountain range, with a group of friends.
A month ago I was in the best shape of my life. I ran up Mt Baldy one day before work just for the hell of it.
Than I got the flu, real bad.
I barely left my couch (Except to go to work and cough on customers) for two weeks.
It was so not fun, and it was killing me to sit still.
Now that I am healthy and barely coughing any more I have been out trail running every day, trying to get my strength back for the seventeen mile hike next week.
It is Memorial Day weekend and like nearly every one else in Southern California, I find myself in the mountains.
My morning before my eight hour work day was not exactly a walk in the park.
I got up early, at seven, grabbed some high protein oatmeal with fruit from Panerra Bakery and drove up the curvy mountain highways past Forest Falls and the tiny hamlet of Angelus Oaks. It was nearly eight a.m. at this point and the highway was filthy with the congestion of a hundreds of people trying to drive up to the mountains for the busy holiday weekend.
I tried not to let the steady stream of traffic bother me as I sipped my iced latte, and ate my oat meal while driving the mountain roads, keeping an eye out for the turn off to Jenk's Lake and the bottom of the trail that lead to San Gorgonio.
I had run this trail for the first time, stumbling upon it by accident just a few days ago. I expected the trails up to San Gorgonio to be really hard and difficult to hike, let alone run, but the Forner's Creek trail was actually a great challenge. The other day I ran just five miles of it and was hoping to do twelve today.
I did not however plan ahead and get a Wilderness Pass.
This meant if I ran into a ranger they would probably tell me to leave.
Wilderness Passes are a pain in the ass to get ahold of. You have to order them five business days ahead of time and they only go through mail or fax; the forest service does not DO email.
Apparently at the forest service it is still nineteen eighty five.
So I did not get a Wilderness Pass because I am a rebel and also come fully equipped with GPS, first aid supplies, adequate water and food. I knew I would be fine as long as my cell phone stayed charged and I could follow the map on my phone.
I figured I would run twelve miles today, or turn around when I ran into a forest ranger.
I had four hours to run before I had to go to work in the evening.
I started up the trail to San G and about a mile up ran into a very grumpy man who told me
"They are checking for passes up there!"
I'm assuming he did not have one.
After that I just made my way at my steady slow runners pace up the mountain, I was passing back packers left and right, although they did all look to have heavy forty pound packs on their shoulders.
The view from the trail to the valley below was really beautiful. Good thing I'm not afraid of heights, some of the ledges had sheer drop offs to the valley below.
Three miles up the mountain I ran and still I had not run into the forest ranger checking for passes. I was shocked. I stopped to talk to a group of adults back packing with some boy scouts and they told me that Jack Straw Meadow Camp Ground was just another mile up so even though I was running out of time I decided to make that my turn around point.
That's when I did stumble across the forest ranger.
He did not even ask me for my pass! All that stressing over it for nothing! I was just nice, friendly to him and gave a little wave and was on my way again, no problem.
Maybe I looked legit and he figured if I had run all the way up to ten thousand feet I must know what I'm doing.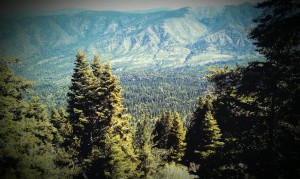 At Jack Straw Meadows I had to turn around, it was so pretty up at the really high elevations and I also get so curious when I meet a new trail. I always just want to keep going forever, but I had exactly two hours before I had to be at work so it was time to turn around.
I accomplished a ten mile run before work, over 2,200 feet elevation gain, pretty awseome for a pre work warm up!