It was early July and I was standing and sweating on the top of an 11,000-foot mountain. I was tired, exhausted, happy, and sweaty (Did I mention sweaty?) I was very sweaty, and at that moment I could not care less about my dirty hiker feet. The views were out of this world amazing as I peered down about another thousand feet or so at Thousand Island Lakes in the eastern Sierras and contemplated hiking another four miles roundtrip to reach the chain of lakes. Then I recalled the beer waiting back for me at my campsite and the fact that it had taken me four hours of hiking uphill to just get past Spooky Meadows and mosquito-infested Clark's Lakes. I looked down at my dirty hiker's feet, clad in wet and muddy Saucony trail runners, running shoes that were falling apart more by the minute. I wiggled my muddy toes, sticking out of the mesh that had once held my trail runners together and thought, I'll trek further another day.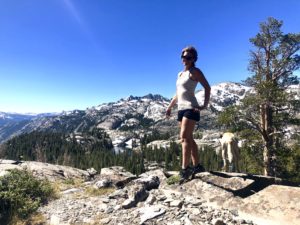 That was July. Nearly every day saw me hiking between eight and fourteen miles and my feet, my soles and my chapped heels showed the scars. My feet were a disaster as I returned to civilization and Amazon Prime, to the point where some friends started bringing up orthopedic shoes as an option to help. Returning home to the mountains above southern California, my feet were literally stained brown with dirt and left over eastern Sierra's grime, and I was embarrassed to even go to a salon and get a pedicure. Something had to be done before any professional manicurist could even gaze upon my ugly toes. It is important to make sure you're keeping your feet in good health as a hiker as they are your one and only mode of transport and if you don't take action when issues arise then you may be all the worse for it. For example, acting on a case of toenail fungus is something you'll want to do before your next hike as a matter of urgency. Thankfully, things like Laser Toenail Fungus Treatment are now increasing in use and efficacy so at least you know there are solutions out there.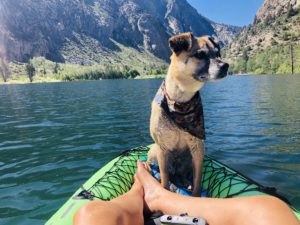 I hiked nearly one hundred and fifty miles during the month of July and my dirty hiker feet are here to tell the tale. My heels are cracked nearly to bleeding. My toenail polish is chipped and the soles of my feet ache after my latest uphill journey. And I wouldn't take back a mile, a moment or even that time a bear ate my backpack. But my hiker's feet are an absolute embarrasing disaster.
In a month of hikes on trails covering the eastern Sierras from the Mt Whitney Zone to Tiago Pass and many treks in between my footsies took a pounding this summer and it's damn near embarrassing to wear sandals. It's so embarrassing that I'm ashamed to even go to a salon and get a pedicure until I do something about my stained dirty brown heels and toes. Some at-home DIY foot love had to be on the menu.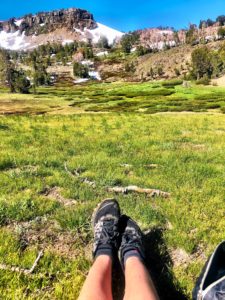 Can't stop, won't stop (Hiking that is)
So after a month of hiking nearly every trail, I could get my dirty little hiker feet on all over the eastern Sierras, what did I do almost as soon as I got back home to Big Bear Lake? Get a pedicure? Um, no. I laced up my Saucony trail runners and met Donna for an early morning hike up on our newest Big Bear Trail, Bobsled, at Snow Summit Resort, where you gain 13,00 feet of altitude gain in four miles round trip. Because my filthy feet were not done yet! This was four days after I used the Baby Feet pedicure kit, which I had completely forgotten I had even purchased from Amazon. Basically, you put these socks full of chemicals on your feet for an hour and three to seven days later you may or may not have the feet of a freshly born baby. Or so the rumor would have it. They had great reviews on Amazon anyways. Days earlier then the Bobsled hike, I coated my disgusting feet in acid and sat back to watch the magic happen.
Baby Feet? What Baby Feet?
I actually completely forgot about the magic of Baby Feet, so obsessed with getting back into life back home after being away on holiday until that morning when Donna and I found ourselves on Bobsled Trail. The entire time Donna and I sweated and panted up and down Bobsled on this very warm summers morning I felt like my feet felt weird and I thought it was my socks. After the hike, we got back to our cars and I switched into flip flops, as we were heading out for a little refreshing kayak. As I took off my sock, an entire layer of skin came off my foot on my insole! It was incredible and a little gross. Most friends would probably have been really grossed out, but not Donna, who is also a Hiker Babe. She at once admired my dead skin and asked me where she could get these magical pedicure socks!
It does take a few days for all the old skin to come off of your entire foot but these things seriously work all like magic for trail destroyed feet.
No, it's not a cheese grater!
The thought of grating your feet may sound a little gross, weird and downright dangerous (Don't mix the super expensive foot grater with wine) but for us, hikers out there with big ass calluses on our heels, take my advice, the foot grater is the way to go! Every time I do go get a pedicure, the nice feet ladies always use a rough side of a sponge on my hard callused heels. This foot grater is like ten times more aggressive than any old sponge, and definitely what us high altitude trail trekkers need in our lives to get our feet back to the point that it's not embarrassing to wear sandals.
My good friend swears that Vaseline and a good pair of socks saved her feet. Okay, she is not a hiker, what so ever, so I think this is more for you gals whose feet are really not that bad. Are you hiker feet moderately destroyed? Try coating them in Vaseline before bed, cover with socks and you can see a vast improvement in the morning. But for big time destroyed hiker's feet, try this make at home DIY foot rub.
Magical Coconut Oil and Coffee Foot Rub
1/2 cup coconut oil
1/2cup old coffee grounds
1 teaspoon cinnamon
1/4 cup Epson salts
a bucket of warm water
Have an old towel handy for mess.
Combine the coconut oil, coffee grounds and cinnamon to make a paste.
Put the Epson salts in a bucket of warm water and set aside.
Rub the coffee ground, coconut mixture all over your feet, soles and heels very well. Then soak your feet in the warm water ten minutes, until the water is cold. Rinse off the coffee ground mixture in the warm water. I usually just rub the excess coconut oil into my legs but you can rub it off with an old towel as well.
Love this blog? Don't forget to pin it!