Yesterday I woke up at five a.m. to my twelve-year-old pup having a complete meltdown. So you want a puppy? I asked myself as I trudged down the stairs in the dark to let her outside to pee. I really could have used that extra hour of sleep before I got ready for my two-hour commute to work at Santa Anita Park. Our family had already decided a week earlier that we would be adopting a new puppy and it was about to be puppy adoption day.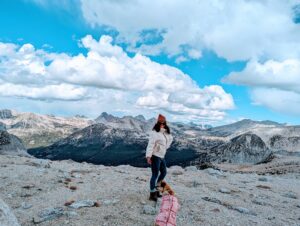 This morning I woke up in my Airbnb in Acadia at four a.m. full of anxiety. It's puppy adoption day and I'm full of what-ifs. And apparently, yesterday's four a.m. wake-up time broke my brain and now my natural clock says we rise at dawn (Or three hours before it) every day.
As I inventory our already quite full home of rescue animals I have to wonder, what if I'm making a terrible mistake? We have always said our twelve-year-old rescue pup Carly is a nightmare of a dog but a great hikers companion. Carly really is the sweetest pup you will ever meet in your life. But when she's not trekking up trails with me she can be a complete asshole. But what if it gets worse then Carly? What if there is a pup out there even more untrainable than Carly? Adopting a new puppy can definitely leave you feeling a lot of what-ifs.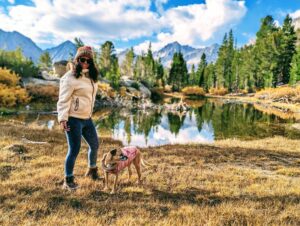 This rescue I'm adopting a new puppy from seems well… Not well run is a way to put it nicely. I feel like it's just one lady who goes to Tijuana and adopts street dogs. She has them fixed and finds them homes. Admiral work indeed but her communication skills are severely lacking. I personally just don't trust people to tell the truth in general. If there's one thing life has taught me, it's that people lie, cheat and steal. And definitely tell you differing stories on how long they had the puppy, how old the puppy is and how trained the puppy might be.
So you want to adopt a puppy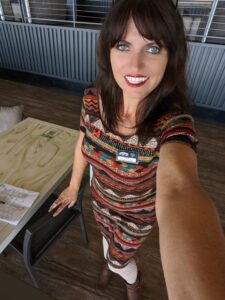 I never ever saw myself as a dog owner or even a person who cared for dogs when I was young. I thought they were smelly and not as dignified as cats. And then the hiker in me discovered my best friend actually has four legs. Of course, she was the kind of best friend who talked about you behind your back and sometimes pissed herself. Haven't we all had a friend like that? That actually doesn't sound too bad after some of the friendships I've put up with over the years.
As someone who is new to the ways of dogs, I have never had the experience of raising a puppy. I always thought it sounded like way too much work. Yet some random happy hour on our campers vacation last week I found myself with a great internet connection and scrolling through Petfinder looking for the best hiking dog for our family. Yes, for good or bad, our family had decided on adopting a new puppy.
Puppy adoption day at last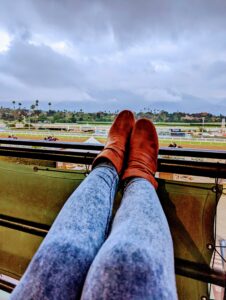 So now Friday has dawned rainy and cold in Los Angeles and I made my way to morning workouts at Santa Anita Park to watch Flightline, some say the greatest Thoroughbred to race in 2022 in his last California workout before the Breeder's Cup. Meanwhile, my boyfriend and his daughter drove to Fallbrook to meet a candidate to be the perfect puppy for our family. Morning workouts complete, I grabbed another iced coffee and went to my office in the marketing department what-ifs and a little too much caffeine coursing through my veins.
There are so many what-ifs when it comes down to adopting a new puppy. They all ran through my mind as I waite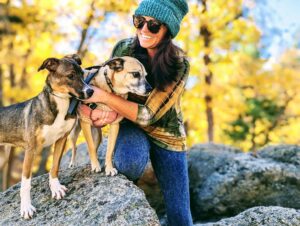 d for my family to call me about if this was the perfect puppy for us. I made it through an entire global pandemic as a crazy germaphobe with very little anxiety. But let me tell you I was feeling very anxious all afternoon as I found myself pacing up and down the Santa Anita grandstand in between helping my guests. Obviously, the hyper chipmunk in me can just never sit still, a little pre-puppy anxiety and a few cappuccinos did not help either.
We had a puppy!
At three p.m. I got the call. We just had a puppy! But I was still thinking to myself, would she chew everything in our house? Would she bark at every squirrel on this mountain we live on? Was she really potty trained? As I finished out my work day at Santa Anita Park and drove through the unbelievably foggy San Bernardino mountains towards home these were the thoughts that were racing through my mind.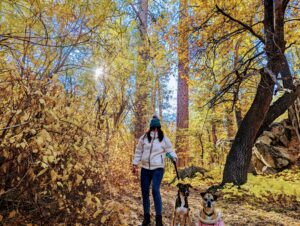 And then at nine p.m. last night I finally met the puppy formally known as Pao. We have no idea where the name Pao came from. She was rescued from the streets of Ensenada and that does not sound like a Hispanic name to me. We are only assuming it has to be because her farts smell like Kung Pao. And she is a farty pup.
Which is totally one hundred percent my fault because I made a dumb pet owner mistake. What with my crazy work day, driving back with insane Los Angeles traffic and crawling up the mountain at fifteen miles an hour because there was fog and people can't drive in fog in their Teslas, I absolutely did not think to buy puppy chow for our new puppy. Wopsy.
Adopting a new puppy, for Dummies

So maybe I deserved all that projectile vomit at four a.m. on puppy's first morning with us at home in Big Bear Lake. Welcome to life with a puppy. Adopting a new puppy can bring so much joy and smells to your family, but don't forget to buy puppy chow! Is your pup having tummy problems after adopting a new puppy? I bake up either a sweet potato or a pumpkin from our garden to give to our new puppy mixed with her puppy chow. It does not seem to help with all those kung pao smells but at least she hasn't vomited in two days now!
Our new pup is simply obsessed with sweet potatoes. Next week I'm going to bake up some super easy sweet potato dog chews for her. This is the best, super easy recipe. Make sure you keep these in your fridge so they don't get moldy. I also use plain rotisserie chicken to help to train our new pup when she does good things a proper sit or not coming into the kitchen. For a young puppy's anxious stomach, this is a lot milder than dog treats with lots of ingredients and the first one is probably corn.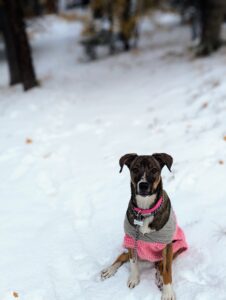 Also, don't be surprised if your new puppy disregards the hundred dollars in dog toys you buy for her at Petco and insists on playing soccer with pinecones in the backyard instead. Also please take note that you should not let your new puppy eat the pine cone pieces if she is playing with them. She can ingest these and they can get stuck in her intestines, causing pricy vet bills.
All of my friends and family keep asking me where are all the photos of the new puppy? Well, first I need the puppy to sit still enough to get a good photo. Yesterday I went out for a "walk" in the woods with the puppy formally known as Pao and also brought my selfie stick. I had the best aspirations to actually get some good photos of her while she is still little. I swear, one hundred and fifty photos later I came out with about three great photos. If you expect to get some great photos of your new squirmy puppy who can not sit still to save her life, good luck.
Welcome..Puppy?
Don't be surprised at all if your new puppy is not, well a puppy. When we brought our supposedly four-month-old puppy home we noticed something strange. She wasn't growing. She had really big feet when we adopted her and we assumed she would grow into them and to be about a fifty-pound dog at some point. But then after a month o life in our home, lots of Puppy Chow, plus homegrown pumpkin meat and sweet potatoes for her tu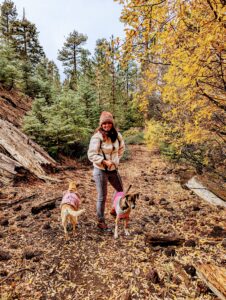 mmy problems. She just wasn't growing. By month two we started to wonder; Is she a puppy? The whole situation kind of pisses me off to tell you the truth. I mean she has had tummy issues for the two months we have had her, probably because she does not need to be eating Puppy Chow!
I know from friends who have gone through this experience that shelters and dog rescues lie and say dogs are younger because who wants to rescue a five-year-old dog? The thing is, we wouldn't have cared if she was older, as long as she was a good fit for our family! I don't know why the animal rescues ca not have a little more disparity?
So what should you know when you bring your new pup home even if it happens to not be an actual puppy?
Be prepared with puppy toys, especially chewy ones for a teething puppy ahead of time.
Have a good vet already. Puppies eat the strangest shit. Like pine cones… Why is she obsessed with chewing on pine cones?
Honestly having some activated charcoal on hand is great for puppies who have a lot of diarrhea.
Puppies pee. That is just part of being a puppy. Make sure you pick up some Dog enzyme spray for when those accidents happen. And so your older pup does not decide there are no rules anymore and she is allowed to pee in the house.

It's a… Puppy?
Welcome to puppyhood! Enjoy every moment because they go fast. Take a million photos because your pup will only be tiny and cute for so long. One day she will be all grown up, trekking up mountain trails alongside you and trustworthy of a lease. I can't wait for those days!
Welcome to the family and Big Bear Lake, Luna!