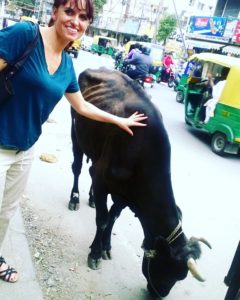 I live in a place where I have to drive two hours to the city to buy paneer cheese when I start craving palak paneer. That is, if one of the six or seven health foods shops I frequent even have paneer cheese in stock. If I drive south twenty miles and endure an hour of city traffic, past my workplace to the ethnic city of Artesia there is a slim chance I may be able to find paneer there at one of the Indian based markets. Even in the giant urban sprawl of Los Angeles, paneer cheese is very hard to find. That is a city of 1.8 million people and no one sells fancy Indian cheese!
In the winter of 2016 I went to India to learn how to make my own authentic paneer cheese from scratch. And maybe also consume vats of butter chicken. In order to make authentic Indian paneer cheese first I had to survive the filthy trash filled streets of Bangalore, a city where the mud covered streets are lined down the center divider but that's just a guideline to the millions of rickshaw drivers, motorbikes and Olas (India's version of Uber) swerving in and out of lanes and driving on the wrong side of the road. And than there are the cows, the majestic trash eating milk spurting street beast of India.
I would love to write an ode to the cow, that filthy, garbage wallowing mammal, but I don't really care for cows. Here in India these pea brained bovine pain in the butts roam the streets and the mighty sacred cow does whatever she pleases. The Hindus may love this all mighty milk machine but when I see cows everywhere in India munching on garbage I just think, "I'm not comfortable drinking trash milk!" Think I'm overreacting? In 2019 in Mumbai 18kg of plastic was removed from one hungry bovine's stomach!
Cows are supposed to be free to roam and graze in fields, only kept from danger by Cattle Guards at the edge of their pasture. That's why happy cows come from California. That is because our cows graze in fields under sunny California palm trees. In my opinion, cows are not supposed to be given growth hormones or antibiotics either. Who knows what these India street cows are ingesting into their stomachs and then udders!
It wasn't until I walked the muddy filthy streets of Bangalore that I realized the term "Until the cows come home" Actually came from India. The cows roam the streets of India all day long eating garbage and they return home every night at sunset just like clock work. I mean that's if they make it through the traffic circles without becoming hamburger.
The good news is, you don't have to travel to Bangalore to learn how to make this authentic Indian cheese. Paneer is a three ingredient recipe and as long as you have cheesecloth, very easy to make from the comfort of your home with milk that I am assuming, did not come from a trash cow. Here is a fantastic India version of trash cow cheese; I mean paneer. I learned this method of making homemade paneer from my boyfriends sister in law; an amazing Indian home cook.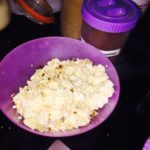 Authentic Paneer Cheese
3 liters milk
1/2 a lime
1 teaspoon salt
First milk the trash cow. To make the paneer, boil three liters of milk about ten minutes. Add the juice of half a lime. Boil an additional ten minutes, the cheese should start to curdle at this point. Stir in salt. Put the trash cow cheese in thin fabric like cheesecloth and wring out the liquid well. Hang the cheese cloth from a faucet over the sink and let the rest of the moisture wring out for an additional two hours.Tap the cheese down almost like you are kneading bread. At this point the cheese is ready to serve.
Love cheese? Hate trash cows? Pin this wonderful post!