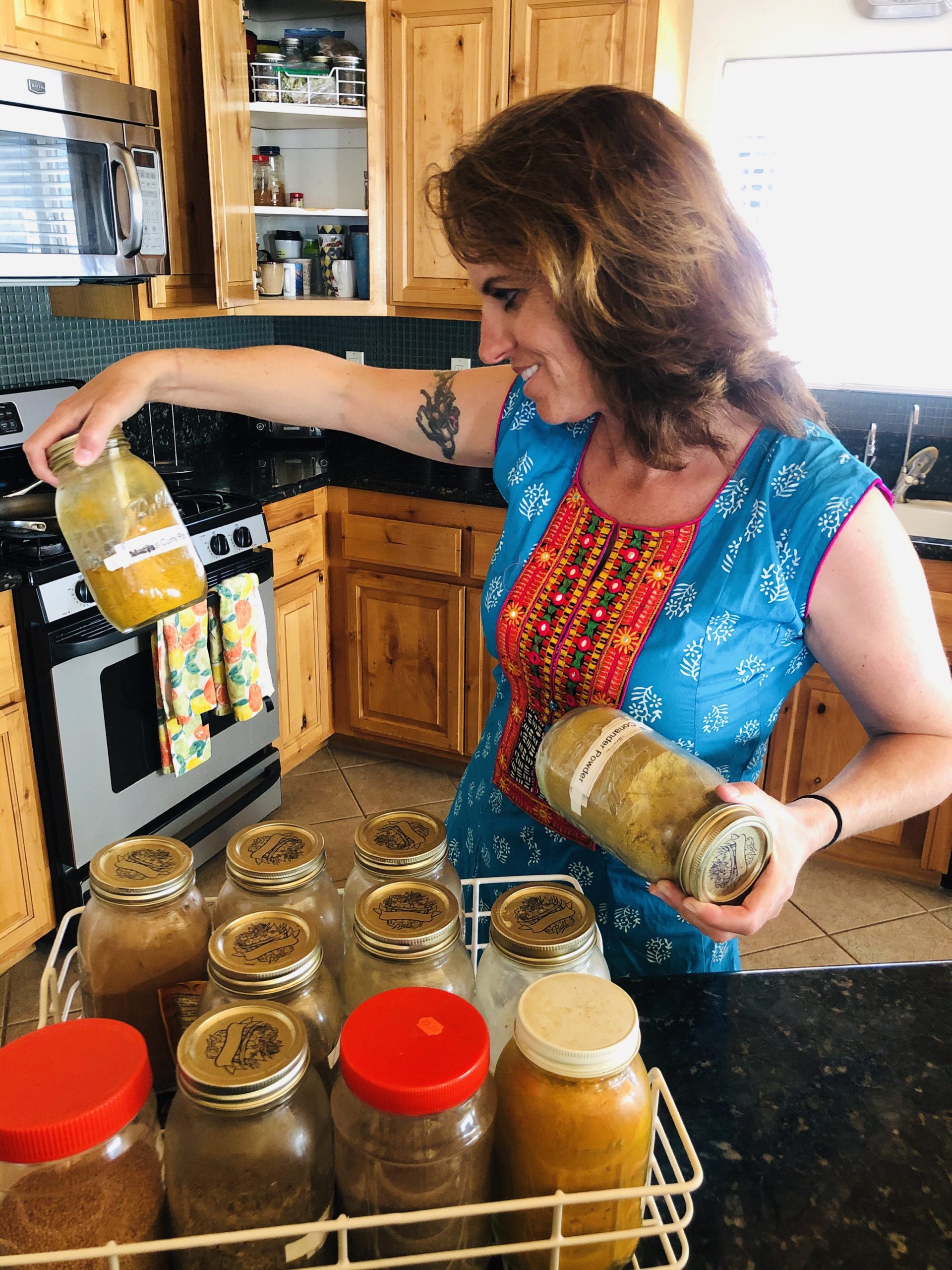 Once upon a time, I thought that adding store-bought curry powder with a scoop of Greek yogurt to some chicken breasts made me a good Indian cook. I knew how to make a mango lassi in my nutri-bullet and I threw curried chicken breast in my salad all the time. This Indian cooking wasn't so hard to master! Oh Auntie, you are so wrong. 
It took me years, so many years, of studying Indian cooking from a fantastic sexy anglo Indian, okay he is also my boyfriend, to learn how to really cook authentic Indian frys, ghee roast, dals and puris. Ten years ago I did not cook with ghee, I thought pickles went on burgers and I had never had real ginger studded Indian chutney. I had never worn a kurti and I never in my wildest dreams would have wanted to travel to India. Then I fell in love with a bad hombre from Bangalore and my life and culinary palette changed forever.
The first time I went to an Indian restaurant; Oh it was not a good experience. It was in San Bernardino. I was a twenty-five-year-old living on a budget, a college student and
it was an all you can eat buffet. It was six American dollars. You can pay two hundred rupees on the streets of Bangalore, stepping around heaping piles of cow dung and perhaps taking a selfie with a bovine if you are a tourist and have a fantastic street meal. But if you are paying the same amount of money as you would pay for a happy meal at Mcdonalds for all you can eat Tikka masala and pre-frozen naan don't expect it to be authentic. Although if you have curry bum afterward that might not be surprising.
So you want to cook like Banglore's bad hombre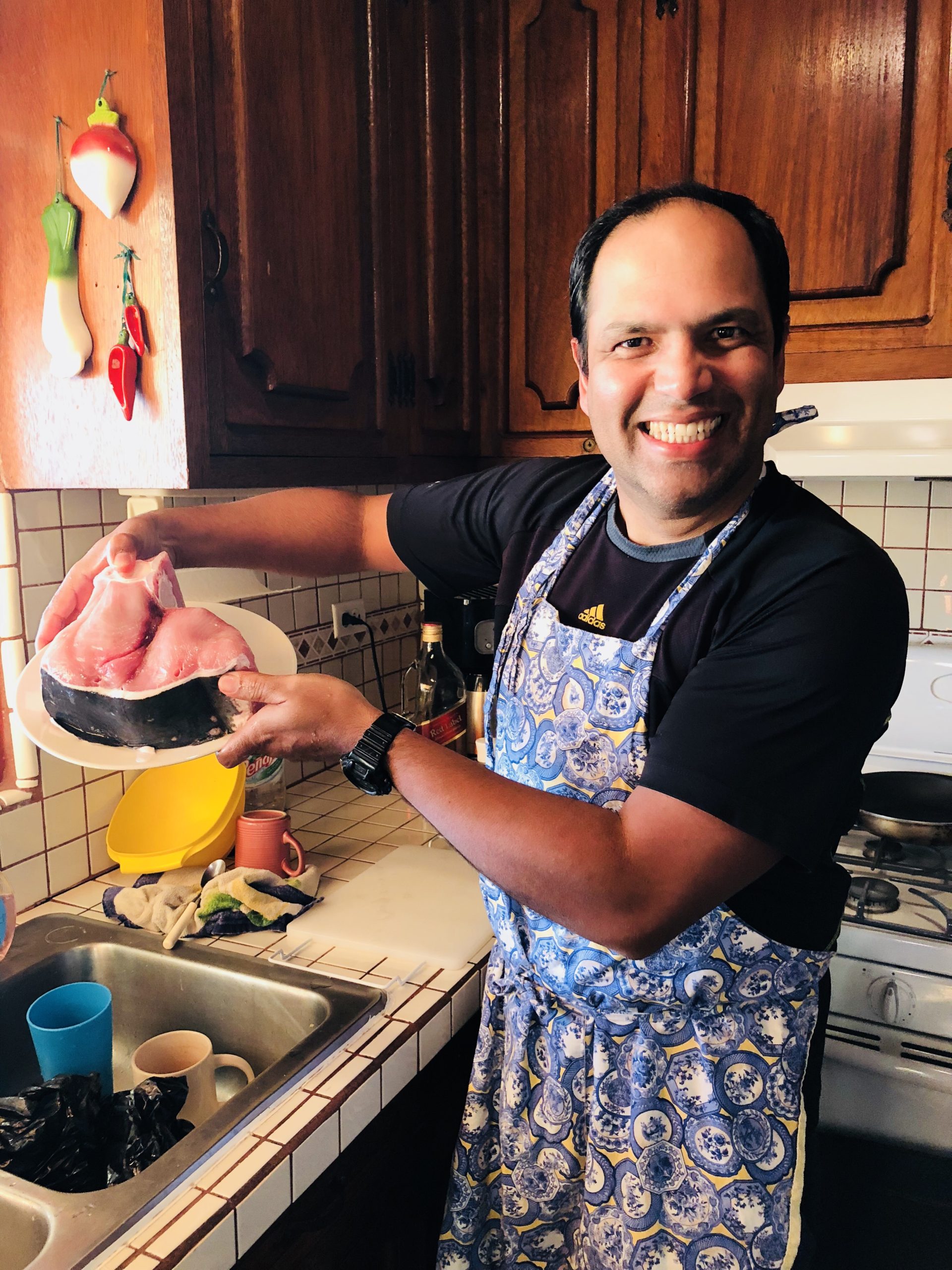 The first thing I learned about Indian cooking in my own home was to throw out that six-year-old store-bought curry powder. Anglo Indians living in America do not buy their spices at markets like Stater Brothers and Von's where the spices are older, not fresh and Americanized. They travel to little India for all their authentic spice needs. Being so close to Los Angeles means driving two hours to Artesia and happily buying spices in bulk. When cooking authentic Indian food you go through a lot of spices so having big ass bags of cumin seeds and coriander powder is not a bad thing.
When my boyfriend and I first started dating we took a road trip to Artesia one morning where I had my first dosa. I had no idea these spicy potato filled breakfast taco pancakes existed, as I slathered mine in spicy coconut chutney. I guzzled about a gallon of authentic rich and sweet chai tea before we stocked up on spices, dal, henna, Indian snacks, ghee and spicy pickles (A ginger garlic condiment that is found on every Indian dining table) We spent an overcast morning in orange county's little India and my journey to the culinary world of India would never be the same.
Make your own curry powder
No Indian cook would ever purchase store-bought curry powder. Homemade curry powder is just so easy to make. I grind up a fresh batch in my nutri-bullet (In an Indian kitchen you would call this a Mixie) every six months or so. Do you know how those annoying foodies with ten thousand followers on Instagram say you should throw out your spices every six months? They are so correct. If you are using curry powder that you bought six years ago, oh honey, your curry is going to taste like a frozen lean cuisine meal. Don't do that. The Hungry Mountaineer's Homemade Curry Powder is so easy to make with fresh spices and minimal effort. It will change forever the way you cook food from India.
The right cut of meat matters
The second time I had an Indian meal I was traveling abroad to visit my best friend in London and she wanted us to go to a very uppity Indian restaurant in Kensington for dinner. Just because we could run into Eric Clapton at a nearby pub does not mean this Indian restaurant choice was a good one. But what did twenty years old me know at that point?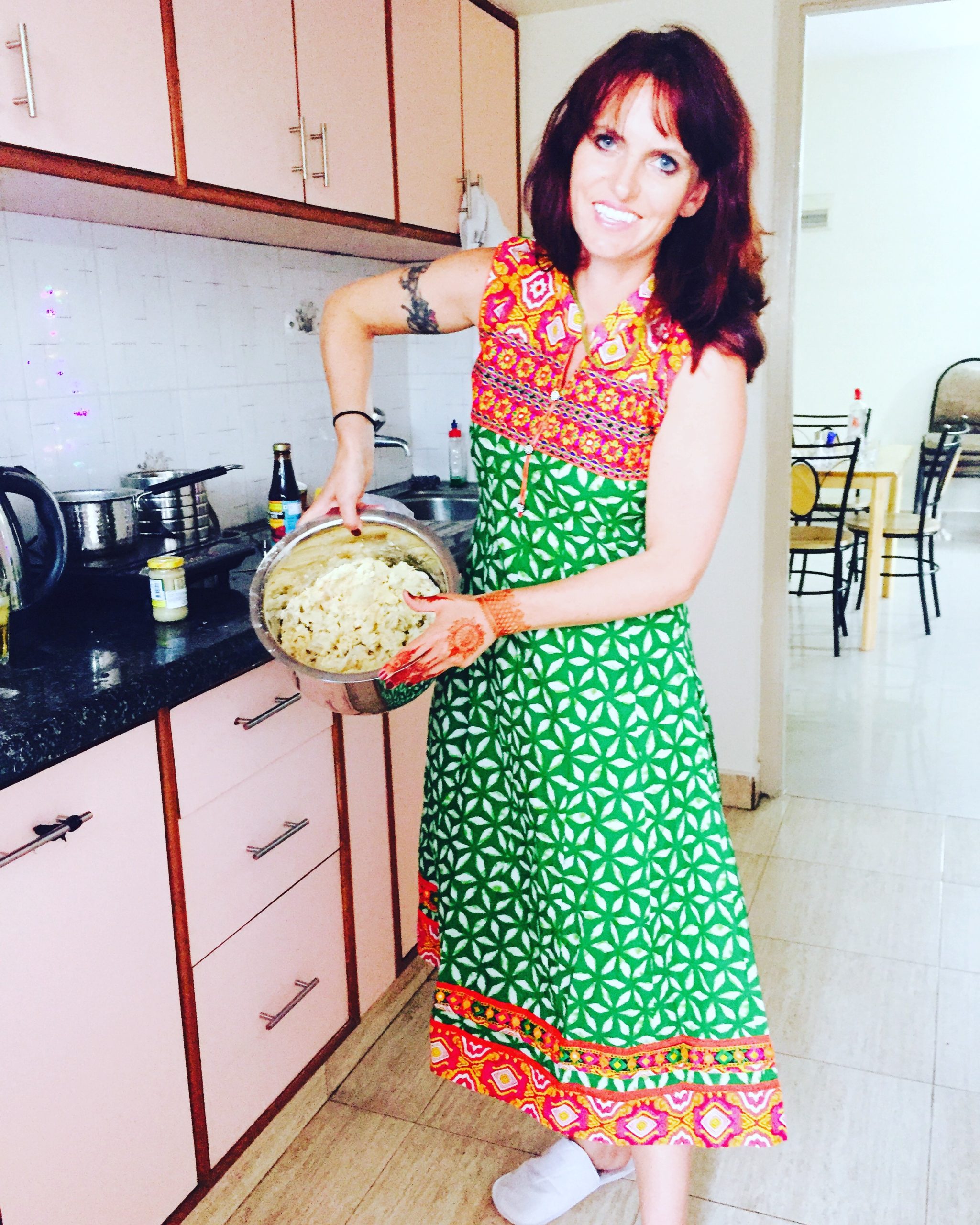 I had no idea whatsoever how big Indian food was in England and I was not down for the experience. I'm pretty sure I ordered chicken tikka masala which is as much of a bland Indian meal as an American traveling abroad for the first time could order. I was twenty-seven years old and had no idea. The foodie in me had not been born yet. Crazy to think ten years later I would happily be packing my bags for India and stepping on a plane pound for Bangalore.
It's a common myth that most Indians are vegetarians. Nope, not true at all. When I came back from India, everyone asked me, did you miss eating meat when you were over there? I'm honestly not the kind of person who would ever miss having meat in her diet but every restaurant we frequented had meats on the menu you would not find in America! I ate so much delicious liver curry while in southern India. Liver and other innards are just not something most Americans like in their bland midwest diets. Saying that the restaurants in India make some delicious veggie-only dishes. I absolutely love south Indian brinjal curry and I make my own tangy with the flavors of tamarind just like we had at a sultry beach resort on Poovar Island four New Year's ago.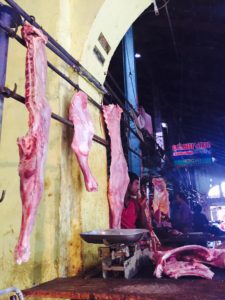 One thing I learned on my first trip to Bangalore was how important different cuts of meat are to Indian cooking. Our first week in Bangalore we took a trip to the Russell Road meat market and I inhaled all the sites and yes smells of an Indian open-air market. I'll admit some of the smells were not so great, especially in the spare parts shopping area, but that did not stop me from trying bheja fry (Fried goat's brains.) This is an Indian treat you can only find in southern India. You can usually only find it first thing in the morning as when walking around the Russell Road meat market, the goat's brains sell out fast.
#MeatMatters
Beef is not as popular in Indian cooking as in a lot of India, obviously, these slow traveling bovines are sacred. That being said, beef jalfrezi is one of my favorite anglo Indian Bengali dishes but if you found this on a menu on Commercial Street in Bangalore, it would probably be made with mutton or lamb shoulder. Lamb's shoulder is the smoky mystery meat that has been missing from your Indian curries. Lamb's shoulder has the perfect amount of tons of fat to cook down into your curry and taste delicious. All that natural animal fat contributes to a delicious pepper flavored dish like jalfrezi.  Some people really don't like the gamy taste of lamb but I personally love it. If lamb is too gamey for you feel free to always use beef. Or tofu if you are a democrat. You can always add turmeric powder and paprika to help with the gamey taste also.
Why does your Indian dinner not taste authentic? Did you make the mistake of cooking with chicken breasts? Why is chicken breast so popular in Americanized Indian cooking? An Anglo Indian cook would never make a chicken ghee roast with chicken breasts. Chicken breasts dry out when you cook them. The slow braising method of Indian cooking to draw out the flavors of cumin, coriander and cardamom seeds means you need to use more succulent meat like chicken thighs.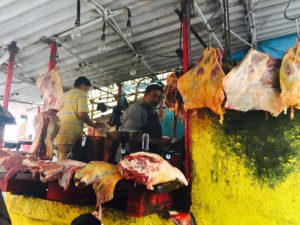 Roast those spices!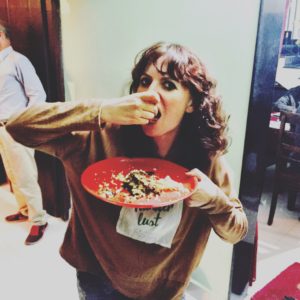 The most important part of Indian cooking is roasting your spices and cooking your onions well enough. When you start a curry always start with chopped red onions cooked in ghee. (The red onion part is just a personal preference of mine) They need to be cooked slowly until brown and it takes about fifteen minutes. That means standing over them and stirring constantly. There have been many times I have walked away for just a moment and burned the onions and had to start over.
Don't want to have curry bum? Curry bum does not always come from too much spice! If you have green in the middle of your onion and you throw it in your curry, that could be the reason for your stomach upset. Not the delicious mutton curry.
Garlic ginger is one of the most important ingredients in Indian cooking. In the Indian community, you can easily buy jars of just minced garlic and ginger. We buy these in bulk at the Indian market when we make it on the long-ass drive to Artesia. Whenever we have friends over for Indian dinner they are always shocked at this hidden, so easy ingredient. I honestly don't know why it's not more popular in American grocery stores. All that tangy garlic and ginger is an important ingredient in your Indian meal. Please don't use dried ginger and or garlic and expect your homemade Indian dinner to taste authentic.
Make your own trash cow cheese
While on holiday in Bangalore it's perfectly normal to wander the streets next to random street cows. Cows are sacred in Hindu culture and they roam between the rickshaws, cars and manic buses of this metropolis all day long. The saying "Til the cows come home" Actually comes from Indian culture, as the cows make their way back to their Indian homes in the evening ready to be milked by sunrise to make this sweet trash cheese.
I actually love paneer cheese, I'm just kind of grossed out while on holiday in India when I see the cows munching on garbage instead of, you know, grass. It's actually really easy to make paneer cheese at home. You don't need a neighborhood cow like you may find wandering the dirt streets in Bangalore but you do need unpasteurized milk. I know I know, I know, it may be easier to find a random bovine wandering the streets of the United States than to find unpasteurized milk but sometimes Whole Foods has the milk unpasteurized. If not, I recommend calling a local dairy for all your unpasteurized milk needs.
Good quality bone broth may be another ingredient missing from your Indian kitchen. I always home make my bone broth and freeze it. It's great to give to your pets also! Health experts agree that bone broth is rich in amino acids and essential fatty acids. It can reduce inflammation and actually help you sleep better! Plus homemade stocks as opposed to canned taste so much fresher. Anytime I have a chicken carcass I make bone broth with it and save a few cups of extra stock to add to chicken ghee roast or butter chicken. If I boil ribs in the pressure cooker to later throw on the barbeque I always save the extra broth to throw in my Moroccan Lamb Curry
Learning to master Indian cooking is not something one can learn overnight. I'm just so blessed I have a bad hombre who teaches me more helpful hints every day on how to be a better Indian cook. I received the ultimate compliment two years ago when his Bombay born mother stayed with us for a month and she was so impressed by my cooking. Anyone who can impress an auntie must truly be pretty well trained in the ways of Indian cooking.