In our family, when it comes to the end of November and those last few crisp and cool days of autumn before winter embraces our ski town, we like to give thanks for the blessings of our harvest, like our massive crop of Honeycrisp Apples, mint and fields of green onions. (But maybe not for the asshole black rabbit who is destroying our garden every day since early spring. This is not the buffet bro!) The real point of this late autumn holiday is not how much organic turkey you can cram in your face, but celebrating the fruits of the harvest with friends and family (But with less pillaging then our forefathers and also hopefully not to many political fights) Hosting a sustainable Thanksgiving definitely means using as much of the bounty we grow in our garden as we possibly can, especially as the nights are getting below 30 degrees now and everything is freezing. What that means for our ecofriendly Thanksgiving madness is decorating with homegrown Fairytale Pumpkins picked straight from the garden in the early fall and probably a whole hell of a lot of apple pie and homemade cider; I mean considering the massive crop of apples our trees produced this year. And yes, if you are coming to Thanksgiving dinner at our casa then I hope you love mint chutney because with the fields of mint we have harvested this autumn, we have been making gallons of fresh Mint, Cilantro and Mango Chutney.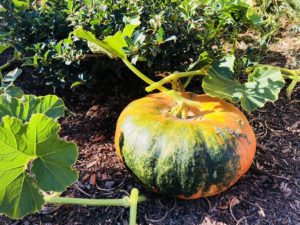 When we think about hosting a sustainable and environmentally friendly Thanksgiving harvest festival I always think, Our forefathers didn't come to this country to rape and pillage the land of this great nation, right? Then why should we.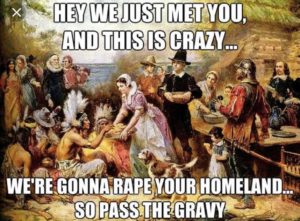 When you spend your days outdoors hiking trails, mountain biking and really just enjoying this great beautiful earth of ours, It only makes sense to try and have as much of an environmentally friendly Thanksgiving as possible. And it's much easier then you may think to just make little changes to your decorations and your meal to not just embrace the Thanksgiving holiday with friends and family but maybe take a few steps in the right direction to be environmentally friendly.
I'm not saying you should go dumpster diving behind Trader Joe's for your turkey (Yes, I have a friend who actually does this) but being an environmentally friendly Thanksgiving host is more than just recycling those Corona bottles in between NFL games. The Pilgrims in 1621 probably didn't think to use kale and carrot fiber in their stuffing but they also didn't have a Vitamix juicer back in the sixteen hundreds.
Does this stuffing taste like kale to you?
Besides siting down and breaking bread with our neighbors even if we do not agree about our president (Ha, who am I kidding? All of our NRA member, gun-toting neighbors love President Trump!) Thanksgiving is one great Thursday of the year to break bread and have friendly (Sometimes way to political) conversations with friends and family. And sometimes sneak some kale into Dad's Thanksgiving feast.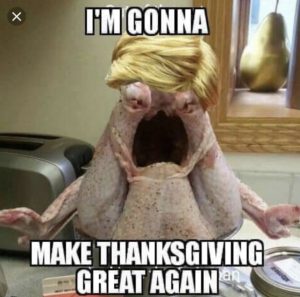 One of my favorite ways to sneak fiber into dads dinner, I mean host a sustainable Thanksgiving feast is to save all that extra fiber from juicing to throw into the stuffing, the stuffed mushrooms or use in Kale, Artichoke and Crab Dip. The easiest way to do this is when you are juicing the weeks before Thanksgiving, save all that kale, carrot or apple fiber in separate small zip lock bags in the freezer. If any of them have ginger in them, make sure you label that. You would be surprised how delicious kale, apple, carrot and ginger fiber tastes when you add all this fiber into your stuffing along with sweet Italian sausage. Kale fiber is great to add in with the cheeses in stuffed mushrooms also. Or you can add apple ginger fiber into your pumpkin or sweet potato pies. Everyone remember fiber filled Thanksgiving 2018? One blessing I have? That we have three bathrooms.
When it comes to decorating for Thanksgiving we all love to shop at Home Goods and pay forty dollars for an awesome trinket but seriously, paying this kind of money for decorations you use for one month is kind of ridiculous. You know what is not ridiculous? Buying holiday decorations at thrift stores and helping to recycle holiday goods! And when you buy things from the local Goodwill all that cash goes to charity plus you are helping keep these items out of landfills. (Not to mention not handing over your hard earned pay check to a greedy corporation)
Another way I love to decorate in an ecofriendly way is to save pumpkin and gourd seeds from the previous year and grow our own holiday pumpkins to decorate (And then make pumpkin bread later in the season) Holiday crafts that you can make out of what you find in nature, like pine cones and fallen leaves are a great way to decorate your home for the holidays without breaking the bank.(And get kids involved with handcrafting the center pieces)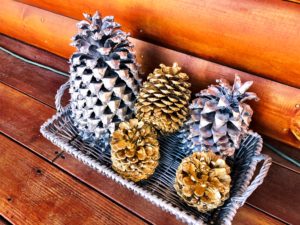 What the hell do I do with all this leftover turkey?
Is leftover turkey taking up room in your fridge and are you just not a leftover lover? Have you ever tried stuffing muffins? They are the most incredible thing to do with Thanksgiving leftovers over! In a big bowl mix leftover shredded turkey, stuffing, eggs, your favorite cheese, spicy peppers and any leftover sausage you may have in the fridge. Layer in muffin tins and bake at 375 for 25 minutes. Hungover from Thanksgiving pumpkin cider breakfast is served!
Okay so some folks really, really do not like Thanksgiving leftovers, I get that. Why not make Thanksgiving leftover sandwiches, wrap them in plastic and hand them out to any homeless people you see in your part of the country. There are a lot more ways to have an ethical Thanksgiving besides recycling those apple cider bottles!
Still have piles of Thanksgiving turkey? Try throwing it in Sweet and Sour Soup or César Salad!
Hosting an ecofriendly Thanksgiving can be pretty easy and even if you are not the type to dumpster dive or salvage your own morel mushrooms from your local forest, you too can throw an awesome sustainable Thanksgiving bash! I know one thing, this Thanksgiving I will be giving thanks for this awesome beautiful earth we get to enjoy, whether it's hiking through the autumn leaves or enjoying a holiday meal outside Al fresco in our mountain town on a seventy degree November day.