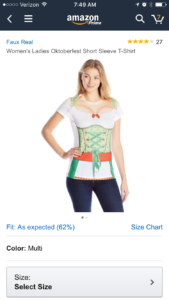 It's the most magical time of the year. It's that time of the year when the leaves are all turning beautiful auburn and golds and the smell of beer is in the air.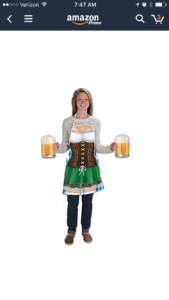 Yes it's that magical time in Bavaria, that we also celebrate here in Southern California and if you're  in Big Bear Lake for the fall then you must visit our fantastic Oktoberfest!  Here in our golden oak covered mountains we have the absolute best Oktoberfest in the United States.
Proust! Its time for the annual Big Bear Oktoberfest!
Amazon.com has some absolutely fantastic Oktoberfest costumes and prop ideas if you are hosting your own Oktoberfest celebration or Reinsen (traveling) to a local Oktoberfest for a day of Frohlichkeit (merriment) bier and brats.
Have a pup? In Germany hundri(dogs) are very welcome at biergartens. Check out this fantastic costume for your mutt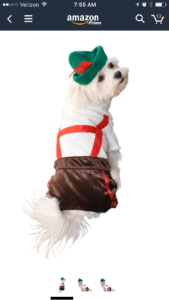 Amazon.com has some awesome household decorations for your Oktoberfest shindig if you decide to host your own partei  (Party). Check out these wonderful bier streamers and Oktoberfest beer koozies. The bier koozies are only $1.59 each on Amazon.com! Make a great gift to hand out to guests if you host your own Oktoberfest party!
The Oktoberfest decorative whirls are just $5.09 for a package of 5.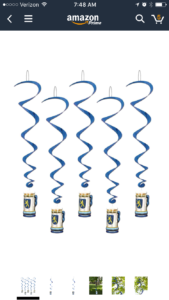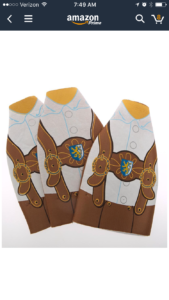 Best of all check out this great Oktoberfest photo prop! Yes your guests can take their photo in this to post to Instagram or Snapchat and this awesome prop is under eight dollars on Amazon!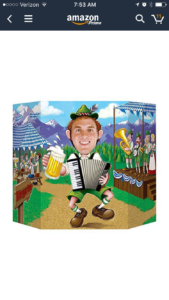 Feel you need a little German bling bling for your face? Check out these super cute pretzel earrings ($4.49) Okay, these earrings are kind of cute but then they also kind of look like poo. You decide.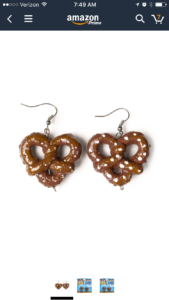 If you know anyone bringing toddlers to Oktoberfest than you must check out this super cute Oktoberfest shirt, starting at $10 each.
And don't forget the beer goggles (Okay pretzel sunglasses) only $7.14 and for a sexy shirt that is super affordable try out this plastic fraulein vest; $5.34, such a deal!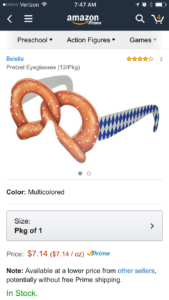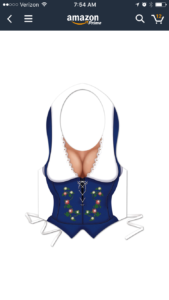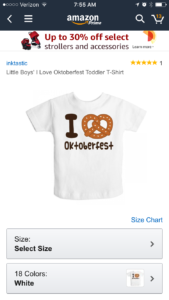 With these helpful tips you can host a really great Oktoberfest party with costumes and props for around $100!
Check out tomorrows blog for a recipe for the best Oktoberfest make at home crock pot meal! (Your guests will love it and it's beyond easy!
For an easy Oktoberfest appetizer try Edam Cheese Stuffed Bacon Wrapped Brats. Just throw them on the bbq; so easy!