This morning I woke up walking like an old cowboy who rode way to many hours the day before. I love my job in the horse racing industry with an unbelievable passion but yesterday at work every step I took up our three-story grandstand made my thighs burn terribly bad. (Oh look, according to my iPhone I walked up 125 flights of stairs yesterday!) But you know what? It was totally worth it because I ran up a mountain yesterday morning before work. And that was actually the first time I have run in close to two months! What is even more awesome is I did this entire run without any pain in my right leg! (Nerve damage, which is why I have not been running for two months) My nerves are happy again and so am I although I can barely walk after probably, maybe over doing it on the Mt Baldy Trail the other morning.
But wouldn't you, with a sunrise like this?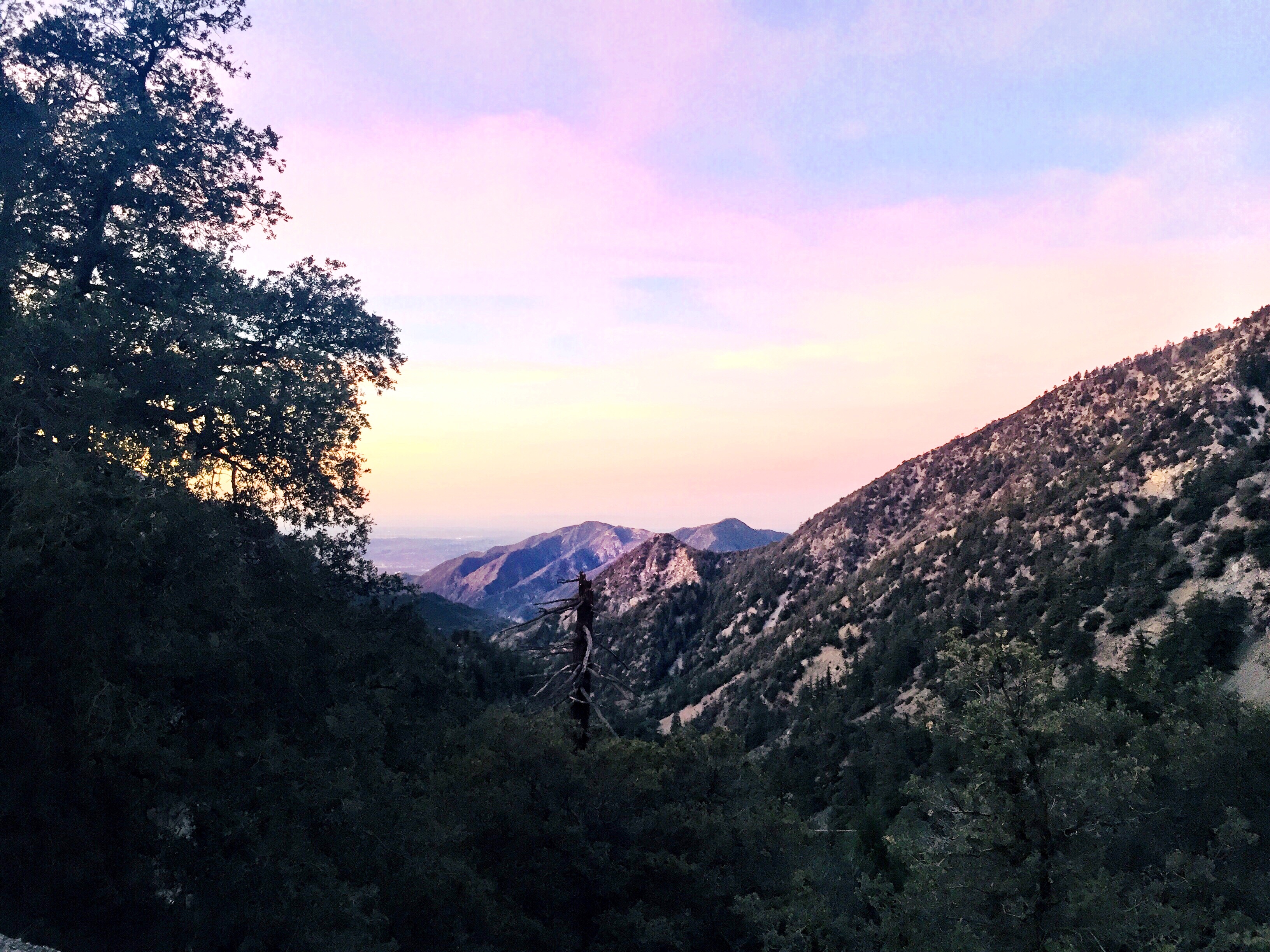 I started this gorgeous hike into the wilderness just at sunrise and surprisingly this trail was easier then I remembered it being! I actually ran most of the way to the top of Mt Baldy five years ago when I was in fit running shape, back in the day.
Running the Mt Baldy Run to the Top was so fun even though I got terrible altitude sickness and ended up puking all over Mt Baldy. Search and Rescue actually made me turn around about half a mile from the summit but that's okay because since then I have summited Old Baldy three times! It's crazy to think the me of five years ago used to get altitude sickness that bad! I had no problems at all this morning completing an almost ten mile round trip trail run.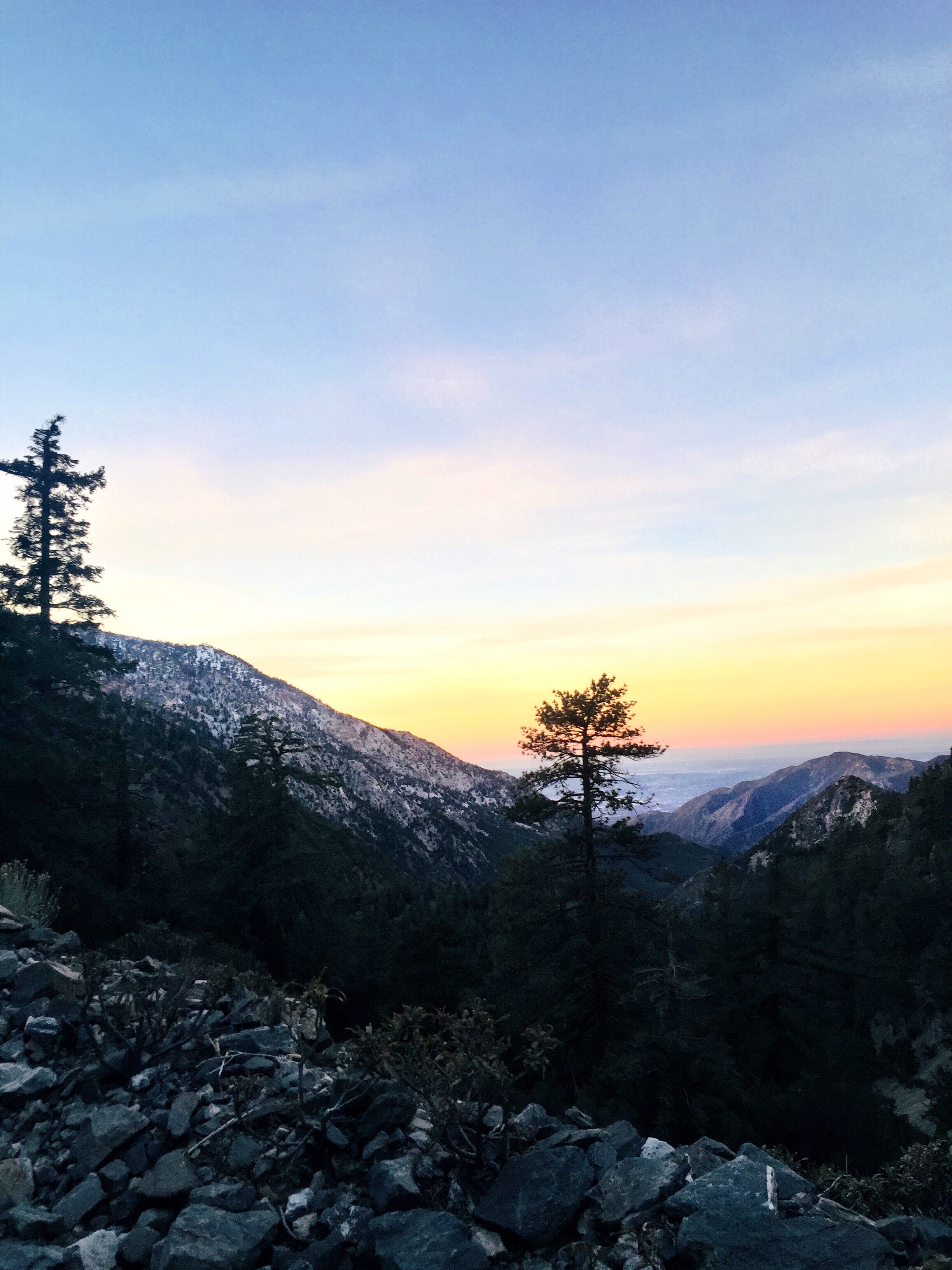 I think it helped that I got to enjoy this sunrise on the way up. After a butt burning ten mile run that I know will leave me hurting the next day I came craving a good meal. In this chilly winter months a hot spicy Thai meal brimming with vegetables tastes amazing after a day submitting a mountain. My good friend told me how to make the sauce for this easy, healthy Pad See Ew, one of my favorite Thai dishes and I have been making this easy veggie filled Pad See Ew ever since!
Pad See Ew
1 package flat rice noodles
2 teaspoons coconut oil
1 tablespoon dark soy sauce
2 tablespoons regular soy sauce
1 tablespoon grated ginger
1 teaspoon grated garlic
4 eggs
1 package baby broccoli cut into bite-size pieces
1 green onion, cut into chunks
1 cup bean sprouts
1 cup snow peas
protein of your choice (chicken, pork, tofu or shrimp
chinese red chilis for spice
1/4 cup chopped almonds
Cook the protein in the coconut oil. Add the ginger and garlic. Add the rice noodles. Add the soy sauces. In the middle of the wok make a space for the eggs and scramble them well. Add the broccoli and the snow peas. Add the chilis if desired. Cook until warm and serve.
This week I am linking up once again with the following food, health and DIY blog link ups.

http://www.makeaheadmealsforbusymoms.com
http://darlingdownsdiaries.com/good-morning-mondays-149/
http://www.marathonsandmotivation.com/chocolate-strawberry-superfood-parfait/
https://www.backtomysouthernroots.com/foodie-friday-link-party-12/
http://www.misssippipiddlin.com/
http://apriljharris.com/category/hearth-and-soul-link-party/
https://lifewithlorelai.com/category/home-matters-party/
http://www.sewhistorically.com/category/link-parties/sew-it-cook-it-craft-it/
https://www.recipesthatcrock.com/category/whatcha-crockin/
http://thepleatedpoppy.com/blog/
http://confessionsofamotherrunner.com/2018/01/15/vegetable-enchilada-lasagna-meatless-monday/