Throughout the pandemic, many of us have discovered we love to eat al fresco. Why would you want to enjoy your meal in a gloomy indoor setting when you could be outside, soaking in all that glorious Vitamin D in the Big Bear sunshine? Why not enjoy a gourmet picnic lunch, prepared lovingly by a local chef in a hidden gem of an outdoor location? I started my own foodie-based experience in the Big Bear Valley to bring a higher quality food experience to our Big Bear visitors. A lot of visitors to our mountain communities have no idea that Big Bear gluten-free or vegan restaurant selections are extremely hard to find. Your Big Bear restaurant choices do not have to be bland and unhealthy! Book a pop-up picnic with The Hungry Mountaineer here!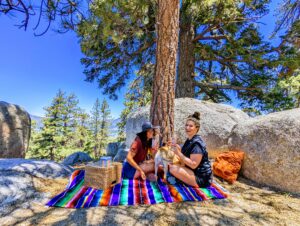 As Big Bear's most persnickety foodie I was not impressed with the quality of food available at restaurants throughout the Big Bear Valley, most especially if you are vegan, vegetarian, keto or have gluten-free food needs. Our local Big Bear restaurants absolutely do not cater to those with dietary restrictions. And that is why as a Big Bear gluten-free cuisine advocate and self-described "Foodie" I started this awesome healthy food-inspired experience. I built Big Bear's only pop-up picnic experience in these scenic locations after hearing hundreds of vacationers on my Big Bear hiking tours complaining about our low-quality restaurant selection here in the mountains. Our visitors may be here on vacation but they still want high-quality wholesome food choices for their families, like my Vegan Cucumber, Kale and Date Salad with Coconut Curry Dressing.
Available now; The best vegan, gluten-free and healthy food in the Big Bear Valley
Take a break from the hustle and bustle of the cities with Big Bear's original picnic queen. Enjoy our gourmet picnic snack lunch in a scenic location hidden in the wilderness. Your picnic guru will pick your group up in her air-conditioned SUV and drive your group up the dirt forest road into one of the most scenic hidden locations in Big Bear Lake.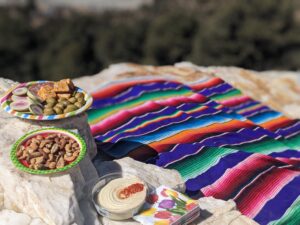 This is a perfect location for all those Insta-worthy photos. Our Big Bear Lake picnic pros will take as many scenic photos of your group as you would like. We will either hang out with your group and enthrall you with tales of the history of the Big Bear Valley or leave your group your privacy as you enjoy a casual lunch in nature at one of the most scenic hidden gems in Big Bear. I'm a southern California outdoor adventurer and have all the best tips for the most beautiful areas to explore and best things to do while on holiday in Big Bear Lake.
Ask about our lake swimming excursion after the picnic! Or we can also provide the picnic on our boat docked in the harbor on beautiful Big Bear Lake. (And guests have the option to swim in Big Bear Lake on a hot day.
Big Bear gluten-free, vegan and keto specialties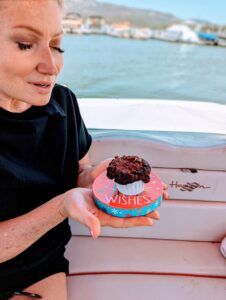 Menu items are seasonal and a menu will be provided when you book with choices. Guests can always email me before booking to see what this week's menu includes.  A sample snack picnic lunch may include; Assorted nuts, veggies with homemade vegan baba Gnaoush, and assorted cheeses with salami. Vegan and gluten-free choices are available on request. I do my very best to work with my guest's food allergy needs. Drink beverages are water, lemonade, hot or iced tea, hot coffee and or a selection of La Croix "Sodas"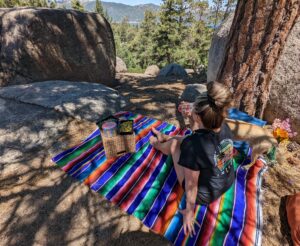 Whether you are a couple or a large group of friends and/or family, this activity will be a memorable day of great sights, delicious food and quality time with each other in the wilderness. We are Big Bear's only stylish pop-up picnic gurus.  Hassle-free picnic offers a full service; set up + food & drinks +ambiance + clean up. You and your group just show up and enjoy!
Celebrate vacations, birthdays, proposals or any gatherings with your group and enjoy your time in the beautiful wilderness of the Big Bear Valley. I'm even an ordained minister if this experience looks perfect for your small wedding. Champagne is offered at an additional cost for those special occasions. This is also a great experience for engagements. 
Your picnics adventure includes:
Wireless Bluetooth speaker, selfie stick, napkins, plates, drinking glasses, silverware, pillows, picnic blanket, snacks and drinks.
Note: if you have a special request related to a specific time of day, food allergies, location and or a big group, please do not hesitate to write me and let me know about it, I will work with you to ensure your picnic needs are met! 🙂
If you have any other questions, please do not hesitate to contact me via email at hungrymountaineer@gmail.com
To add on extra vegan salads, or gluten-free muffins or cookies feel free to email me. Pricing is as follows. Each serving is for 2 people.
The Hungry Mountaineer's pop-up picnic add-on menu
Mango Curried Chicken salad ($15)

Greek pasta salad with salami ($15)

Beet salad with goat cheese ($1 5)

Peach Caprese salad with prosciutto ($18)

Lemon zucchini bread (8)

Gluten-free banana nut muffins (12)

Krab salad with peas (Imitation Krab) ($12)

Watermelon salad with feta and mint ($15)

Vegan Quinoa Salad with Chickpeas, Bellpeppers, Squash and a Cashew Curried Lemon Dressing ($15)

Vegan kale, chickpea and cucumber salad with coconut curry dressing ($15)

Dark chocolate beet muffins ($15)

Chocolate chip cookies (With or without nuts) (15)

Oatmeal cookies with golden raisin with or without nuts ($15) All cookies can be made gluten-free at request

Sweet Potato Muffins (Can also be made gluten-free) ($15)

Blueberry breakfast muffins (Gluten-free) ($15)

Cobb salad with bacon and cilantro ranch ($18)

Apple fritter cake ($12) seasonal
Ask about our sunrise menu; Baileys and coffee with pastries. Gluten-free pastries are available on request. We also provide champagne (10) for special occasions.
Ready to book your pop-up picnic with The Hungry Mountaineer? Click on this link to book through Tripadvisor. 
 Our commitment to local products and fellow small businesses is only outweighed by our dedication to providing unforgettable experiences for visitors and locals alike.