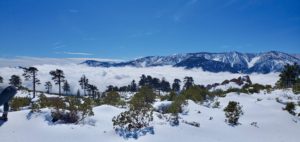 Here it is mid-April mid pandemic and day fifty of gluten-free baking; Or as I like to call it, baking away the boredom. When I'm not baking all kinds of gluten-free yum-yums I'm trying to sweat out the calories hiking up mountains with good friends.
A good friend is always there when you make an ass out of yourself. Luckily I have awesome Hiker Babe friends who are always there for butt busting hikes, happy hour and being a listening ear for life's stress. In April 2020, life is nothing if not full of every kind of stress. Being out of work like so many Americans is definitely at the top of that list. Having friends to hike with and get me out of the house majorly helps my sanity level even if Donna insists on taking photos of me doing squats on top of a snowy mountainside.
"Everybody needs beauty…places to play in and pray in where nature may heal and cheer and give strength to the body and soul alike."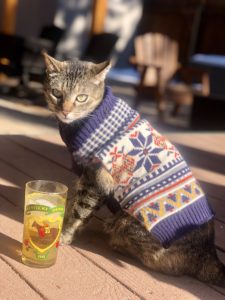 John Muir had the right idea. In this crazy world of April 2020, I may be tempted to just stay inside, do some gluten-free baking and dress my cats in their finest sweaters but instead I try to get outside at least once a day. I try to enjoy our snowy wilderness with friends, at a safe distance of course.
I love our snowy forest and at least it gets me out of my house and taking fewer photos of my cats and also I do less gluten-free baking. Yes, it's only day thirty of the self-quarantine and I think I have already gained my COVID-15.  Hi, I'm Amber and I haven't pulled out my Cuisinart mixer in five days now of this month-long quarantine. Yes, that's right, today marks one month we have been safe at home. In our family, we are taking self-quarantine seriously even though so many Americans are not. I have only been out to get groceries once a week, deliver groceries to elderly families in the next town over and go for my daily hike, sometimes with friends six feet away.
How to enjoy the outdoors with friends and still stay #SixFeetApart
Driving in separate vehicles to the trailhead
Not petting each other's dogs.
Using hand sanitizer vigilantly.
Staying six feet apart on the trails.
Gluten-free baking adventures
When I'm not out in the snowy wilderness with my girlfriends hiking and doing cold snow yoga I'm usually in the kitchen getting my gluten-free baking on. I've spent a lot of this last month taking a lot of my favorite baked goods recipes and converting them to gluten-free baking. It's actually easier then I thought! I found the magic gluten-free baking combination; Almond flour and coconut flour!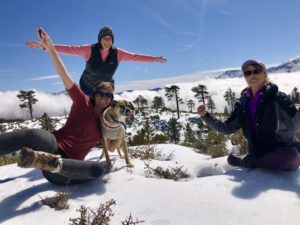 I truly miss my job and I can't wait for the day when I can walk into my office again with a platter of my gluten-free baking and listen to my coworkers complain about why are they gluten-free (And then enjoy them anyway) I can't wait until we can hug friends again and have happy hour on our back porch in the spring sunshine and not virtually with friends over Zoom.
When I made these the first time, I cut the dough in half and made half the batch with regular sugars and half the batch with Stevia for my boyfriend who is doing keto. I think if I had not run out of Stevia these cookies would have been delicious as a keto treat. However, I only had one packet of Stevia and that was not nearly enough Stevia. My boyfriend was not impressed with the Keto version but I know one pup who hiked seven miles today and thought the sugar-free keto version was unbelievable. These cookies can easily be made keto by substituting 1/4 cup Stevia for the sugars.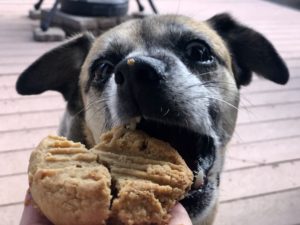 Gluten-Free Peanut Butter Cookies
1 3/4 cups almond meal
1/4 cup coconut flour
1/2 cup coconut oil
1 teaspoon vanilla
1/2 cup brown sugar
3/4 cups white sugar
1 teaspoon salt
1 cup peanut butter
1 egg
Mix the coconut oil and the sugars or Stevia. add in the peanut butter, the egg and the vanilla. Mix in all the dry flours and the salt. Roll the dough into cookie-sized balls, place on a baking tray and crimp with two forks, crisscrossed. Bake at 350 for 10-14 minutes, depending on how well done you like your cookies to be.