Days spent hiking up to 9,000 feet cliffs, have me craving a spicy veggie and cauliflower filled keto meal. This gluten-free Gochujang Korean Meatballs with Cauliflower Fried Rice is easy to make and I can throw it together after a butt busting hike easily having a healthy meal in the oven by lunchtime. It may be nearly eighty degrees in our resort mountain town now in late July but six months ago, pre-pandemic life our biggest worry was which snow hike would we do today and what am I making for lunch? Sometimes on a hot and sweaty summer day, it's nice to go back and remember what snow was like. And what was the world was like when we could still go out for sushi with friends and I could still hug my ninety-year-old grandma.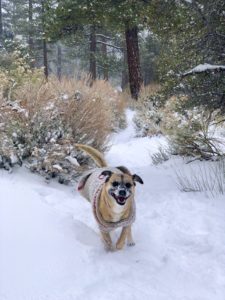 This recipe is easy to prep ahead of time to get a simple ethnic meal on the table for lunch or dinner. I like to make the meatballs and the sauce ahead of time and keep them prepped in the fridge. That way, when the pup and I make it home from our snowy early morning hike and are dying for a hot lunch on a nippy day, lunch can be on the stove and in our bellies in just minutes. Well, the pup can have kibble. These ethnic meatballs freeze really well also.
This snowy morning in 2020 dawned pretty damn cold, as I pulled on my warmest fleece-lined tights and North Face snow boots. When you live in a ski town having the right pair of snow boots for hiking is crucial. I dressed the wiggly excited pup in her warmest sweater and we were out the door as the sun was just rising above the pines. It might be seventeen degrees outside on this chilly mountain morning but that does not mean we are not going to get our hike on, in this snowy winter wonderland. February mornings with a fresh backdrop of snow surrounding our home are the perfect time to hit the trails with my favorite four-legged hiking buddy.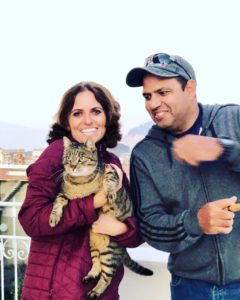 As you can clearly see, the pup does not care how cold and snowy it is outside. I mean we will be ready to hike in the cold and snowy great outdoors right after I chug some apple cider vinegar because yeah, the first few weeks of 2020 means it's time to do a cleanse, especially when we just got back a month of traveling through Indian and Italy. We inhaled a lot of delicious carbs on this worldwide adventure and summer kayaking and miles of mountain peaks are in my future so it's time to start eating healthy again and get back into shape.
The great thing about cold crisp days and fresh snow is it really inspires me to get out and hike trails. And put down the butter chicken. You can't spend a morning sweating up a storm and being healthy and come home to an unhealthy dinner, right? Don't worry, I have a delicious and healthy take on a Chinese favorite that is a perfect after hike meal. This ethnic dinner is chock full of flavourful cauliflower and other veggies.
No matter what season it is, these Gochujang sauce flavored meatballs have so much flavor and are full of veggies to get your family eating healthier today. And you can never go wrong with healthy Cauliflower Fried Rice. It goes so well with so many different meals!
Gluten-Free Keto Gochujang Meatballs
1 pound hamburger
1 teaspoon grated ginger
1 teaspoon minced garlic
1 teaspoon soy sauce
1 egg
1/2 cup dinosaur kale, chopped into small piece
1/2 cup oyster mushrooms, chopped small
1 scallion, chopped fine
Combine all ingredients. Roll into balls. Bake at 375 for twenty minutes. Brush on glaze and broil for two more minutes. Serve over your favorite cauliflower fried rice. Garnish with green onion.
Korean Gochujang Glaze
1 teaspoon grated ginger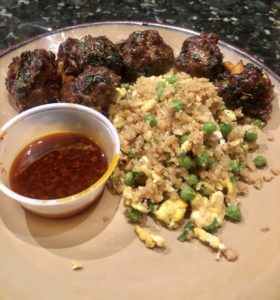 1 teaspoon minced garlic
2 teaspoons soy sauce
1 teaspoon of rice wine vinegar
2 teaspoons gochujang sauce
1 teaspoon agave
1 teaspoon sesame oil
2 teaspoons water
Combine all the sauce ingredients in a sauce pan. Boil for three minutes. The sauce is then ready to glaze the meatballs.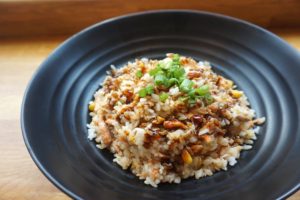 2 green onions, chopped
Your favorite Cauliflower Fried Rice.
My cauliflower fried rice is very similar to this recipe, but I do use just a bit of bacon fat (It's the secret ingredient!)