In these days of COVID-19 fears, every girl needs a girlfriend to keep the positivity going and keep them motivated that the end is in sight. Whether that means the end of self-quarantine or the end of an endless trek up a mountain peak. Whenever I go for a hike with Donna the joke is always that there are hot springs at the summit. And sometimes a bar with endless Bloody Mary's. As we struggle and sweat our way up mountain grades this combination of hot springs and spicy tomato laced vodka Slurpees is nothing but fake news so far.
In April I hiked one hundred and forty miles. Being furloughed from my job and having somewhat endless time on my hands, I did expect to be hiking more but the weather has begun to heat up and that turns me into a wuss. Not only that but the rattlesnakes have begun to appear on our hiking trails and these slithery assholes have me hating hiking. What do I hate more; Living in these pandemic times of COVID-19 or rattlesnakes? That is a tough one. Long hikes a few times a week may have been a breeze in April but as soon as May warms up into summertime I'm more apt to relax in the backyard with a good book and an iced coffee then spend my mornings on the trails scurrying from slithery reptiles.
How do I stay motivated to work out at all during these COVID-19 times?
This right here is about day seventy of safe at home, as we like to call our self-quarantine here in California. Thanks, COVID-19. Now I'm sure I will look back one day when I am back to commuting to Los Angeles and facing hours of city traffic, smog and that ugly concrete jungle and think, did I really once upon-a-quarantine complain about being stuck at home? That does not sound like me whatsoever. I mean, I for one love our mountain home, having time to hike as much as I want and relaxing in the backyard with our plethora of pets and a good book. But yes, I have begun pacing the house just like my mongrel dog, wanting to know when we can leave, go on a walkie or go to Whole Foods.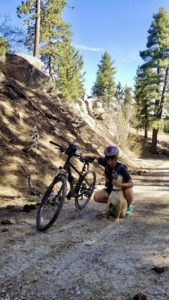 Plan hikes or mountain bike rides with friends. It's easier to get up and go if you have prior plans with friends.
Your pup needs exercise too! Don't forget about your favorite mutt's needs and hit the trails.
Explore a new trail; It may keep you interested in hiking further, what is around the next bend.
Get those projects around the house finished, especially if they are projects that get you sweating.
Go for a neighborhood walk and talk to a friend on the phone. Great way to get your mind off of exercise!
I have a few hiking buddies, like Donna, who are so excellent at keeping me motivated even when the weather is getting hotter and I would rather be relaxing lakeside with a beer than getting any type of exercise. Now that summertime is fast approaching I need to get into shape for some seventeen miles eastern Sierra hikes I have planned in July and for the big one, Mt Whitney at the end of August. I need to put down the Gluten-Free Banana Bread and go for a sweaty hike! That means I need to call up my best hiking girlfriends, lace up my hiking boots and start hiking up a 12,000 foot mountain like San Gorgonio.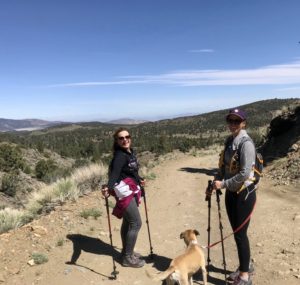 I wanted originally to make this a healthier recipe and not deep fry the chicken bites but it is day seventy-something here of self-quarantine COVID-19 paranoia and after trying frantically to get the batter to stick to chicken tenders I gave up and pulled out the deep fryer. This has to be my new, go to an authentic Anglo-Indian happy hour snack. This is also a perfect way to use up a leftover rotisserie chicken.
If you have an air fryer, use that and these are crispy and delicious, and lower in calories.
To make a healthier version, omit the egg, and spread the batter on chicken tenders then bake in the oven at 375 for 20 minutes.
Gluten-Free Curried Almond Chicken Bites
1/2 teaspoon turmeric
1 teaspoon peppercorns
1 teaspoon cumin seeds
1 cinnamon stick
1 teaspoon coriander powder
1 teaspoon chili powder
1 teaspoon grated fresh ginger
1 teaspoon minced garlic
5 cloves
1/4 cup almond flour
1 teaspoon salt
1 egg
1 teaspoon lemon juice
1 teaspoon plain Greek yogurt
2 cups cooked chicken, shredded
3 cups canola or coconut oil
In a pan heat the cumin seeds until just roasted. Put in a blender with the turmeric, almond flour, peppercorns, cinnamon stick, coriander, cloves, salt and chili powder. Grind up well. Transfer to a bowl. Add the Greek yogurt, lemon, garlic, ginger and the egg. Stir in the shredded chicken breast last. Deep fry in canola or coconut oil.