Here it is a gorgeous spring day in southern California and I would love to be relaxing on a beach or hiking atop a mountain in the eastern Sierras. But I'm not, because I am being Safe At Home, as a responsible Californian. I mean someone has to, right? It seems like some people just do not get this whole self-quarantine concept, like the 10,000 tourists day-tripping from all over southern California every single day since this pandemic started, into the roads of our ski resort tourist town.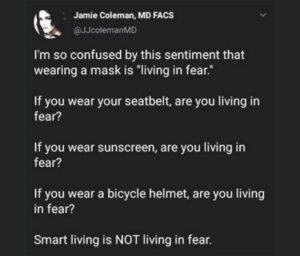 Self-Quarantine does not mean drive two hours to your nearest mountain destination, cough all over the locals, don't wear a mask and throw your diapers in the creek bed while out on a hike with the fam. That is not how to responsibly adult. Safe at Home also does not mean take the whole family to Costco, even eighty-year-old Nana in her wheelchair and let your kids juggle all the avocados I want to buy. (COVID-Cados anyone?)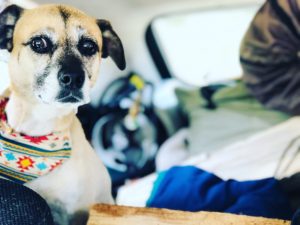 Being quarantined safe at home is stressful in itself. Life gets a bit more stressful when you go out for your destressing morning dog walk and man's best friend gets attacked by a vicious jerk of a dog. Yes, this happened to me and my favorite bitch this morning. What is just insane is this is the third time now in six months that she has been attacked by another dog or a coyote! My poor little mutt definitely has PTSD this time. Of course, that might have been from me screaming obscenities at the irresponsible imbecile who owns the off the leash dog as his dog attacked us and he just stood there like a dumb-dumb. Here we are in 2020 during a pain in the butt pandemic and I swear so many people have forgotten how to just behave themselves in public and act like responsible adults.
I'm sure we have all at this point seen the terrible video of the dog owner in New York City practically choking her dog out as she screamed at the guy who was trying to check out the birds in the serene park. Watching the video this morning, I didn't really care what color of skin the two people in the altercation had, all I really paid attention to was that women's poor dog. She was too busy screaming at the birder when she was walking her dog off-leash in a protected area to realize she was being abusive to her pet. Irresponsible dog owners seem to be everywhere in this post-pandemic world of 2020.
Some pet owners are idiots
I don't understand irresponsible pet owners and there are so many of them around the world. But aside from that, what is it with people who can't be respectful dog owners in these crazy times. Like this crazy bitch in Central Park in NYC. Of all of the articles out there about this incident, I found this one the most interesting because the dude who was birding gave her dog a dog treat. One of my biggest pet peeves of so many is when strangers feed my dog random things. Two weeks ago at Aztec falls at Deep Creek I was talking to a friend, turned my back for two seconds and twenty people picnicking were all feeding my dog their lunches. What is wrong with other humans? Just like humans, dogs can be on strict diets, they can have food allergies. Don't feed a dog you don't know. (And since this blog is really about cheese, kindly never feed my dog cheese)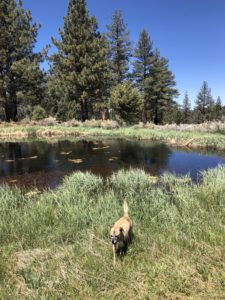 I just wanted to start off my busy morning with a walk with my rescue mutt beneath the pines. We hiked seven miles to the hidden Juniper Springs with our dog mom group yesterday and my pup and I were not up for doing a long hike this a.m. After all the pups frolicked and swam and played chase and then hiked back to the waiting cars, my pup and I were ready to do an easy mile loop through the forest and then I had to get the weekend groceries (Buy seven different types of cheese to get me through another weekend of quarantine) and head back home to an afternoon of yard work.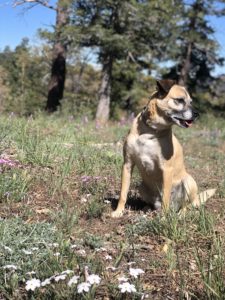 I parked the car at the very bottom of the murderous hill by the Big Bear Zoo and the pup and I started our morning walk. The coyotes and wolves at the zoo were making a huge howling noise and maybe this should have been a premonition of things to come as we began the hike up the hill next to the green meadows of a springtime day at Bear Mountain Resort. We made our way onto the trail at Deer Canyon and the wildflowers were in bloom everywhere. The forest was a rainbow of purple lupines, red Indian paintbrush and yellow coneflowers. And then that bitch Amber showed up.
I'm also an Amber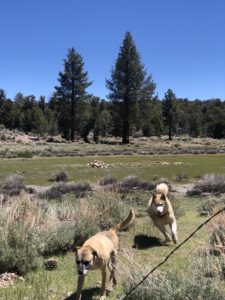 So the very best and only hilarious part of this story is that the vicious attack dog and I actually have the same name! Before all the carnage began I was hiking on a very popular hiking trail in our home town of Big Bear Lake with my pup and I saw the guy with his dogs a way off, I said good morning to him and he began calling his two off-leash dogs. I don't think the aggressive dog had even seen my dog at this point, as he yelled for her "Amber get over here" to the little miniature husky. Then that bitch Amber saw my on-leash dog and made a beeline for her growing and looking way angrier than the coyote we had a run-in with a few weeks back.
Crazy ass Amber grabbed my dog by her throat and was trying to murder her and my dog was just shocked. She just laid there while I screamed at this guy at the top of my lungs to get his dog off my dog or I would kick her.
Okay I did tell him at least five times I would kick his dog to protect my dog's honor but I just could not do that to save my life and it wasn't just because there was a vicious Amber trying to bite my ankles now. I am an animal lover and I just couldn't bring myself to kick a dog even if it was trying to murder my dog. It really says something about the animal lover in me that I didn't hurt his dog and she did deserve it. I kept telling him, "Get your dog away from my dog or I will kick her" But even though she was trying to rip Carly's throat out, I just couldn't manage to kick an animal, even an evil one named Amber.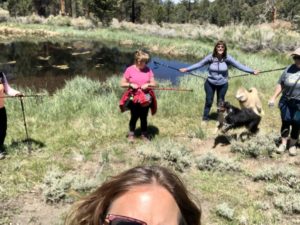 This whole time I am screaming at the guy to control his angry Amber and my dog is being attacked and he starts calling me a bitch and tells me "Just pick up your dog you stupid bitch" My medium-sized dog weighs a third of my body weight and I have a bad back, what am I supposed to do, hold her over my head with one hand while I fight off his rabid dog that is also trying to bite me? I honestly do not know what is wrong with people. Then this moron starts telling me,
"I'm off-trail, why would my dogs need to be on a leash?" Even though his little husky is meaner than any rattlesnake I've ever met. I wanted to say, why on earth are you bushwacking off the trail during snake season dumb-dumb? You are literally walking through the rattlesnake zone right now! With two dogs who have no idea, their owner is doing one of the dumbest things a hiker can do in early summer.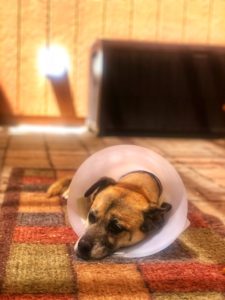 Yes, I called animal control to report this dumb-dumb and his angry Amber. I hope no one else has to go through what I just did and get screamed at by a moron too. It really seems insane that my dog has come into contact with so many aggressive animals recently but here's the thing; We hike almost every day. And especially now that we are in quarantine we hike nearby our home twice a day sometimes. The problem with this whole pandemic is there are pandemic hikers everywhere. Every trail that was empty before is now packed with day hikers with dogs who have never been socialized and are aggressive.
Thank God for cheese
So that was my morning, got in the middle of a dog fight and wrenched my back. Plus my screen on my iPhone got bashed and broken during the brawl with that bitch Amber and now my dog has PTSD. I think I deserve some cheesy goodness. Okay, this is a gluten-free version of the original recipe I found and it is a delectable after dog brawl treat.
Gluten-Free Cheesy Southwest Lava Cakes
These savory breakfast treats are just ridiculous. These are my favorite Saturday morning brunch indulgence.
Lava Cake Batter
1/2 cup cornmeal
1/2 cup almond meal
4 teaspoons coconut flour
1/2 a teaspoon sugar
3 tablespoons adobo chilis in tomato juice
2 teaspoons corn
1/2 teaspoon salt
1 teaspoon ghee
1 teaspoon baking powder
1 egg
For the cheese filling
1/4 cup sharp cheddar cheese
1 teaspoon pico de gallo
1/4 cup cream cheese
1 teaspoon butter
Combine all the cheese ingredients. Roll into balls and freeze at least two hours. Oil 6 ramekins and set aside. Combine all the ingredients in the lava cake batter together until smooth. Preheat the oven to 400. Place one frozen cheese ball in each ramekin. Cover with the lava cake dough. Bake for twenty minutes.
These lava cakes make a delicious brunch treat. Serve them with a mixture of the following.
poached eggs
avocado
sour cream
pico de gallo